Wat is het mistlichtsymbool?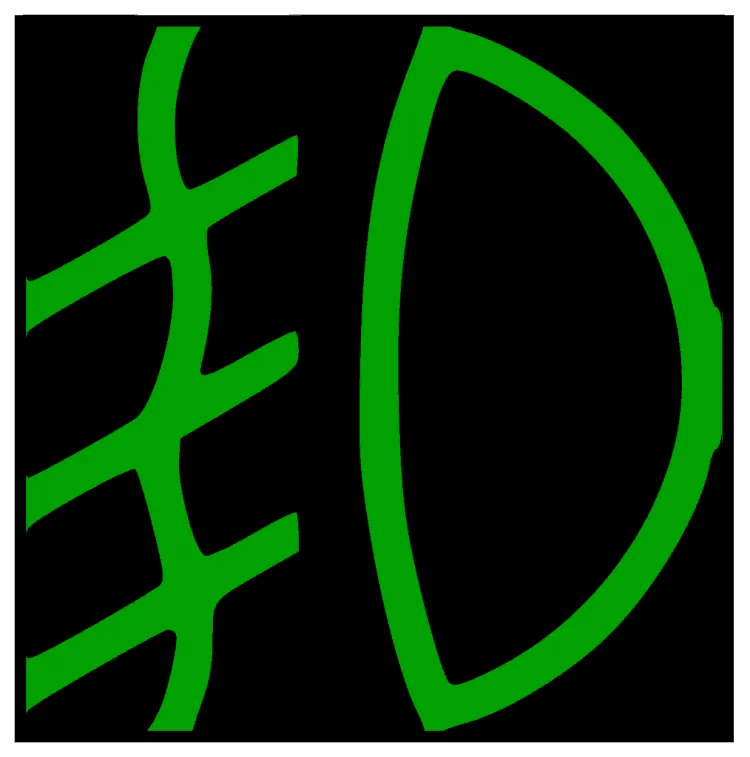 It is important that you familiarize yourself with all of the symbols on your car's dashboard, including the fog light. These lights can be very useful when you are driving in heavy fog and visibility is low. They can help you stay safe and see the road more clearly, which can help you avoid getting into a potentially serious accident. This indicator light usually appears as a wavy light with solid diagonal lines going through it, but it depends on the car.
When to Use Your Vehicle's Fog Lights
Als u in zeer mistige omstandigheden rijdt en het zicht slecht is, moet u uw mistlampen onmiddellijk inschakelen. Dit kan u helpen om veel beter voor u te zien als het zicht onder de 100 meter is gedaald. Als u uw lichten niet gebruikt in dergelijke rijomstandigheden, kan dit uw veiligheid en die van andere bestuurders op de weg in gevaar brengen.
Mistlampen kunnen ook nuttig zijn als u in zware regen of sneeuw rijdt, hoewel ze bij mist het meest effectief zijn. Rijomstandigheden bij slecht zicht kunnen meestal worden verbeterd door deze lichten in te schakelen.
Uw mistlampen inschakelen
Your vehicle's owner manual will tell you how to turn on your fog lights. Keep in mind that fog lights are different from high beams/brights. Not all vehicles have fog lights, especially older models. These lights are typically located just below your normal headlights. Their low position on your vehicle illuminates everything in front of you except the fog itself.
There is usually a simple switch that you can turn somewhere by your steering wheel that activates these lights. You should know how to turn them on if the need arises. It is usually located on the gearshift's dial, along with the windshield wiper function.
Afhankelijk van uw auto heeft u mogelijk zowel mistlampen voor als achter. Veel nieuwere modellen hebben ze ook achterin. Dit helpt u om beide kanten duidelijk te zien, wat erg handig kan zijn als u achteruitrijdt als het buiten mistig is.
Kunt u een kaartje krijgen voor het gebruik van uw mistlampen?
U kunt worden aangehouden en een citaat krijgen als u uw mistlampen onder normale rijomstandigheden gebruikt. Dit vormt een bedreiging voor andere bestuurders die naar u toe komen, omdat het hun vermogen om goed te zien tijdelijk kan belemmeren. De afhaalmogelijkheid is dat u voorzichtig wilt zijn als het gaat om het gebruik van deze lichten.
Waarom is mijn mistlampsymbool constant aan?
The most common reason for your fog lights always being on is that you flipped the switch and didn't put it back. Check the position of the switch or dial to confirm. Make sure that you turn these lights off once you arrive at your destination. Some cars have an automatic setting, which will activate your fog lights when they are needed.
Mistlampen kopen
There are tons of aftermarket fog lights that you can buy in stores and online. There are lots of different fog lights to choose from, so you'll want to explore your options. LED lights can be a great investment, as they really help with increasing visibility in heavy fog. They also tend to last a long time, so you won't need to replace them anytime soon. There are also halogen lights, which are incredibly bright but fairly expensive.
You'll want to keep in mind that fog lights with glass lenses tend to last longer than most of the others. If you are trying to get your money's worth, you should consider getting these lights. The color of the lens also makes a big difference. While most of these lights have a clear colored lens, yellow lenses offer better visibility in fog, rain and even snow.
Before you start shopping around, you need to know which specific lights to buy. This is something that you should be able to find out from your vehicle's owner manual. You can also try looking it up online. If your vehicle came with stock fog lights, they are pretty easy to replace and usually don't require the services of a mechanic.
Het is ook een goed idee om zorgvuldig naar specifieke producten te kijken, zodat u de juiste kunt vinden. Lees klantrecensies voor verschillende mistlampen voordat u een definitieve beslissing neemt. Zo krijgt u precies wat u nodig heeft, zonder later spijt van te krijgen.
Er zijn bepaalde merken die een betere reputatie hebben dan andere, waaronder Philips, JDM Astar en Sylvania. Het merk van de lampen die u koopt, kan een enorm verschil maken als het gaat om de algehele kwaliteit, dus u moet hier rekening mee houden.
Mistlampen op uw voertuig installeren
If your vehicle didn't come with fog lights, you'll need to be mindful of where you mount them. You don't want to put the lights too low, as they could get damaged. This might be something that you'll want to have a professional do, depending on just how handy you are. Most aftermarket fog lights come with the necessary housing. Unless your vehicle has a very unusual grill, you should be able to use it without any issues.
After you have installed your fog lights, you'll need to make sure they are angled properly. This way you'll know that they will be able to help you see clearly when you are driving in heavy fog.
Laatste gedachten
It is crucial that you use your fog lights when necessary to make driving safer when it is very foggy out. These lights will increase your visibility significantly so you can see further in front of you. This in turn will provide you with additional time to react to other drivers on the road so you don't get into an accident. If you need to buy new fog lights, you should take the time to weigh your options carefully. This will give you a much better idea as to what you should buy.