EPAuto ST-011-1 Torque Wrench Review 2019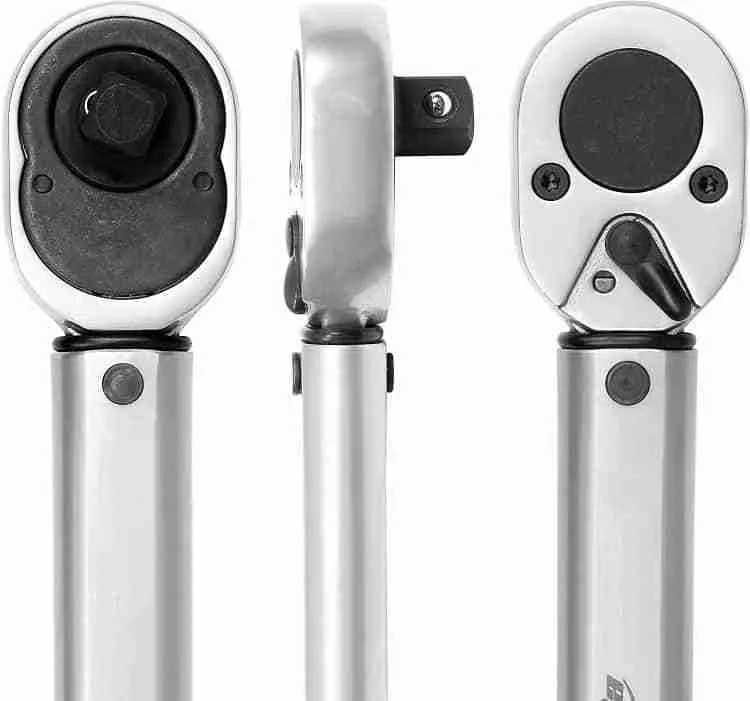 EPAuto 1/2-Inch Drive Click Torque Wrench
Torque wrenches allow you to apply a specific torque to nuts and bolts, but you already know that. They usually look very similar to a socket wrench, but contain special internal mechanisms to measure torque. For a tool that seems so simple, there sure are a lot of factors that go in to buying a torque wrench. You have to consider the different types of torque wrenches, different sizes, their accuracy, construction materials, and ease of use. The key to choosing a good torque wrench is doing plenty of research and buying from a trusted brand, like EPAuto. One of the best torque wrenches on the market is from EPAuto, and I've reviewed it below for your consideration.
Top Features/ Specs
Drive: ½"
Length: 25"
Max Foot Pounds: 250
Max Newton Meters: 338.9
Durable
Any hand tool that is worth buying must be super durable. This wrench has a ratchet head made from hardened treated chrome vanadium steel alloy, which makes the head tough enough for practically any job. A torque wrench that is made from low-quality materials will just waste your time and money since you'll be replacing it soon, but that's not something you have to worry about with this wrench. I haven't had it very long, but I can tell that I will be keeping it in my tool box for a while.
Easy to Use
Another great part of this wrench is its usability. If you've ever used a torque wrench before, you'll be able to use this one, too. This one is actually one of the easiest torque wrenches I have ever used, with an easy to read high contrast and dual range scale. This means you can measure the feet per pound, or the Newton meters by simply glancing at the scale. Thanks to the knurled handle, you don't have to worry about the wrench slipping, making it even easier to use. The handle's non slip grip also adds to the overall comfort of this wrench, making it a double win.
Reliable
WhenEPAuto torque wrench, which is pre-calibrated to be accurate ± 4%, allowing little room for error. Its durable construction also makes it reliable when it comes to performance. You never have to worry about it rusting up and not working, thanks to its corrosion resistant satin finish. After all, nobody wants a wishy washy torque wrench that isn't guaranteed to always work.
Bidirectional
Lastly, and perhaps best of all, this torque wrench is bidirectional, meaning the ratchet head drives in both directions. Any good torque wrench is bidirectional, which makes a variety of jobs easier, like securing bolts on your license plate. Buying a torque wrench that is not bidirectional will greatly limit what you can do and will make other things harder as well.
First Impressions of EPAuto 1/2-Inch Drive Click Torque Wrench
When I first got my EPAuto 1/2-Inch Drive Click Torque Wrench I was somewhat surprised at its size. Other torque wrenches that I had used in the past were a lot shorter, so I immediately kind of judged this one for being so long. However, after actually using it, I can say I like that it is so long and it actually works for my advantage. I'm able to get better leverage and use more force with the long handle, but that's just the beginning to this wrench.
While using this wrench, I was impressed with how sturdy it was; it never slipped once. I thought maybe I was being too gentle, so I was a little less careful and a little bit rougher, and it still didn't give out or slip out of place. The simple, click operation makes it easy to know when the ideal torque is reached. The wrench makes a little clicking sound when it is totally tightened, which is when you should stop turning. I was worried this wrench wouldn't be able to compare to electronic ones, but I was wrong. It works just as well as any electronic one I've used and it doesn't even need batteries.
The only real downside of this wrench is that it can very easily turn dangerous in the wrong hands. Little kids love to get into everything, but this is a very heavy duty piece of equipment that you don't want them getting their hands on. However, this is easily mitigated by storing the wrench in the plastic storage case that comes with it. The case makes it easy to store and allows you to get it out of reach from little hands. If you don't have kids, there aren't any downsides to this wrench, just make sure ½" is the size you need before buying it.
Pros
Durable plastic storage case included makes it easy to store
Durable, Chrome Vanadium steel alloy
Non slip grip
Corrosion retardant
Accurate, dual range scale
No batteries required
Easy to use
Downsides
½" drive does not work on all projects
Can be dangerous if misused
Final Verdict – Purchase from Amazon
It's a very durable wrench that makes a great addition to your tool box. This wrench isn't necessarily for everyone, but can be great for mechanics or hobbyists who do a lot of auto work. If this wrench sounds like something you would like, I recommend doing some more research and then looking online for the best deal. Once you find the best deal, the only thing that is left to do is order it and wait.