Como pintar aros de alumínio preto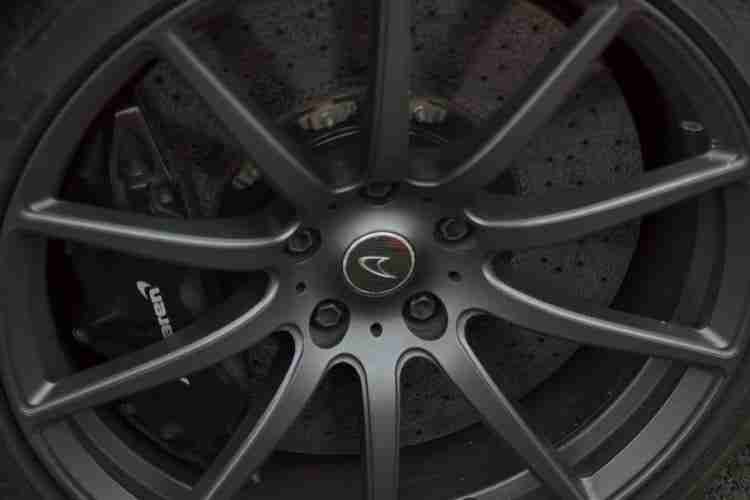 You want to give your vehicle a fresh, new look but don't have the money to afford an expensive paint job. One cost-effective option is to paint the vehicle's aluminum rims black. Going from the standard silver color to a deep, inky black will make your wheels stand out and give your car a sleek, fresh look.
10 etapas para pintar de preto as jantes de alumínio
Even if you've never painted before, you won't have any problems if you follow these simple steps.
Junte os materiais
Você precisará de alguns itens se quiser que a pintura tenha uma aparência profissional e dure anos. Alguns materiais você já pode ter e outros você pode encontrar em quase todas as lojas de peças de automóveis.
Limpador ou desengraxante de rodas
Trapos limpos
Escova de aço
Sandpaper – look for packs with varying grits
Almofada de lã de aço
Álcool isopropílico
Fita de pintor
Plástico ou jornal
Primer – preferably self-etching
Tinta spray de metal
Casaco limpo
Mesmo se você tiver que comprar tudo na lista, ainda será significativamente mais barato do que pintar os aros profissionalmente.
Figure out where you're going to paint the rims
There are a few aspects to consider when you're deciding where to paint the rims. You will be using metal spray paint which releases toxic fumes so ventilation is important. Dust particles can stick to wet paint, which means you want to use a relatively clean area. This also applies to pollen particles that can be a problem outside, especially on windy days.
If you can, the garage with the door open is a good place to get to work. Your driveway is also fine, as long as it's a clear day without any wind.
Remova os aros do seu veículo
Don't even consider leaving the rims on to paint them. No matter how careful you are, residue paint from the spray can get on the vehicle. You could cover the entire car with a protective cloth or plastic but it will be faster and easier to remove the rims.
Leva apenas alguns minutos para remover as rodas. Simplesmente afrouxe os parafusos e retire as rodas. A maioria dos kits de segurança de veículos vem com as ferramentas necessárias. Você também pode comprar o que precisa em uma loja de peças de automóveis.
Limpe as rodas
The most important step is cleaning the rims. This doesn't mean just hosing the rims down, but getting down and scrubbing them. Spray the wheels with cleaner or degreaser and use the rags to remove the grease and debris. After you're finished, rinse the wheels off and dry with a clean old towel or rag.
If you don't clean the rims first the debris will be visible under the paint.
Remova ferrugem e lascas de tinta
Over time aluminum rims can start to rust. Paint flecks can also get stuck on them. If you want a smooth, even paint job you'll have to scrape/scrub the rust and paint off.
Usando a escova de aço, comece a esfregar os detritos. Você quer ter certeza de que está entrando em espaços mais apertados. Se você tiver a sorte de possuir uma escova de aço para uma furadeira, isso pode reduzir o tempo que você gasta esfregando a ferrugem teimosa.
When you're finished using the wire brush, switch to 300 and then 500 grit sandpaper. You want to ensure that all of the debris is gone. After sanding, take the steel wool pad and rub it over the rim until the surface is completely smooth.
Finally, rinse the wheel off and wipe it down with rubbing alcohol – paint thinner is also effective. If the rim isn't completely smooth, go back over the rough spot with the wire brush or sandpaper.
Proteja a haste da válvula e o pneu do spray excessivo
When the rim is clean, smooth, and dry it's time to cover the tire and valve stem from overspray. Using the newspaper or plastic to completely cover the tire, leaving the rim clear. The painter's tape will hold the covering in place while you're painting.
It is important to cover the valve stem to prevent paint from clogging the opening. If the opening is clogged, you won't be able to put air in the tire when it gets low. Instead, you will have to buy a new or slightly used tire.
You also want to cover the area you'll be painting over.
Prepare os aros
You don't want to skip this step. The primer helps the paint adhere to the aluminum surface. It will take 2 or 3 coats of primer, just make sure that you let it completely dry before spraying again.
Pinte os aros
When the coats of primer are dry, take the metal spray paint and cover the rims. For best results, use a 'back and forth' motion when spraying. This will help ensure even coverage. You will need to apply at least two coats for complete coverage.
Aplique a camada superior
Para dar aos aros uma aparência profissional acabada, aplique uma ou duas camadas de acabamento na tinta seca. Como com as outras camadas, certifique-se de que cada uma esteja seca antes de adicionar a próxima.
Remova as coberturas de proteção e reinstale as rodas
Quando a tinta estiver completamente seca, remova o plástico protetor ou jornal das rodas e reinstale-os no veículo. Certifique-se de que todas as porcas e parafusos estão bem apertados.
Conclusão
Você pode dar um novo visual ao seu veículo sem gastar muito dinheiro. Você também pode fazer isso sozinho em uma tarde. Com alguns itens e um pouco de graxa de cotovelo, você pode pintar seus aros de forma que os profissionais invejarão.
Just remember that the most important step is cleaning the rims. Once this is done, spray them with black paint, let dry, and go show off your car's new look to family and friends.