Nexgen Premium Ceramic Coating Finishing Spray Review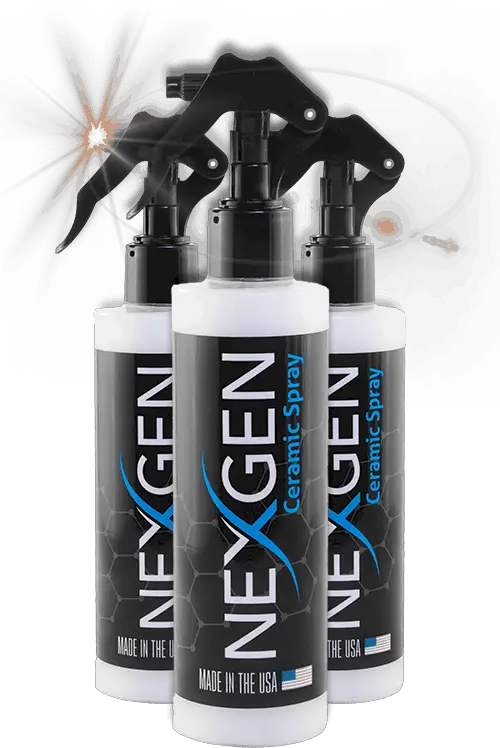 Does your car wax break down leaving your vehicle's paint looking dull and lack-luster? If you're tired of your old car wax not performing, it's time to switch to a ceramic coating. The liquid sealer instantly bonds with your vehicle's paint to give it long-lasting shine.
The best-rated ceramic coating will cut down on the number of trips you make to the car wash. It will also protect your paint from damage. If all this sounds like something you need to make vehicle maintenance a little easier, it's time to try Nexgen Premium Ceramic Coating Finishing Spray.
What is Nexgen Premium Ceramic Coating Finishing Spray
Nexgen Premium Ceramic Coating is a spray protectorate that seals your vehicle's surface. It contains Silicon Dioxide (SiO2) that serves as armor against rain, dirt, debris, and scratches. Streaks are also eliminated, leaving your vehicle shiny and looking like new.
The ceramic coating not only protects the clear coat, but also the paint. It will create a shine that lasts for months, and even years, with upkeep. Best of all, you can feel good about using Nexgen Ceramic Coating since it has a "green" water-based footprint.
Boasting 20 years of experience in the automotive care industry, Nexgen products are used by professional auto detailers and dealerships. It is also named a "Best in Breed" for its ability to clean and protect a vehicle's paint, chrome, and overall finish. Giving you peace of mind that you are choosing the best ceramic coating for your vehicle.
Features
It contains Silicon Dioxide that seals and protects your vehicle's clear coat and paint.
The hydrophobic formula repels water from paint, glass, chrome, plastic, and metal.
The ceramic coating is considered a "green" product
Improves paint's luster and shine
Easy to apply
Manufactured in the U.S.A.
One 8 oz bottle of Nexgen Premium Ceramic Coating can last through three or four applications on a large truck, three to four on a mid-size sedan, and up to ten uses on a motorcycle.
How to Use Nexgen Ceramic Cleaner
You'll be surprised at how easy it is to apply the ceramic cleaner, especially considering the high level of protection you get. It only takes three simple steps and in minutes your vehicle will look like it just received a new coat of paint.
Park the vehicle out of direct sunlight, preferably in a cool, dry space.
Spray the ceramic coating on the vehicle's surface.
Wipe the coating evenly on the surface with a clean microfiber towel, then buff it out.
Just by following these easy steps, your vehicle will have an amazing shine that everyone will notice.
As easy as the spray wax is to use, there are a few tips to remember. It will make the process even faster and ensure that your vehicle looks its best.
Cover panels and windows. Wipe any sealer off before it dries for easier clean-up afterward.
Keep your hand steady when you're spraying, large spots are difficult to buff smoothly out.
Always clean the nozzle after each use to prevent clogging.
Due to the chemical compound, adequate ventilation is a must since the fumes can be hazardous.
Allow 48 hours for the ceramic coating to fully dry for the best results.
Benefits of Using Nexgen Ceramic Coating Finishing Spray
If you're still not convinced that this ceramic coating spray from Nexgen is necessary for your car, truck, or motorcycle, there are several benefits to consider. One quick and easy application of the ceramic finishing spray, after a car wash, will do more than making the vehicle's paint "look shiny". It also has the following benefits.
Repellent
Traditional car waxes and factory paint are not enough to protect the vehicle's exterior. Nexgen ceramic not only repels dust and dirt, but it also has hydrophobic properties. Instead of water pooling on the exterior, it beads leaving no sign it was there. The ceramic finishing spray repels water preventing annoying spots.
It also repels mud and acid rain that gets splashed onto vehicles. It will slide off the smooth surface, left by the sealer, without leaving any marks. The same is also true for snow, ice, and even bird droppings.
Protectant
Your vehicle's paint job looked great for a few years, then not so much. The ceramic coating will add a protective layer over the clear coat and paint. It will protect the exterior from UV rays that cause fading and cracking. Once the paint has started to crack and peel, the only solution is to have the exterior redone. Having a vehicle repainted, regardless of size, is expensive.
Using a ceramic coating will prevent fading due to prolonged sun exposure. It will also protect the exterior from rust, corrosion, and oxidization.
Professional Finish
Nexgen ceramic coating will give your vehicle a shiny, professional appearance without the cost of hiring an expensive detailer. The difference between traditional car wax and the ceramic coating is the sharp, high-gloss finish.
Unlike car wax, a ceramic finish doesn't dull over time. It will retain its bright and shiny finish in sunlight and won't fade over time. You can get a professional "just detailed" look in your garage with one application of a ceramic coating.
Inexpensive
It is possible to find cheap car waxes, but in the long run, you're wasting time and money. Traditional car waxes typically only last two to three months, but this does depend on the environment your vehicle is in. This means every few months, you're waxing your vehicle.
In comparison, ceramic coatings can last up to twelve months before needing to be reapplied. Since an 8 0z spray bottle has, on average, three to five applications in it, you might be purchasing a new vehicle before running out of ceramic cleaner.
Preventative
Everyone wants to keep their vehicles looking great, whether it's a truck, sedan, or motorcycle. Using Nexgen Ceramic Coating will give your vehicle a layer of protection that can last for years. The paint is protected from fading and scratches from the environment and elements.
You can keep that new vehicle appearance for years simply by switching from soft wax to a ceramic coating.
Do You Need to Use a Ceramic Coating?
The only time it might not be ideal to use a ceramic coating is if the paint is already thin, chipping, peeling, and/or cracking. The chemicals in the finishing spray can interact with the vehicle's body, resulting in repairs.
If your vehicle has this problem, it's advised that you get it repainted first and then protect the new exterior with Nexgen ceramic coating finishing spray.
Not every driver is concerned about how "shiny" their vehicle is. However, most do care about protection and saving money. If you aren't that worried about impressing people with a vehicle that looks like it was professionally detailed but live in a sunny climate, a ceramic coating is a must.
It only takes a few minutes to apply, wipe, and buff off. However, just one application will protect the exterior from fading, cracking, and chipping. Once this starts to happen to the vehicle's exterior paint, it's time to start thinking about having it repainted.
Common Questions About Nexgen Ceramic Coating
Do I need to strip the old, soft wax off my vehicle before using ceramic wax?
It's not necessary to remove old wax but it is recommended. Quality varies with soft wax and this can affect the "shininess" of the ceramic coating. It might take a little longer to strip away the old wax but it'll be worth it when you see the results.
How often should I apply Nexgen Ceramic Coating?
There isn't a set length of time when you should apply another coating. It will depend on the environment. Nexgen recommends applying the coating once every six to twelve months. Every six months if the weather is usually sunny, and less frequently if there aren't any environmental concerns.
What does Nexgen Ceramic Coating Finishing Spray protect against?
Once you've applied Nexgen ceramic coating to your vehicle's exterior, it is protected from sun, grime, dust, dirt, bugs, salt, snow, mud, acid rain, water spots, smog, and everything else that can scratch or fade your vehicle's paint.
In Summary
Nexgen Ceramic Coating Finishing Spray is the answer to fading and scratched vehicle paint. It is extremely easy to apply and buff off, leaving your vehicle with a hard and shiny protective layer of the paint. Not only does it protect the vehicle's paint job, but it looks great too.
Manufactured in the U.S.A. and considered to be a "green" product. You can protect the exterior of your vehicle, keep it looking great, and feel good about using this product. There's no reason why not to start pampering your vehicle with Nexgen Ceramic Coating Finishing Spray.