Rivian vs Tesla: Which One Should You Pick? 2022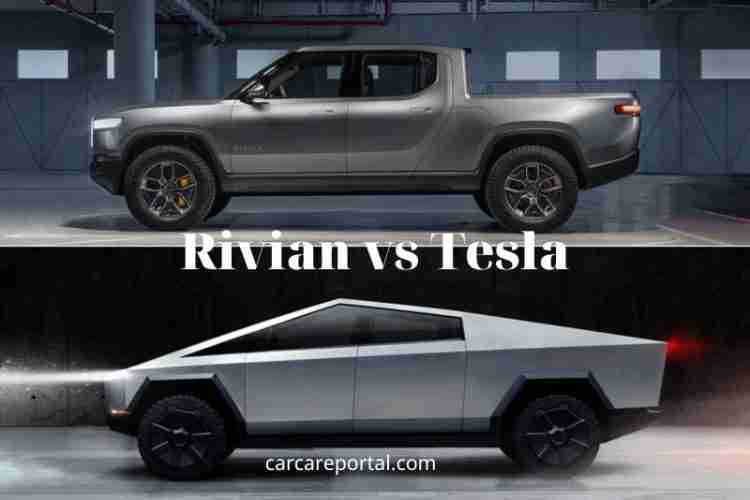 Rivian vs Tesla is two of the most popular electric vehicles available today. They have different pros and cons, but all of their features and performance are up to par. Which one is the best for you?
Rivian vs Tesla
1. Price
There is limited competition in terms of pricing. Rivan may create smaller, cheaper trucks in the future after it has a more firm footing in sales and manufacturing, but for the time being, its options cannot compete on price with Teslas.
The most basic Rivian, for $67,500, outperforms the $40,000 and $50,000 Cybertrucks versions. And it won't be accessible until 2024, well after the $70,000 Tesla is set to arrive.
Including additional features may drive R1price T's into the stratosphere. If you select the luxury Adventure package of technological and design elements, quad-motor all-wheel drive, and the 400-mile range of the Max pack, the Rivian costs $95,000.
There are two critical price points: Rivians may still claim the full $7,500 federal tax credit for purchases. Tesla's tax credit has been taken off entirely. And Tesla charges $10,000 for "Full-Self Driving," which is expected to enable the car to drive itself entirely once technology and legislation allow it. These variables contribute to the pricing difference between Cybertruck and R1T.
2. Range
Tesla has an advantage. Tesla provides more excellent range for your dollars with its less expensive Cybertruck models. The battery life of the entry-level Cybertuck is said to be 250 miles. This is barely ten dollars less than the essential R1T, which costs $27,000 more.
The Cyberduck has a 300-mile range and costs $50,000. That's just 14 miles less than what Rivian has to provide with their dual-motor, Large battery truck, which begins at $73,500.
With 500 miles of range, the $70,000 tri-motor Tesla Cybertruck roughly doubles the range offered by Rivian's similarly priced standard R1T. The top-of-the-line Rivian, which costs about $100,000, has a range of barely 400 miles.
3. Towing
Rivian has a minor advantage over the less costly Teslas in this category, saying that the R1T tows 11,000 pounds against 7,500 and 10,000 pounds for the single- and double-motor Cybertrucks, respectively.
However, the monster tri-motor Cybertruck returns with jaw-dropping statistics, boasting 14,000 pounds of towing capacity. However, since R1Ts are just now being delivered, and Cybertrucks won't be available until 2023, we'll have to wait to see how much heavy towing drains the batteries of these vehicles.
4. Payload
Tesla has the advantage here, with a maximum payload of 3,500 pounds for all three Cybertruck models. Rivian claims to be worth less than 2,000 pounds.
5. Bed Size
Tesla refers to what is generally known as the truck bed as the "vault." By shutting a shutter-style top, the Cybertruck's vault may be locked off to increase the truck's fuel efficiency. The vault is 6.5 feet long.
The R1bed T's is just 4.5 feet long with the tailgate up, and an optional cover may cover it. Rivian makes up for this flaw with a gooseneck tailgate that extends the bed to almost seven feet.
With a wheelbase of 135.8 inches, the R1T is shorter overall. At 149.9 inches, Cybertruck is about a foot longer.
6. Frunk Size
The R1T, according to Rivian, has 314 liters of luggage storage under the hood, in the area where the engines used to reside. This is less than particular EV trucks, like the Ford F-150 Lightning.
On the other hand, a recent Rivian Instagram post points to various storage places packed throughout the truck. One of them is a storage compartment beneath the second-row seats and the Gear Tunnel, a 65-inch-wide tunnel that runs horizontally across the truck immediately in front of the rear wheels.
Tesla has yet to specify the size of the Cybertruck's frunk.
7. Interior
The Cybertruck's minimalist cabin features few physical buttons and levers, a yoke instead of the conventional steering wheel and a 17-inch touchscreen display, as is Tesla's distinctive design. Rivian, too, adopted a minimalist look that prioritizes displays over buttons. The critical distinction is that the R1T includes a second screen as a dashboard cluster, but the Cybertruck has a massive center touchscreen and nothing right in front of the driver.
The R1MSRP T's include a black interior, with an extra $1,500 for a lighter "Ocean Coast" color. Tesla's Cybertruck configuration tool is no longer available. Still, its other models follow the same pattern as Rivian: All Black is the standard option, with a Black and White interior costing an extra thousand.
Meridian provides an excellent stereo system with the Rivian. The intricacies of Tesla's audio system are yet unknown.
8. Off-Road
Both of these rugged EVs are designed to be off-road capable. The Cybertruck's dystopian appearance aids its off-road performance, with up to 16 inches of ground clearance, a 35-degree approach, and a 28-degree departure angle.
Although the maximum wading depth has not been defined, CEO Elon Musk has said that the truck would be able to drive over streams and "even float for a bit."
Rivian outperforms Tesla in terms of departure angle and also has a slew of other characteristics that make the truck even more adept in the mud and sludge.
The Reinforced Underbody Shield costs an additional $2,000 and is "designed to absorb, deflect, and disperse impacts in harsh off-road situations," according to Rivian. You may also spend an additional $2,500-3,500 to replace the supplied 21-inch road tires with your choice of 20-inch all-terrain tires.
Tesla Cybertruck
Approach angle: 35 degrees
Departure angle: 28 degrees
Breakover: Unknown
Max ground clearance: 16 inches
Max wading depth: Unknown
Rivian R1T
Approach angle: 35.5 degrees
Departure angle: 30 degrees
Breakover: 26.4 degrees
Max ground clearance: 14.9-inches
Max wading depth: 43.1-inches
9. Driver Assist
The Cyberduck will be equipped with Tesla's Autopilot, a driver assistance system that maintains the truck in its traffic lane and automatically stops or accelerates inside that lane based on traffic flow. Tesla sells a $10,000 "Full-Self Driving" option that, according to Tesla, will enable the truck to drive itself totally in the not-too-distant future.
Rivian's driving assistance technology is known as Driver+. It will steer and modify speed automatically, but it is not a fully autonomous system and needs the driver to retain their hands on the wheel and be ready to take control.
The Rivian includes adaptive cruise control, lane-keeping assist, blind-spot warning, rear-cross traffic alert, automated emergency braking, automatic high lights, and other modern safety systems, as do almost all luxury cars.
10. Miscellaneous
The Cybertruck has a few unique qualities, like the ability to float and bulletproof glass. However, Tesla's extensive network of private Supercharger stations may be its most significant advantage. Rivian plans to develop its own network, but Tesla has a decade of a head start.
The add-on list for the R1T is a beautiful way to spend money. The $6,750 Camp Kitchen is this adventure truck's trendiest and most on-brand component. This fully-equipped slide-out kitchen replaces the Gear Tunnel and includes a two-burner induction cooktop, a four-gallon water tank and sink, and a 30-piece Snow Peak kitchen set to meet all of your culinary camping requirements.
11. Design
The Tesla Cybertruck has an eye-catching, divisive appearance. The sharp creases and angular design are more concerned with the simplicity of assembly of the stainless steel body than with turning heads. Tesla has created its brand by standing out from the crowd.
While Tesla vehicles and SUVs are subtle in their own right, a Cybertruck will not be mistaken for anything else. While the cargo compartment and its 6.5-foot bed are helpful, the Tesla will likely spend more time in suburban driveways than on construction sites.
The Rivian R1T sports a pickup's typical crew cab/cargo box profile. This ground-up design has a modern edge as an all-new entry. This is particularly noticeable in locations such as the circular lighting components. Tow hooks and skid plates are exterior features that emphasize the vehicle's off-road capability. Unlike the hard-edged Cybertruck, the R1body T's have shapely curves. Its SUV equivalent, the R1S, will join the R1T.
12. Cabin Features
The Tesla Cybertruck's cab has four standard doors that open to provide seats for six people. Switchgear, as in other Tesla models, is non-existent. The Cybertruck lacks a steering wheel in favor of an aircraft-inspired yoke.
The dash is dominated by a 17-inch portrait touchscreen that gives access to all car features. The Autopilot hands-free driving mode is one of the characteristics advertised by Tesla. It is more of a driver-assist system than fully autonomous technology.
The Rivian's interior shows its luxury characteristics while avoiding the starkness preferred by Tesla. On the dashboard are two prominent touchscreens, one for instrumentation and the other for infotainment. There are two trim levels available: Explore and Adventure. The latter has elements of natural-grained ash wood and a Meridian premium sound system.
You may also personalize the adventure by selecting one of three interior color schemes. A detachable roof option is anticipated later next year. Rivian also has a hands-free driving option called Driver+, comparable to GM's SuperCruise and only available on certain roads.
13. Performance
The Tesla Cybertruck is available in three distinct variants. The standard model features a single motor driving the rear axle, has a range of 250 miles, and accelerates from 0 to 60 mph in 6.5 seconds.
The all-wheel-drive Dual Motor model is faster, reaching 60 mph in 4.5 seconds. That model also has a 300-mile range. The top Cybertruck has three electric motors, a 500-mile range, and a 0-60 mph pace of 2.9 seconds.
Rivian's initial R1T models boast a range of more than 300 miles owing to a 135 kWh battery pack. A longer-range variant with a 180 kWh battery pack will be available in January and will go more than 400 miles between charges. Rivian will eventually introduce a 250-plus mile variant, which will most likely be a lower-priced primary vehicle.
The R1T comes standard with all-wheel drive and produces 800 horsepower and 900 pound-feet of torque. Rivian anticipates that the R1T will reach 60 mph in as low as three seconds. It also has 14 inches of ground clearance, which allows it to cross 3 feet of water.
Which is superior? Which one should you pick?
While Tesla and Rivian are direct rivals and prominent brands in the EV business, picking one as the best for every customer is challenging. Both are excellent firms in which to invest. On the other hand, Tesla is more significant, more established, and offers customers a more excellent selection of EV models. It also offers various goods, such as home energy systems.
Rivian is a budding industry star. The success of the R1T and R1S makes this young firm a formidable contender. Both versions have different off-road design elements and a robust membership plan.
FAQs
1. What are Tesla and Rivian famous for?
Tesla is well-known for its premium electric vehicles and home energy solutions. Tesla automobiles offer distinct styling and simple interiors. Rivian is recognized for its adventure EVs, which are intended for mild off-road usage, camping excursions, and other activities. Both firms provide unique features and private communities. Tesla has sued Rivian, saying that former Tesla workers disclosed trade secrets.
2. Which company is more successful, Tesla or Rivian?
Tesla is presently more successful, with a net value of over $797.3 billion vs. Rivian's net worth of around $77 billion.
3. Is Tesla more powerful than Rivian?
Yes, Tesla has sold an estimated 1,917,450 cars and employs over 99,000 people. Rivian, a newer firm, has only sold 2,147 units but employs over 11,000 people.
4. Tesla or Rivian: which is superior?
Tesla and Rivian have distinct advantages and disadvantages. Tesla EVs are known for their premium performance, self-driving capabilities, and beautiful design. Rivian EVs are distinguished by their off-road capability, dynamic storage choices, and customizable features.
5. How long do Tesla automobiles last?
Most Tesla cars can go up to 120,000 miles without breaking down. The electric powertrain ranges up to 750,000 miles, and the batteries only lose 10% of their charge after 200,000 miles.
6. What are Tesla's weaknesses?
Tesla's primary shortcomings as a firm are production constraints, reliance on Elon Musk as the only representation, and car pricing. To retain its strong demand for EVs, Tesla will need to keep up with demand and grow production.
7. Tesla or Rivian, which is faster?
The Roadster, Tesla's quickest EV, has a maximum speed of more than 250 miles per hour. It also accelerates from 0 to 60 miles per hour in 1.9 seconds. The Rivian R1S, on the other hand, has a peak speed of 124.9 miles per hour and can accelerate from 0 to 60 miles per hour in around 3.9 seconds.
8. Is Rivian's future bright?
Rivian is predicted to be successful despite losses in the first quarter of 2022. In a crowded EV market, it provides distinct characteristics and in-demand alternatives.
In conclusion
Because of its heritage, the Tesla Cybertuck is intended to draw a new generation of buyers to the pickup industry. It will have a great range, impressive performance, and a variety of versions ranging from a low-cost, basic model to a loaded range-topper with all the bells and whistles.
Rivian will also target the same segment of electric truck owners who use their cars for recreational purposes rather than work. Rivian's business strategy, which employs direct sales, regional centers, and mobile home servicing, similar to Tesla's, might very well be the future wave.
Read also: