Wagner Spraytech 0282014 915 Steam Cleaner — A Review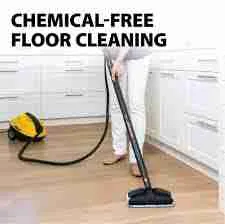 Steam cleaning is one of the best ways to clean all sorts of surfaces around the house and even help to eradicate some invasive species such as bedbugs. Due to the versatility that is offered with steam cleaning, people all over the world are starting to get behind the process and are more satisfied with their steam cleaners that ever before.
As the cleaning method gains more and more popularity, manufacturers continue to pump and more and more options for you to sift through to find the top options available. As the market gets more saturated it gets harder to find top-quality products that you can use feeling assured that they will get the job done. In this article, we'll go over the Wagner Spraytech Steam Cleaner to discuss what it is, the features and benefits that it has, and what people who have bought the cleaner are saying about it.
Features and Benefits of the Wagner Steam Cleaner
The Wagner Spraytech Steam Cleaner will leave any room or any area of your home or business shining and looking better than it ever has before every time you use it. To better understand why this steam cleaner from Wagner is such a phenomenal product, let's take a look at some of the main features and benefits that you get when you purchase the Wagner Spraytech Steam Cleaner.
Powerful Clean and Continuous Steam
Anyone that is shopping for a high-quality steam cleaner is looking for one because they have some dirt and grime somewhere that they just can't seem to get clean any other way, or because they want to try an easier way to clean and sterilize than they ever thought possible. That's where a top-notch steam cleaner with a powerful jet nozzle and continuous steam capabilities comes into play, which is exactly what you get with this unit from Wagner.
The high-pressure jet nozzle on the Wagner Spraytech Steam Cleaner is designed to focus the flow of steam into a powerful stream that can be directed at dirt and grime and have the ability to cut away the toughest areas that you're having issues with. The handle of the wand also enables the user to simply flip a switch to lock it into the continuous steam position. This will allow the steam cleaner to continuously spray steam out rather than needing you to manually hold the steam button in like many other cleaners on the market do.
Steam Cleaning is Chemical Free
One of the main drawbacks of typical cleaning is the harsh chemicals that are usually used when anything is cleaned. Whether it's the bathroom cleaners, what we use to dust our surfaces, or even how we clean off the dirt and grime buildup in the garage, cleaners are usually full of chemicals. Some of the chemicals can be harmful to humans or pets, even though most have gotten significantly better in that aspect. But the vast majority of cleaning agents on the market today still leave behind that obvious cleaner smell that most people don't like.
That's where using steam as the cleaning agent comes into play and helps to make steam cleaning more and more popular as time goes on. Steam cleaners literally just use distilled water that gets heated up and then deposited at high pressures. This means it is simply water doing the cleaning for you, albeit water that is quite a bit warmer than normal. That negates any potential cleaning agent scents or smells being left behind after the job is finished.
Large Water Tank and 10 Minute Heat Up Time
With any steam cleaner, one of the most annoying parts about using them for extended periods of time is the constant need to refill the water tank every time it runs out, which happens pretty often if you're doing a lot of cleaning. But it gets worse; not only do you have to refill the tank, you then have to wait for the new water to heat back up every time that you refill it before you can start spraying steam again. The Wagner Spraytech Steam Cleaner handles both of these issues!
With an above-average water tank size that holds 48 ounces of water, this steam cleaner will last you through any project you're working on. This large water tank allows for a continuous spray for up to 45 minutes in one go, which is often long enough to handle much of the cleaning that you need to be done anyways.
If for whatever reason you need more than 45 minutes of operation and you have to refill the tank, have no fear that it will take a ridiculous amount of time to heat back up to the temperature it needs to be at to produce steam. This steam cleaner from Wagner will heat a fresh tank of 48 ounces of water in only 10 minutes! This gives you ample time to run inside and get a drink, make a quick detour to the bathroom, or anything else you need to do quickly. It's also the perfect amount of time to move things around and get stuff out of your way so you can continue cleaning as soon as the water is hot enough. By the time you get back outside or finish reorganizing things that are in the way, the water in the cleaner will be warmed up and you'll be ready to get back to cleaning!
Easy To Use
With this steam cleaner from Wagner, there is little room for mistakes and no room for guessing how to use it. They couldn't have made it any simpler if they tried. To start, the Wagner Spraytech Steam Cleaner runs off of 120V, so it can be plugged into any standard outlet in your home or garage and it's ready to go.
Once you've figured out where you're going to be plugging it in, you just need to connect your desired attachment depending on what you're cleaning, fill the oversized water tank with up to 48 ounces of distilled water, and turn the steamer on. To make it even easier, a red LEF will turn off when the steamer is ready to use, signifying that the water has reached a high enough temperature to be used as steam.
Portable
With some of the bigger steam cleaners on the market, they can be a pain to move due to their size, their weight, and the fact that there is little design effort put into making them easier to move around. With this option from Wagner, however, portability is not an issue; it's actually one of the major benefits of going with this steam cleaner.
There are two reasons why this steam cleaner is easily portable so you can move it to where ever you need to go: lightweight and wheeled design. This steam cleaner only weighs 13.8 pounds, making it light enough to pick up and carry anywhere that you need to take it. But the kicker is, even though it's so light and easily can be carried everywhere, you don't need to do so! The designers at Wagner had the forethought to seamlessly incorporate wheels into this steam cleaner to make transportation of the unit even easier. Just grab the handle, tilt it back onto its wheels, and you're off!
What People Who Bought This Cleaner Are Saying About It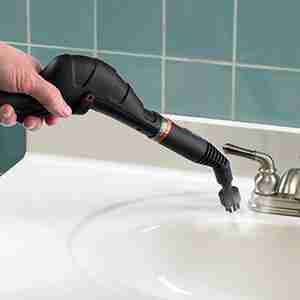 Now that you know about how this steam cleaner compares to the competition and what benefits and features you'll get when you purchase the Wagner Spraytech Steam Cleaner, let's take a look at what the people that have bought and used the product are saying about it. At the end of the day a company can say whatever they want about the features and benefits of their products, what is often more important information is what customers who have purchased and used the product have to say about it.
People that have bought the Wagner steam cleaner love the super-high pressures that it puts out which makes it clean so much more easily. Customers have used this high pressure to do a variety of jobs, such as removal wallpaper (a horrible job usually!), clean off stuck-on ammonia from their ovens, and cleaning out those hard to clean grout lines between tiles. The versatility of this cleaner is the best part, per the people who have bought and used it.
The only real recurring negative review about this product from people that have used it is that it has a shorter power cord than some of the other options on the market. Although this can be frustrating, with how easily portable it is, this shouldn't be much of an issue!
Check Out the Wagner Steam Cleaner on Amazon
Now that you know all there is to know about the Wagner Spraytech Steam Cleaner including its benefits and features as well as what others have said about it, it's time to stop your search and give this steam cleaner a try!
You can check it out on Amazon here, we know that you will be satisfied with your purchase every time you have to whip out the steam cleaner and this option from Wagner performs better than you ever imagine it would.
Wagner Spraytech 0282014 915 Steam Cleaner Owner's manual:[PDF]