Best Car Interior Cleaning Products- 2022
Most vehicles lose their charm and shine after a few months or a year of purchasing them. But do not worry, now that you have landed here, your car can have a fresh and polished look even after years of usage with proper maintenance. 
We often overlook cleaning car interiors even though we know it is as important as cleaning the exterior. That is why usually because most people rely on car washing services. 
You know what's a wise decision that you can make to save money in the long run? 
Buy the most effective car cleaning products and clean your car yourself to keep it in pristine condition.
Here is a list of the best interior car cleaning products.
Product Summary
| | | |
| --- | --- | --- |
| Product Name  | Key Features  | Buy Here |
| Meguiar's M5716SP Marine/RV Vinyl & Rubber Cleaner & Protectant | It cleans, protects, and revitalizes all in one step.Is made with premium ingredients | Buy Here |
| Meguiar's G9719 Carpet & Upholstery Cleaner | Removes tough stains and odor from car carpetsDries in no time without leaving any sticky residue behind |               Buy Here |
| Chemical Guys SPI_109_16 Leather Cleaner and Leather Conditioner Kit | Cleans leather thoroughly and breathes newness to itOdorless and colorless  |               Buy Here |
| Sprayway Glass Cleaner 20 Oz 12/Case | Powerful formula ensures best resultsMakes glass shinier without leaving any scratches behind |               Buy Here |
| VibraWipe Microfiber Cleaning Cloth 8-Pack | 80% polyester and 20% polyamideThoroughly cleans your car by capturing dirt and dust particles Microscopic fibers  |               Buy Here |
| Mothers 07240 California Gold Clay Bar System | Removes debris and particulate contaminants Does not affect the car's paint  |               Buy Here |
| BLACK+DECKER dustbuster Handheld Vacuum | Incredibly strong suction powerLightweight and fast-charging |               Buy Here |
| 3M Anti-Germ Foaming Car Interior Cleaner | Easy to applyPerforms thorough cleaning and adds shine |               Buy Here |
Meguiar's M5716SP Marine/RV Vinyl & Rubber Cleaner & Protectant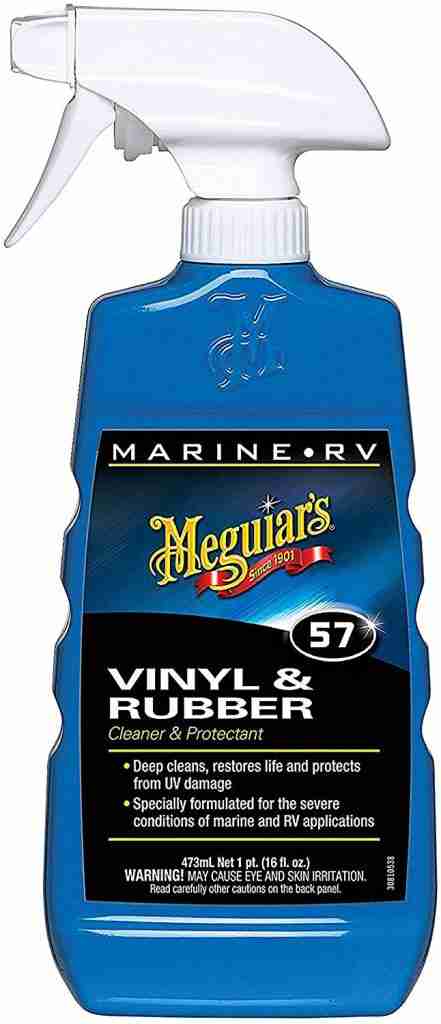 Vinyl and rubber surfaces start wearing off with prolonged usage. This cleaner is one of the most effective solutions for cleaning and protecting these surfaces. 
This spray formula has been specifically tailored and is made with the perfect blend of premium ingredients. They protect the surfaces from fading, cracking, and drying. It leaves a natural sheen on your car instead of a greasy and artificial plasticy look. Additionally, its formula has UV protection characteristics that protect your chassis from sun damage. 
It is advised that you use a brush or cotton towel to clean the rubber and plastic surfaces after pouring a few drops of the cleaner. After cleaning, let it dry for a while, and your car will look as fresh as new. 
Meguiar's G9719 Carpet & Upholstery Cleaner
With Meguiar's G9719 Carpet & Upholstery Cleaner, you can easily remove stains from your car's carpet in no time. This cleanser deeply cleans your car's fabric surfaces. It not only cleans the difficult stains but also removes odor from them and leaves them smelling great. 
The fast-acting foam can easily penetrate the carpet's surface and dissolve stains from top to bottom without leaving a mark behind. Unlike most cleaners, this one does not imprint a sticky residue and dries rapidly. The sprayer has been designed in such a way that it lets users target the stain spots accurately. 
Chemical Guys SPI_109_16 Leather Cleaner and Leather Conditioner Kit
Leather looks fantastic when it is properly looked after. If you want your leather seats to seem sophisticated and natural, you'll need to take extra precautions.
This cleaner and conditioner kit will give your car's leather the special care it needs. The cleaner, as well as the conditioner, has been approved by the OEM. They are fragrance-free and colorless to ensure that the natural color and scent of leather stays intact. 
It offers a neutral pH level for the best outcome and preserves the leather's appearance, durability, and strength. This solution can swiftly penetrate the pores of leather to suspend oil and dirt. 
Make cleaning fun and easy with this incredible and versatile leather cleaner and conditioner. With supreme ingredients like vitamin E, it nourishes the leather and makes it more durable.
Sprayway Glass Cleaner 20 Oz 12/Case
No one wants to keep wiping over their mirrors and windshields on a daily basis. However, clean mirrors and glasses are essential for cars. Without clean glasses, the driver may often be misguided and face trouble while driving. 
So, to solve every car owner's struggle of keeping windows and glasses unsullied, Sprayway has formulated this excellent glass cleaner. 
It is made up of high-quality deep cleansing ingredients that will make your car's glass surfaces look fresh with no dirty marks left behind. It will quickly and easily remove and dissolve patches of grease, grime, and grit from the dirty surfaces. Hence, no more scrubbing over the same spots over and over again. 
It is ammonia-free and leaves no residue behind. Shake the container well before using it. Then, spray it all over the glass surfaces carefully. Lastly, use a soft cotton towel to clean the surfaces. Make your glass surfaces look more glossy and ensure 100%visibility with this spray cleaner. 
VibraWipe Microfiber Cleaning Cloth 8-Pack
VibraWipe has made cleaning more smooth and speedy with these microfiber cloths. These wipes have a high absorbing threshold and are available in a pack of 8. 
A delicate and plush blend of polyester and polyamide makes these clothes unimaginably good at cleaning and absorbing dirt and dust particles. These resilient towel cloths can remove even the toughest grimy spots. 
They come with a split-fiber design which makes absorbing dust and dirt particles easier. The water holding capacity is also quite high as opposed to conventional cleaning mops, this improves usability and also frees you from having to change to another piece quickly. 
Their soft and delicate fiber prevents them from leaving any scratches on glass or plastic surfaces. Furthermore, you can also clean them quite easily in a washing machine or by conventional methods. They are not only durable and strong but also reusable which makes them environment-friendly.  
Mothers 07240 California Gold Clay Bar System
Remove embedded grains of tree sap, metal, airborne particulate deposits, and paint overspray with this clay bar. You have probably heard your friends talk about how well clay bars work but never had the time to use them yourself. This is the best set of clay bars you can use for your first experience. 
It can quickly remove debris and sticky contaminants from your car's different surfaces. Sometimes, washing and polishing cannot remove these specks of dirt and stains. But these clay bars can do so very efficiently. One of the best things about it is that this exclusive clay bar system is not hazardous to your car's paint. 
It is firm enough to remove the unwanted particles but is smooth enough to not hamper the paint, best for quick touch-ups. So, bring this clay bar system home and add more shine and luster to your valuable car.
BLACK+DECKER dustbuster Handheld Vacuum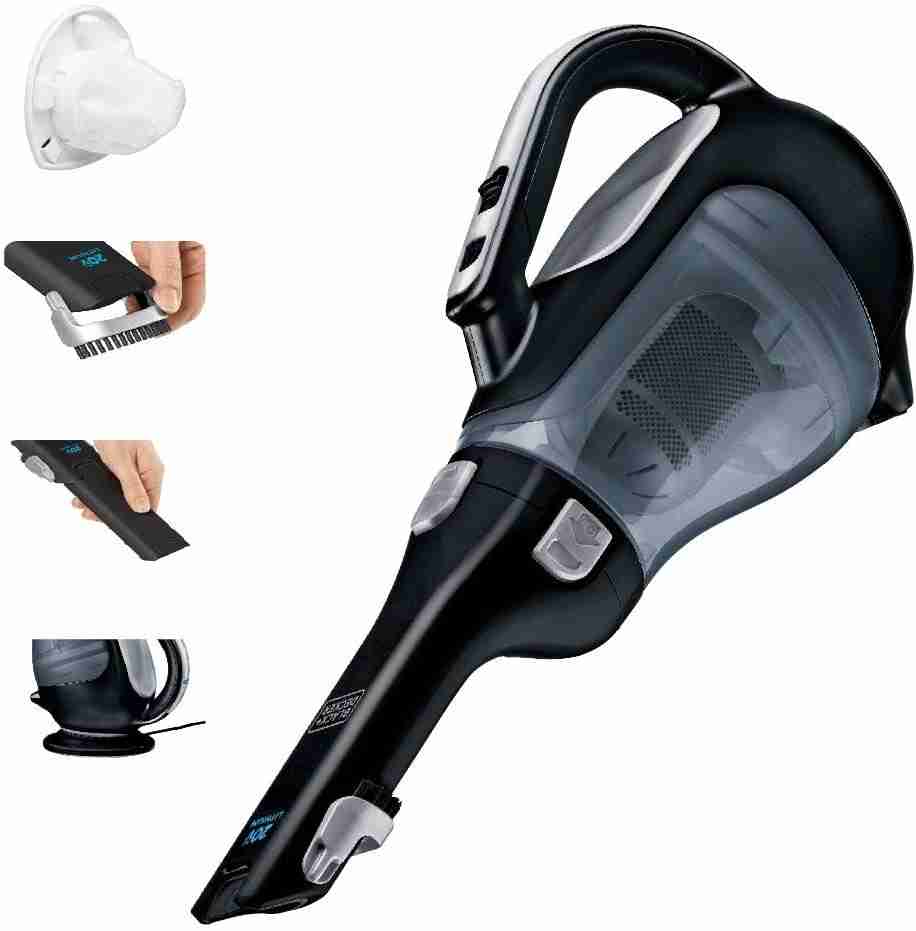 This compact and lightweight vacuum cleaner is perfect for cleaning car interiors. It has a powerful suction force that can quickly absorb even the tiniest particles present in the car. Its rotating slim nozzle adapts to corners that are hard to reach. 
The cyclonic action helps to keep the cordless cleaner's filter clean. It has a washable mesh and cloth filters. So, maintaining this cleaner will not be a very difficult job for users. 
Bring this triple layered cordless vacuum cleaner home to thoroughly clean the dust particles, hair, pet fur, food crumbs, and other such contaminants. You will no longer have to sweep or scrub the car floors with your own hands. 
3M Anti-Germ Foaming Car Interior Cleaner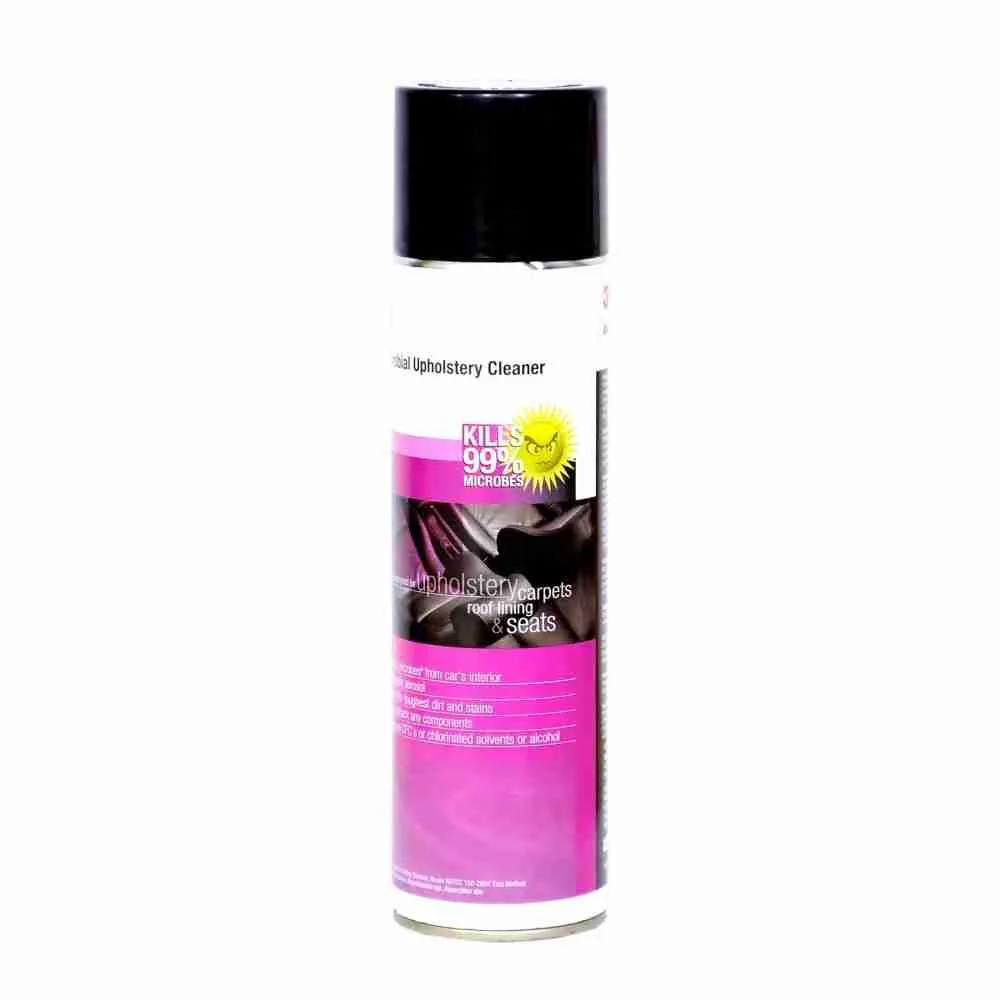 One of the best products to keep your car's interior clean and fresh is this 3M anti-germ foaming car interior cleaner. Cleaning a car's interior can be a tedious task. However, with this amazing cleaner at home, it will no longer be a difficulty.
This product is extremely easy to apply. It can absorb and remove dust and dirt and grease stains from your car very well. You also can bid goodbye to your woes of this product damaging your car. 
It does not contain any harmful ingredients like chlorinated servants or CFC. It also has germ-killing ingredients in it to ensure that your car is microbe-free.
Summing Up
All the products listed here will definitely help you amp up the looks of your car. Aside from these products, you can also use myriads of household products such as alcohol, coconut oil or vinegar to get rid of dirty stains. As for your dashboard and leather, you can always use some Castile soap and water solution for a quick wash up. 
That being said, all these household hacks may also leave off their characteristic smell at times which isn't ideal. Hence, give your car the makeover it deserves with these extraordinary car washing products.