We found you the best floor jacks for every job.
A floor jack is something no mechanic should live without. It allows a person to lift heavy objects with ease, and car and truck enthusiasts know the value of owning a jack that is dependable, easy to use, and durably constructed.
Maybe you're replacing an old floor jack, or maybe you're buying your first one. It's important to find the right one, whether that's for occasional roadside emergency use or regular maintenance on a car, truck, motorcycle, or trailer – finding a floor jack that fit your needs can be tough, and we're here to help you make that decision.
How to Stay Safe Around Floor Jacks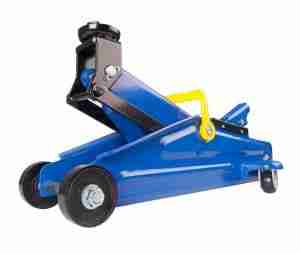 You must choose your ground wisely when employing a floor jack. It's of utmost importance that the ground be solid, flat, and strong since a large portion of the weight of your vehicle is about to be concentrated on a very small area of the ground.
You must maintain floor jacks by oiling their joints from time to time. Regular use is key to the longevity of hydraulic seals. You should actuate your jack periodically if it's stored for long periods of time and test it before relying on its operation.
Don't get under a vehicle which is supported only by a floor jack. You don't want to put your life in the hands of a single piece of machinery.
When using a jack, first place the vehicle in gear, block the wheels, set the handbrake, do all you can to ensure your vehicle doesn't move around while using floor jacks.
Some mechanics use ice hockey pucks to separate the car from the metal of the floor jack.
Most Importantly, Get to Know your Jack
A floor jack can have weird quirks and interesting features that aren't in the manual – for example, mine seems to like when I rotate the handle clockwise after every pull on the lever. That's not in the manual, it's not in reviews, and if I don't do it my floor jack loses pressure over time. It's just something I had to notice by paying close attention to what was going on.
How to Safely Use a Floor Jack
Yup, we're still talking about safety – it's that important. Here are some more tips on how to stay safe when using a floor jack:
Always use jack stands which are rated to hold more than the weight of your vehicle.
Always use the appropriate jacking points on your vehicle to avoid damaging areas that were not designed to hold so much weight.
Always use safety glasses, gloves, and other protective gear when working on a vehicle.
It's good practice to ensure your floor jack can lift your entire car if the worst were to happen.
Most importantly, take your time. There's no reason to rush a process that could end up injuring you if it goes wrong.
When to Replace a Floor Jack
I say this point-blank because that's how it is – if a car falls on you, that's all she wrote. Like anything in this world, it's important to understand the dangers involved in using a floor jack and the safety precautions that should be taken to avoid injury and damage to property.
If you are in any doubt of the integrity and dependability of your current one, you should replace it. It's usually not worth taking it to a specialist or repair facility to diagnose a problem. Especially with failing hydraulic units, it's best to just get a new one that you know you can trust.
What's in A Name?
The name "Jack" originated as a nickname for men called John sometime in the 16th century. It referred to a man of a certain social status, someone who at the time would have worked with their hands, as opposed to socialites and nobility who worked primarily in words. At the time this carried a negative connotation.
As metal came to replace wood the word "jack" came to describe a machine that could lift heavy weights. And thus, floor jacks and other types of jack today still carry the same name.
Floor jacks can lift upwards of two tons – remember, your car can weigh more than that so long as you're not lifting the whole car at the same time, but it's a good rule of thumb to buy one that could lift your entire car just to be safe.
High Quality Floor Jacks
You're about to see some of the cheapest floor jacks known to man, as well as some of the most expensive. That's because some of you might be looking for that one-time-use emergency lifesaver, while others are looking for something that will be used in the shop every day.
With that said, each floor jack on this list has stellar reviews on Amazon with reliable sources saying they have put them through years of use without any glaring issues developing. That's high praise, especially for the cheap ones, but do yourself a favor and don't cheap out if you plan to use your floor jack all the time. Not only will the internal seals not last as long, their warranties usually won't cover hydraulic failures.
The Best Inexpensive Floor Jacks
Each floor jack below comes with free Prime shipping for Amazon Prime members, so there's no need to run down to that certain big-box store with the constant sale prices. I've personally bought a floor jack from there, and I had to return it because it had a leak right out of the box. For wrenches and little stuff, sure, go there. For something that could cost you your life, go somewhere else.
We'll avoid big brands that charge you extra money for the name.
Without further ado, let's dive right into the best floor jacks you can buy today. We'll also learn about the most common types of floor jack on the market. Let's go!
Capacity: 3000 pounds / 1360.78 kilograms / 1.5 tons
Max Height: 15 3/8 inches / 39.0525 cm
Let's start small, cheap, and portable. The Torin Big Red floor jack is a scissor style – that means you use a two-piece handle to rotate a hook (seen at the left) which brings the two sides of the jack together, like a scissor, and raises whatever you have it under.
It's built with a heavy duty gauge all steel construction with nice firm platforms for feet, and the small size allows for easy storage wherever you may need to have it.
Scissor lifts use the concept of "mechanical advantage" to raise a vehicle by manual force alone. You can also use a power wrench with a special attachment to actuate a scissor lift.
Carry this one with you on the jobsite, in the car, or in the trunk. It's simple and durable. It's handy for roadside emergencies but will take a lot more elbow grease and time to use than a different style of jack. And it can't jack nearly as high as the others, which means it's best for changing tires on low vehicles. But for $17, you can't really go wrong.
Pros
#1 Best Seller in Amazon floor jacks
Low 5-inch minimum height
Weighs under 8 pounds
Heavy duty steel construction
Manual action is not prone to fail
1-year warranty
Cons
Cannot lift very high
Takes more effort to operate
Capacity: 4000 pounds / 1814.37 kilograms / 2 tons
Max Height: 14 inches / 35.56 cm
The Pro-Lift F-767 floor jack represents an inexpensive version of a low-profile hydraulic design, the most common style of floor jack. In this design the user actuates a handle, forcing hydraulic fluid through a pressurized chamber and/or lines, thus raising the platform and whatever it's underneath.
Reminder: it is necessary to oil hydraulic floor jacks to maintain their operation over time.
Fixed wheels and casters allow for mobility. A bypass device prevents against over pumping to ensure safe operation. The extra-low profile ensures it can slip under even the lowest of cars, and a heavy-duty steel construction ensures longevity. Plus, the "saddle" – the part that holds the car – can rotate, allowing the jack to move more freely as the car is lifted.
You'll also notice a handle atop the floor jack – that's to lock it in place mechanically, so you don't have to depend on hydraulic force to keep the car elevated. You should use that – otherwise you'll cause premature wear to the hydraulic mechanism.
These are features shared by almost every hydraulic floor jack, so we won't talk about them again.
Pros
Lowest profile of 3.5 inches
Heavy duty steel construction
Can support up to 2 tons
90-day warranty
Cons
Weighs 30 pounds – not very portable
Thick plastic wheels
Capacity: 4000 pounds / 1814.37 kilograms / 2 tons
Max Height: 13 inches / 33.02 cm
This is the absolute cheapest hydraulic floor jack you're going to find. It's also the smallest hydraulic floor jack around. If you want the low cost and relative portability of the scissor lift you saw earlier, but you don't want to break a sweat, you can buy this and still have enough money left over for a coffee. And at 18 inches long, it can still fit in the trunk of your car for those emergency occasions.
Pros
Low-ish weight of 20 pounds
Small-ish size of 18 inches long
1-year warranty
Cons
Tall minimum height of 5.6 inches
Looks like a McDonald's toy
At $15, chance of getting what you pay for
Capacity: 1100 pounds / 498.95 kilograms / 0.55 tons
Max Height: 13.25 inches / 33.65 cm
This is a light-duty motorcycle floor jack. It's best used by the occasional motorcycle mechanic for stabilizing a bike during an oil change, chain change, or other maintenance. It's a scissor-style lift, which as you recall means you're doing most of the work to lift the bike.
All motorcycle / ATV lifts are going to have a smaller weight rating and smaller overall size. This one is unique because of its flat platform, which as we'll see in a minute, is uncommon. It can also be stored away in a very small form factor when it's not in use, or for transport.
Also, it can only lift a bike a little over a foot off the ground. That might not sound useful, but if you're a motorcycle mechanic, you know it can come in handy for small jobs, or taking to the track, or putting in the trailer of the Goldwing on those long rides.
You don't want to go restoring a bike on one of these little guys, but for regular maintenance a few times a year this isn't a bad option. Especially for $57.
Pros
Cheap, small, and light – easy to store and carry
Raises the bike upright
Might raise a wheel off the ground
Cons
Scissor style
Only raises 13 inches
Capacity: 4000 pounds / 1814.37 kilograms / 2 tons
Max Height: 17.5inches / 44.45 cm
This is a heavier duty motorcycle floor jack by Powerbuilt. You want this if you're planning to do more than just your once-a-year oil change. It works with sport bikes, cruisers, ATVs, and other types of bike and can lift the bike well off the ground, enabling a wider range of uses.
Here's a secret – a motorcycle floor jack can be used on cars. Yes, that's right. If you're having trouble finding a sweet spot using a standard floor jack, you can use one of these. In working on vintage cars I've found many of them that are easier to lift using a motorcycle floor jack.
The makers of this specific model embraced that idea and included a conventional single pillar in the center of the motorcycle tray – you can choose to not use the motorcycle tray if you don't want to.
A word of warning for motorcycle floor jacks – the bike isn't going to be very stable, and you should find a way to stabilize it using tow lines, jack stands, wood, or something else if possible.
Pros
Triple Lift system includes car and motorcycle lifting platforms
Tall lift height
Two ton capacity
1-year warranty
Cons
Capacity: 8000 pounds / 3628.74 kilograms / 4 tons
Max Height: 12.6 inches / 32.004 cm
This is what's commonly referred to as a Bottle Jack. It's a hydraulic floor jack with a huge four-ton lift capacity considering its diminutive size. You actuate a bottle jack the same way as a regular floor jack, but when the hydraulic fluid is pressurized it pushes the platform straight out the top of the cylinder.
This is useful if you're trying to save space – and this entry-level model is designed for carrying in a car, and is the ultimate balance between space saving, ease of use, and lifting power. Beware of cheap jacks that offer high capacities – they'll wear themselves out faster than others.
It maxes out at a foot, but for changing a tire on a car, that's okay.
A good item to send with your child on those first road trips.
Pros
Four-ton lift capacity
Small size
Ease of use
Cons
Warranty not advertised
Low max height
For $14, probably not not durable or long-lasting
Capacity: 6000 pounds / 2721.55 kilograms / 3 tons
Max Height: 21 inches / 53.34 cm
This unique floor jack comes with an integrated jack stand. It's a longer-lasting bottle jack than the one we just saw, and though it holds less weight that also means it's operating well within its capabilities.
The actuation of the bottle jack raises the stand automatically. The stand can then be locked into place.
A novel idea that combines two things into one.
Pros
Combines floor jack and jack stand
Lifts 3 tons
Can extend to 21 inches
1-year warranty
Cons
Capacity: 7000 pounds / 3175.14 kilograms / 3.5 tons
Max Height: 48 inches / 121.92 cm / 4 feet
It has X-TREME in the name, so you know it's crazy. It can raise a vehicle four feet off the ground, so you know it's for off-roaders. Whether you're in the mountains or the desert, this is the floor jack you want to carry in your adventure vehicle.
If you drive a lifted truck, Jeep, or overland vehicle you'd be wise to carry a high-reaching jack with you in case you should ever need to use that full-size spare you carry around.
Pros
Heavy duty cast construction
Collapses and handle detaches = portable
Four feet of range
1-year warranty
Cons
Extremely specialized applications
Capacity: 4000 pounds / 1814.37 kilograms / 2 tons
Max Height: 24 inches / 60.96 cm / 2 feet
If you're looking for a floor jack that can clear your lowered Civic, you've found it. At just 2.75 inches tall this low-profile lift can easily slip under all but the most stanced of bodies.
But manufacturers know a low car needs a low floor jack, and they charge you for it.
It has a long chassis, a tall lift range, and at 97 pounds, a beefy construction.
Pros
Low 2.75-inch min height
High 24-inch max height
Beefy construction
1-year warranty
Cons
Heavy
You pay for the low
Capacity: 44,000 pounds / 19,958.07 kilograms / 22 tons
Max Height: 17 11/16 inches / 43.354 cm
If those others haven't been able to lift what you need to lift, this one can.
This commercial-grade heavy hitter is designed for trucks. Of course, at 17 inches of maximum lift, it's not designed for lifted trucks. We're talking moving trucks, shipping trucks, fork lifts, things besides vehicles… you get the idea.
Power comes from an actuation arm that rotates a full 90 degrees – you never knew it could be this easy to lift an ambulance off the ground. An air control system allows minute adjustments in vehicle height, and several redundancies protect against failure and shock.
This jack includes a plethora of extension adapters that can add a total of 4 inches to the maximum height, so depending on how lifted your truck or SUV is, you may be able to get away with using this to take a wheel off.
Be sure you have some tall and/or heavy-duty jack stands to go with this beast.
Pros
22-ton capacity
Air controls
Stout rubber tires
Includes 4 extensions
90-degree arm actuation
Cons
Warranty not advertised
Bulky when stored
Not tall enough for lifted trucks
But I Need to Lift a Tank with a Floor Jack
Wait, what's that you say? Those plebian floor jacks don't make the cut? None of them can lift your Freightliner semi? Well say no more.
Capacity: 143,000 pounds / 64,863.73 kilograms / 71.5 tons
Max Height: 16.5 inches / 41.91 cm
The manufacturer advertises that this floor jack is designed for "trailers, buses, and other class 7 and 8 vehicles" – things like semis, dump trucks, and construction equipment. Though it weighs 182 pounds, they also say it is "collapsible for easy transport." Easy, you say.
It has a three-stage lifting cylinder. Stage 1 does 22 tons. Stage 2 does 38.5. Stage 3 does the full monte – 71.5 tons.
The piston and cylinders are constructed of chrome moly vanadium steel coated in a liquid nitride finish.
This jack could lift an M1 Abrams tank. The whole tank. Isn't physics awesome?
Pros
Arm rotates 90 degrees
7-inch min height
Includes 4-inch extension
Air controls
4-inch wheels
5-year Warranty
Cons
5-inch max height
Costs more than the car you're lifting
Weighs half as much as the bike you're lifting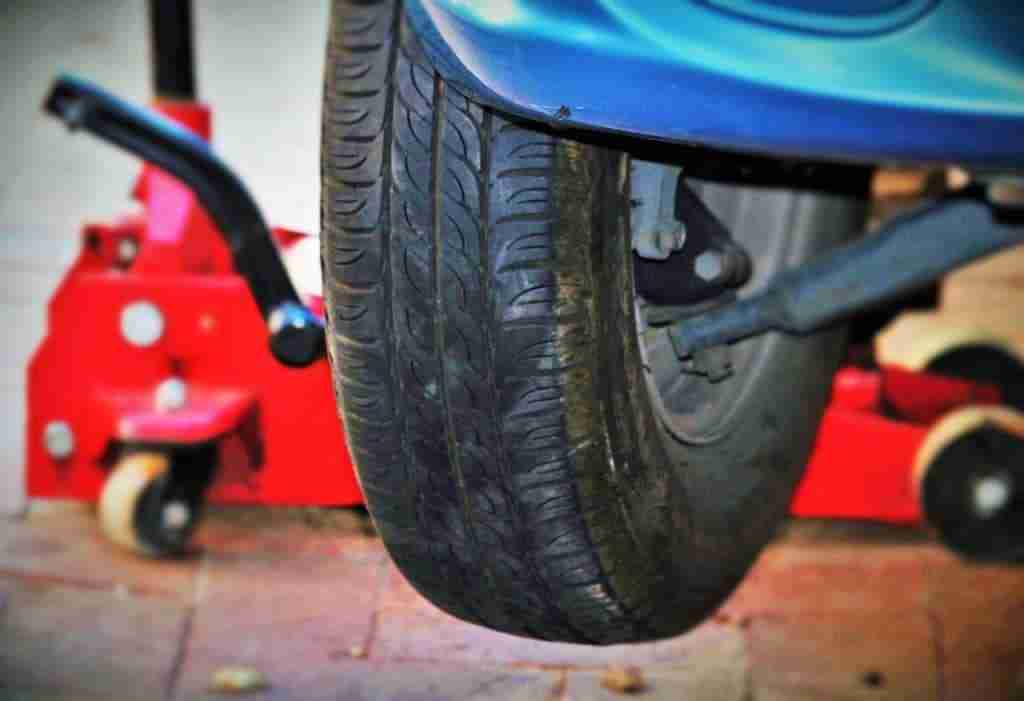 Which Floor Jack Should I Buy?
Congratulations! You've learned all there is to know about the different types of floor jack, how to use them safely, and how to know when you're getting ripped off. Pat yourself on the back, and then break out your floor jack and do some work.
If you have only an occasional need, buy the Liftmaster.
If you have a car, buy the Powerbuilt Unijack.
If you have a motorcycle, buy the Powerbuilt 620422E.
If you have a lowered car, buy the Arcan.
If you have a raised truck, buy the Hi-Lift.
If you have heavy machinery, buy the Goplus.
If you have a tank, buy the OTC.
Floor Jack FAQ
Can You Rent A Floor Jack?
Yes. You can rent a floor jack. There are several auto parts stores where you can rent a floor jack for a few hours or a few days. Most people have an auto parts store in their community where they can rent the size and type floor jack you need. These auto parts stores have a variety of styles and sizes of floor jacks available. Just tell them the year, make and model of the automobile for which you need the floor jack and what type of work you plan to do and they will recommend the right type and size floor jack for your needs.
Some auto parts shops may require you to have a credit or debit card through which you can leave a deposit on the floor jack. When you return the jack, as long as it's not damaged, the auto parts store will refund your deposit minus the cost of the rental.
Can You Use ATF In A Floor Jack?
It depends on the type of floor jack you have. Some hydraulic floor jacks have a sticker on them warning that hydraulic jack oil only be used. There are also many people who say using ATF did damage to the rubber seals inside their floor jacks. However, some engineers point out that ATF is a type of hydraulic fluid that's designed to work safely with pumps, valves and pistons like the ones in hydraulic floor jacks.
When considering adding ATF to your floor jack, see if the jack's manufacturer specifies only hydraulic jack oil be used in it. If the manufacturer doesn't specify no other type of oil, but hydraulic jack oil be used in the floor jack, then you can use ATF in it.
Can You Move A Car With A Floor Jack?
Yes. You can move a car using a floor jack, but it can be dangerous, so it must be done very carefully. You have to make sure the floor jack and the castors on which it rolls are strong enough to hold the weight of your car. You must also make sure the car is properly balanced on the jack or you can end up with a major problem. There are some floor jacks specifically designed for moving vehicles into and out of tight spaces or moving them short distances on the auto shop floor.
Some people are able to more safely move their cars using two rolling floor jacks. One in the front and one in the rear to keep the vehicle properly balanced. This type of maneuver is best done by experienced automotive experts with the right equipment. However, some average car owners have been known to do it when they find themselves in a pickle with no other way out.
Can You Rebuild A Floor Jack?
Yes, it's possible to rebuild a floor jack. Several companies sell kits for rebuilding hydraulic floor jacks.  But the process can be challenging if you don't have the skills and training necessary to do the job. Many of the floor jack rebuild kits have the parts needed to refurbish the floor jacks, but they don't come with step by step instructions. Some people have had success rebuilding their floor jacks by following the guidance provided by videos found online. It also helps if you find the right hydraulic floor jack manual online. These contain diagrams that will enable you to identify each part of the floor jack and see how they all fit together.
If you have a classic, American-made floor jack, rebuilding it may be worth the effort and expense. Plus, you will get an exhilarating feeling and have a great story to share when the job is done.
Can A Floor Jack Freeze?
There are a number of things that can cause your floor jack to freeze and be unable to move up or down. One of the most common reasons for this is if the reservoir does not have enough hydraulic fluid. If the system has air trapped in it, that can also cause the floor jack to freeze. Overfilling the reservoir with oil can also bind up the floor jack and make it freeze in place. Another problem that can cause a floor jack to freeze up is if the ram is severely pockmarked or rusted. An excessive amount of dirt or dust in the hydraulic reservoir can also cause the floor jack to become frozen in place and unable to move up or down. These are a few of the most common reasons a floor jack may freeze.
Can You Borrow A Floor Jack From AutoZone?
AutoZone has a Loan-A-Tool service through which customers can borrow specialty tools that are seldom-used and expensive-to-own for a fee. Floor jacks are one of the items customers can borrow. People who wish to borrow a floor jack from AutoZone can simply go online and browse through the list of tools the AutoZone stores in their area have in their Loan-A-Tool service. This will allow them to see if the floor jack they need is available and give them the opportunity to reserve it. They can also simply stop by the AutoZone store in their area and a staff member will help them borrow the floor jack they need.
The AutoZone Loan-A-Tool service is easy to use. Once you have identified the floor jack you need from their inventory online or in-store, all you have to do is pick it up and leave a deposit. You may keep the borrowed floor jack for up to 90 days. When you are finished with the jack, simply return it to AutoZone and collect your deposit.
Can You Jack A Car Up By The Rear Axle?
The owner's manual says you should not place the floor jack on the differential or the rear axle when jacking up a vehicle. Although people have done this for years, it is a bad practice. The rear axle isn't completely straight and parallel to the ground. There is a negative camber of about one degree to enable the rear end of the vehicle to track correctly. Putting the floor jack on the differential when lifting an automobile puts excess stress on the axle housing on both the right and left side of the differential where the rear axle connects to it.
The rear axle housing was not designed to withstand this additional stress. With the additional weight of the wheels tilted away from the body of the automobile at the wrong angle, the shape of the negative camber can be tweaked slightly and impair the performance and safety of the vehicle. While the damage may not be immediately apparent, the structural integrity of the rear axle is compromised when you jack up a vehicle by putting the floor jack on the rear axle or differential.
Can A 2 Ton Jack Lift A Dodge Ram 1500?
Yes. A 2 ton floor jack can lift a Dodge Ram 1500. The Dodge Ram 1500 weighs between 4,520 and 5,673 pounds fully loaded. That's just shy of 3 tons. When a floor jack is being used to lift a vehicle so work can be done on it, the floor jack does not have to raise the entire vehicle off the ground. Usually it is used to lift one-third to one-half of the vehicle. This means a floor jack with a 2 ton capacity should be more than adequate for lifting even a 5,673 pound Dodge Ram 1500.