VW ID4 vs Tesla Model Y? Which One Is the Better Choice? 2022
VW ID4 vs Tesla Model Y are two of the most popular electric vehicle manufacturers in the world. They both produce electric vehicles that are perfect for people who are looking for an option that is both different and similar to their original choice.
VW ID4 vs Tesla Model Y?
1. Features
The two models are packed with features that are certain to turn your head. They are, however, much more straightforward than they appear at first.
They also share features including panoramic glass roofing (if upgrading to Volkswagen ID.4 Pro S), Wireless charging USB chargers throughout the car, heated seats, and an interface with a touchscreen. But, with VW, you will also get Car-Net(r) which allows you to manage features and control your car via your smartphone.
If you compare the Tesla Model Y vs. Volkswagen ID.4, you might see that Tesla's touchscreen is more prominent. However, this does not mean it's superior.
Both vehicles let you control the temperature in your vehicle. Many consumers have discovered the physical buttons on the brand new VW ID.4 for sale to be simpler to use than the Model Y's interface, which is tech-focused.
2. Interior
The interiors of Tesla Model Y vs. Volkswagen ID.4 are very different regarding seat fabric. Tesla has developed a particular vegan seating option that is resistant to stains and improves comfort.
It will depend on your personal preferences, as specific drivers are not a fan of the texture of the fabric. Its VW ID.4, on the contrary, offers the choice of conventional options, such as leatherette seats made of cloth or V-Tex and even comes with a leather wrapped steering wheel.
3. Dimensions
When you take a test drive in a brand-new vehicle, you will immediately notice the difference in size that you have from your regular driver. Some prefer having the most significant car in the market, while others prefer smaller vehicles.
Notably, the Tesla Model Y is noticeably larger, measuring 187 inches wide as well as 75.6-inches wide, compared to the Volkswagen ID.4, which is 180.5-inches long and 72.9-inches wide. This is because it can be upgraded to the Tesla Model Y 7-seater, and Volkswagen ID.4 has only five seats. Volkswagen ID.4 has five seats as the only option available.
Some of the other dimensions for models with five seats that you could be interested in include the following (Tesla Model Y/VW ID.4):
The wheelbase (inches): 113.8/108.9
Height (in. ): 63.9/64.6
Front Leg Room (in. ): 41.8/41.1
Second Leg Room (in. ): 40.5/37.6
Carry-in Volume to Seat 1. (cu. ft.): 76/64.2
4. Performance
Nobody wants to drive an electric vehicle that isn't fast from the beginning. This is why knowing the performance of these cars is crucial in the purchasing process.
Both models feature All-Wheel Drive (although Rear-Wheel Drive is available with this model Volkswagen ID.4), the main focus is on handling and driver experience.
The Tesla Model Y has dual motors, making it a more sporty drive with speedy acceleration, but the more rigid suspension could cause a bumpier ride. Volkswagen ID.4, on the other hand, is more comfortable.
Volkswagen ID.4, on the contrary, is more gentle and won't force you to get back in your seat. However, it's not so slow that it's hard to accelerate to higher speeds.
You can also choose from various driving modes available with the VW ID.4 (including Eco, Comfort, Sport, and Custom), which make it flexible to different driving conditions.
You can pick between an athletic experience like the Tesla Model Y or something more laid-back for a pleasant drive in the countryside.
5. Range
One of the customers' most common concerns is how long these SUVs can go with just one charge. If you compare the example of the Tesla Model Y and. Volkswagen ID.4, you will see that the Tesla can go farther while the VW will charge faster.
Here are the ranges that have been advertised But remember that they can change depending on your driving habits and other factors.
Tesla Model Y Long Range: EPA-estimated 326 miles.
Tesla Model Y Performance: EPA-estimated 303 miles.
VW ID.4 Pro RWD The EPA estimates 260 miles.
VW ID.4 Pro S RWD EPA estimated 2250 miles.
VW ID.4 Pro AWD The EPA estimates 5 249 miles.
VW ID.4 Pro S AWD: EPA estimated 6240 miles.
The Tesla Model Y is indeed able to go further. However, it's not as powerful. The range that VW ID.4 can transport most people from work to home for around seven days.
One significant difference is that it can completely recharge the VW ID.4 using an outlet that is 120 volts overnight, while the Tesla Model Y will take several days to return to its full range by using this method.
6. Price
Considering the Tesla Model Y, the price alone might alter your opinion. It's about 10,000 more costly than Volkswagen ID.4, which is about $10,000 more expensive than Volkswagen ID.4, which is higher than what most people would spend.
Here are the price starting points for each vehicle:
Tesla Model Y Long Range: $53,990 MSRP.3
Tesla Model Y Performance: $60,990 MSRP.3
VW ID.4 Pro RWD: $39,995 MSRP.4
VW ID.4 Pro S RWD: $44,495 MSRP.4
Volkswagen ID.4 Pro AWD $43,675 MSRP.4
Volkswagen ID.4 Pro S $48.175 MSRP.4
Remember that even though Tesla Model Y might have an increased range and, possibly, more luxurious features, most of them are added-on. You'll have to purchase them separately in your final cost.
Although it might appear to be an affordable price for a Tesla, you should be aware of the features that could make up selling points in your choice.
Some of these add-ons, as well as their cost, include:
Seven Seats (+$3,000)
tow package (+$1,000)
Autopilot (+$10,000)
20″ Induction Wheels (+$2,000)
Black as well as White interior (+$1,000)
7. Volkswagen ID.4 vs. Tesla Model Y: What's inside the cabin?
Model Y Model Y is versatile and highly practical. This panoramic glass roof is gorgeous, as is the interior, which features 72 cubic feet of storage space capacity and a HEPA air filtering system. Front seats that can be adjusted with power, heated front and rear seats and the LED-lit fog lamp are included.
The sleek hatchback features second-row seats that fold flat, and the Vehicle load, reduce maximum towing capacity to seat you along with six other passengers. However, those in the third row might not be as comfortable as other passengers.
The car has a stunning 15.4-inch screen with "embedded Netflix, Hulu, and YouTube apps, as and video games ideal for occupying your time waiting for the battery to be charged at the charging station in public," according to Car and Driver.
Volkswagen ID.4 testers reported excellent noise reduction inside the cabin, extremely comfortable front and rear seats, and easy access to the rear. There's plenty of small item storage.
ID.4 ID. 4's inside features ambient lighting and heated seats in front. The modern cabin is fun, and the Pro S models offer 12-way adjustable front seats that can be adjusted with memory function and luxurious faux leather upholstery.
If you're looking for an ultra-modern entertainment system, you might be able to find the ID.4 disappointing. Edmunds was dissatisfied with specific controls that were difficult to understand and sluggish responses on the infotainment display.
According to the group, "Mundane things such as the window controls are too complicated, including the use of a touch-sensitive button that switches between rear and front windows, rather than only having one switch for each window." And since the indicator lights for many of these controls fade when the sun is shining, it's hard to know which one you're in.
It's Volkswagen's standard IQ.DRIVE suite of features includes lane-keep aid, adaptive cruise control, and automatic emergency braking. Blind-spot alert is also standard.
The Volkswagen ID.4 cockpit also displays an informational and digital instrument display with a standard display.
8. The best option for you
Both the ID.4 as well as Model Y achieved an IIHS Safety Top Safety Pick award and were awarded the NHTSA five-star rating for safety.
It's not a secret that the Tesla Model Y is significantly more expensive than the Volkswagen ID.4. Model Y prices are significantly higher than ID.4. Model Y ranges from $62,990 to $67,990, while the ID.4 is price between $41,230 and $49 410.
In this Consumer Reports reliability rating, the Model Y ranked a measly one out of five. It is a close match to the ID.4 across various categories, including speed, gearbox, front seat convenience, comfort and climate, the fuel economy of the vehicle, as well as customer satisfaction.
Finally, when it comes to Volkswagen ID.4 vs. Tesla Model Y, which one should you pick? If the latest technology with a remarkable range and bragging rights are your style, then you'll find that the Tesla Model Y can't be beaten. Although it's not as exciting as the Model 3, if you've been able to afford it, you're paying for performance, range, and prestige.
However, if you'd instead put some money into savings, The begin receiving price alerts 2022 Volkswagen ID.4 focuses more on convenience and is available to buyers.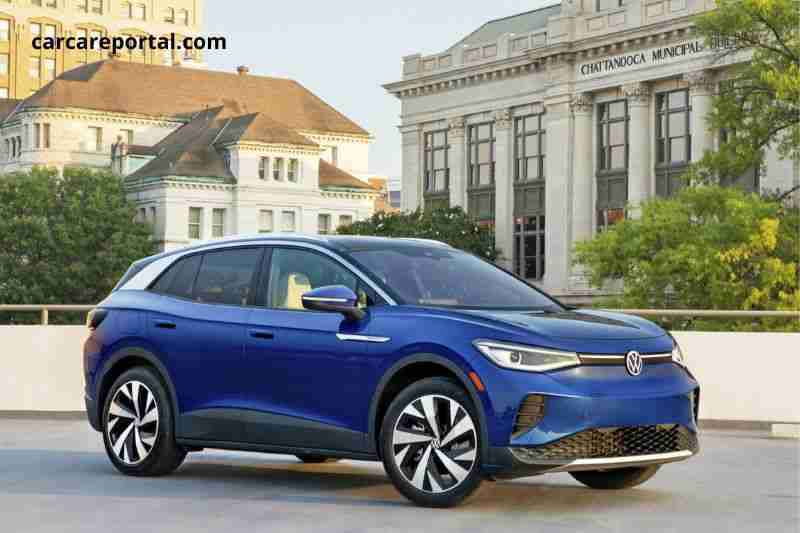 9. VW vs. Tesla: SUV Utility
If you're in the market for an SUV, then you're searching for an SUV that will offer plenty of capacity for cargo and additional capability in the Des Moines commute.
The Tesla Model Y and the Volkswagen ID.4 offer spacious interiors; however, both are smaller. The Tesla Model Y has six fewer cubic feet of cargo space for cargo in its rear trunk than the Volkswagen ID.4, meaning you have more storage space within its trunk than in the VW ID.4 without sacrificing passenger comfort. Check out the trunk space of the VW ID.4 against. Tesla Model Y below:
VW ID.4 Cargo Space 30.3 cubic feet
Tesla Model Y Trunk Space: 24.1 cubic feet
In addition to its spacious interior in addition to a spacious interior VW ID.4 also beats the Tesla Model Y with regards to capacity to tow. With a towing capacity of 4,200 pounds and AWD capabilities, you'll get an excellent value on this Volkswagen ID.4 at a much less expensive cost as compared to Tesla Model Y. Tesla Model Y.
Tesla Model Y Towing Capacity 3,500 pounds
VW ID.4 towing capacity 4200 pounds
How do I Buy?
Tesla Model Y Tesla Model Y has been available since the year 2020. You can also find some used models for sale.
You can lease a new model if you do not want to finance your Model Y. The 36-month lease for model base Long Range model starts from $766 per month with a minimum of $4,500 due upon signing. The Performance model's cost increases to $839 per month, and the exact amount is due upon signing.
It's the VW ID.4 that debuted in 2021 and, while there could be some that are entering the market for used cars, the best option is to purchase a new model through Volkswagen and receive the federal tax credit of $7500. It is possible to lease the ID.4; however, there are no offers for it at the moment you'll lease it at the retail price for the model you select. Be aware that leases aren't eligible to receive the federal tax credit.
FAQs
1. Is the Volkswagen ID.4 a good car?
There is no definitive either or not answer as to whether it is the Volkswagen ID.4 is a good car. It comes with pros and cons, as with any car, and it's up to you to determine whether it's the right car best suited to your needs. We consider it to be a decent car.
Some advantages of these pros include a spacious cabin where you can stretch out your legs and enjoy a smooth ride all drivers will appreciate and a sufficient range to get you where you want to go.
The features this SUV can be improved on include a more thrilling driving experience, a more distinct design, and a more user-friendly interface vehicle owner's manual.
The conclusion is that this is an acceptable alternative for those tired of gas-powered SUVs. However, while it's a great vehicle, it cannot provide some of the excitement other EVs provide. If this car isn't quite enough to satisfy your needs, there are many different new Volkswagen vehicles available for sale which will meet the requirements.
2. Is the ID.4 an SUV?
The ID.4 isn't just an SUV. It's breaking new ground thanks to being a cost-effective, all-electric alternative to gas-powered models. It comes with All-Wheel Drive and impresses drivers with its incredible traction over diverse terrains.
3. How much does the Tesla Model Y cost?
Two models are available for the Tesla Model Y available for purchase. The first is the Tesla Model Y Long Range, which will cost you $51,990 at MSRP.3, whereas The Tesla Model Y Performance will cost you $61,990 at the start of MSRP.3 This isn't the most affordable choice; however other electric SUVs cost more than the Model Y models.
4. How long is the wait for the Tesla Model Y?
Please expect the new demand for the Tesla Model Y Performance model to take between seven to nine weeks away, which means that it will be delivered around October. However, models with Long Range models are a different situation. They will not be delivered in November. That can be a major issue for those who need to purchase an automobile earlier.
It is possible to check this Volkswagen ID.4 as they will be available between October to November in the case of All-Wheel Drive versions, while the rear-wheel drive options are expected to arrive much sooner.
Read also: