Best Automotive Colleges and Schools in the United States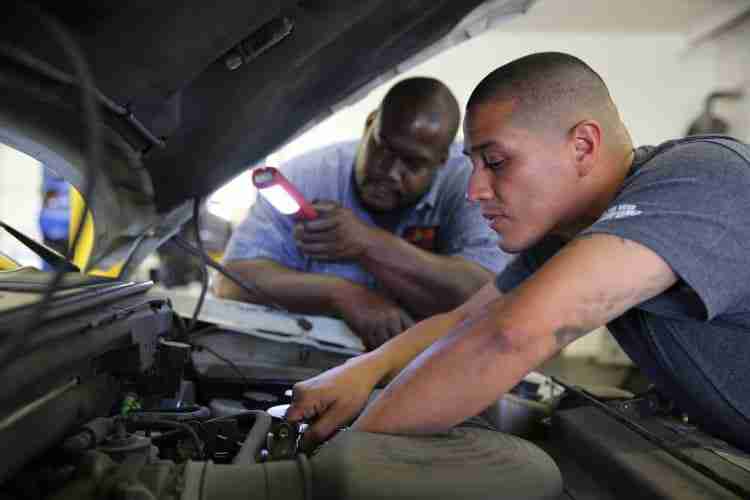 Best Automotive Colleges and Schools in the United States
In the United States alone, there are 222 million licensed drivers! This makes for plenty of cars on the road and tons of opportunities for mechanics. Becoming an ASE Certified Mechanic, otherwise known as an Automotive Service Excellence mechanic, could make your reaching your goal of becoming a mechanic easier to attain. While it is not required for mechanics to have an ASE Certification, many mechanics won't hire you if you don't have one. That's like going to a doctor without any proper education. The first step to receiving your AES Certification is finding a school that can certify you. This process could be long and confusing, though. If you are unsure of where to begin, continue reading this article to find a list of seven of the best automotive schools and things to look out for when choosing the best one for you.
Quick Look
University of Northwestern Ohio
Weber State University
Universal Technical Institute
Lincoln Technical Institute
Northampton Community College
Autoshop 101
Penn Foster Career School
Let's jump into these schools and the benefits and drawbacks about each of them.
University of Northwestern Ohio
The University of Northwestern Ohio, located in Lima, OH, is a great option for an automotive mechanic college as it offers plenty of degree options for you to choose from. They range from diploma programs to baccalaureate degrees, and they offer associate degree programs as well. Examples of these include Automotive Technology Supervision, Automotive Technology, and Automotive Diesel Technician programs.
This option is better for someone who is searching for a deep understanding of mechanics, not just obtaining their AES Certification. When you complete your program, though, you will walk out with not only an AES Certification, but a degree or diploma that shows you have proper training to diagnose and repair automobiles.
There are plenty of benefits if you decide to attend the University of Northwestern Ohio. This school is one of the best in the United States and will prepare you for your future career. They even offer 70% of the curriculum as hands on experience working with vehicles! Here, you'll always be honing your skills whether in the school's shop or in the classroom.
Students will begin their journey in the Applied Technologies' Automotive Department and start out with basic conceptual theories before moving on to advanced ones. After you complete your first set of knowledge-based courses you begin to integrate into the shop. In the University of Northwestern Ohio's shop, there are over 90 cars to work on, including a 4-wheel-drive dyno Mustang!
In terms of the ASE Certification test, the school itself will cover the cost for up to two tries taking the ASE test. This means that if you don't do well on your first exam, they will pay the price of a second test for you to increase your odds of passing.
Courses that students take range from Electrical and Electronics to Suspension and Steering and everything in between.
The University of Northwestern Ohio is a great option for aspiring mechanics looking to become ASE Certified and either reside in or move to Lima, Ohio. On campus housing is available with extra costs if you're just interested in the temporary school! Keep this school in mind if you're looking for an in-depth learning experience in the automotive mechanic industry.
Weber State University
Located in Ogden, Utah, Weber State University is a great option for obtaining a degree in Automotive Technology. This school is rated as the top 16 most popular automotive technology colleges in the United States. Weber State University is a school that focuses on engineering, applied science, and technology, so you can feel comfortable knowing the school you're attending is solely focused on your career area.
There are five different degree options that Weber State University offers to students. They are a Bachelor of Science in Field Service Operations Emphasis, a Bachelor of Science in Advanced Vehicle Systems Emphasis, an Associate of Applied Science in Independent Shop ATEP, an Associate of Applied Science in Heavy Duty Trucks, and an Institutional Certificate in Automotive Service Technology. All five of these paths certify you in Automotive Service Excellence.
Weber State University takes a very hands-on approach to Automotive Technology. They limit how much classroom time you have in order to ensure you get as much shop experience as possible. They have partnerships with various car companies and offer internships to all of them. Some examples include Ford, General Motors, Honda, Toyota, and Chrysler.
This school's shop is a state-of-the-art facility with over fifty-five thousand square feet of space. This ensures that each one of the five individual automotive programs have enough space to operate in their own location.
If you're worried about mechanic school costs, have no fear! There are plenty of options for tuition assistance, financial aid, and scholarships. Their website lists over forty different options of scholarships depending on your qualifications and genetic makeup.
If you are seriously considering a career path in automotive technology, the perfect career for car lovers, Weber State University should be at the top of your list. Keep in mind, this school is in Ogden, Utah, so you must be willing to travel and spend some time in that location. You won't regret choosing Weber State University as the place to pursue your automotive career!
The Universal Technical Institute is unlike other schools on this list as it is less of an established school and more of an education company. This means that there are various campus locations throughout the United States, and you can therefore choose where you want to attend. Plenty of programs are available, and with all of them you can obtain your Automotive Service Excellence Certification. This school is a great option for those who don't want to move, as there are many locations close to you, and who want specialized training with plenty of internship opportunities.
Thirteen school locations are available through the Universal Technical Institute. They are in Avondale AZ, Long Beach CA, Rancho Cucamonga CA, Sacramento CA, Orlando FL, Lisle IL, Norwood MA, Bloomfield NJ, Mooresville NC, Exton PA, Fort Worth TX, and Houston TX. Of these locations, two have specialty areas in welding and three in collision repair and refinish technology.
If you're looking for a shorter program, one of these locations is a great choice for you. From start to finish, the Universal Technical Institute offers a CNC Machine Technology Program with the ability to complete it in a total of just 36 weeks. This program helps you gain your Automotive Service Excellence Certification as well.
The Universal Technical Institute offers internships with twenty different automotive companies for automotive specialized training. These are through NASCAR, BMW, Ford, Lincoln, General Motors, Chevrolet, Cadillac, Mercedes Benz, Infinity, Ram, Nissan, Porsche, Lexus, Toyota, Volvo, Fiat, Alfa Romeo, Chrysler, Dodge, and Jeep.
If you're more interested in Diesel operations, this institute has diesel specialized training internships available to students as well. Companies you can work with include Cummins, Freightliner, International, Power Generation, and more.
A final option for you if you attend the Universal Technical Institute is collision repair. Developed with I-CAR, this curriculum is up to standards with current repair training. If you are unfamiliar with I-CAR, it is the provider of collision training standards defined by the automotive industry, which includes insurance companies and car manufacturers.
No matter what brings you to the Universal Technical Institute, you will not leave disappointed. With your new Automotive Service Excellence Certification in hand, you'll walk out of their school prepared for your future career.
Lincoln Technical Institute
Lincoln Technical Institute is a great school to learn and gain your Automotive Service Excellence Certification. Lincoln Tech is one of the leading vocational schools for automotive service in the United States. There are four options in the Automotive program. These include automotive technology, collision repair and refinishing, diesel technology, and heavy equipment. Whichever path you choose, an ASE Certification test is available, and you are prepared for it through the courses you take.
There are plenty of locations that offer all four of these specialties. The locations include but are not limited to Atlanta GA, Nashville TN, Denver CO, Philadelphia PA, Lincoln RI, Queens NY, Paramus NJ, and Indianapolis IA. These are only 9 locations, and there is a total of 23 campuses. Because so many locations exist, there is bound to be one location you live by or are interested in moving to. This way, you'll get your education completed in a location near home or one you love.
One unique aspect of Lincoln Technical Institute is their amazing Lincoln's Career Services Department. Here, they can help place you and connect you with leaders of the automotive industry. Past opportunities students have been connected to include NASCAR, Porsche, Lincoln, and other various companies.
All of the instructors in the automotive department of Lincoln Technical Institute are Automotive Service Excellence certified. This means the professors teaching you have experience in exactly what you are there to get. They have all gone through the same process as you are and therefore can help you through the process and act as mentors throughout the whole thing.
Lincoln Technical Institute offers plenty of scholarships for people who may not be able to fully afford trade school for auto mechanics. Financial and government aid is available as well to increase the amount of money given to you to kickstart your career. After school, you can easily make good money as a mechanic, and it is a stable job considering how many cars need servicing, so don't fear putting some money into your future!
Lincoln Technical Institute is a phenomenal option for aspiring auto mechanics. You won't regret attending!
Northampton Community College
Located in Bethlehem, Pennsylvania, Northampton Community College is a great option for hopeful mechanics looking to obtain their Automotive Service Excellence Certification. This community college does not only specify their education in automotive service, but they do offer a very strong program in it. With options for residence life here, don't fear not having somewhere to stay as well. Northampton Community College is perfect for those looking for a two-year path to the automotive industry, or if you are interested in both automotive and a different career field.
Northampton Community College has one of the best automotive technology programs of any community college in the United States. Here, they understand that many aspiring mechanics get into this field for both a love of cars and a desire to find solutions or fix things. Northampton Community College takes these ideas and implements them into the classroom. Career paths you can take vary in type from Automotive Service Technicians to Engine Performance Specialists and Specialty Repair Shop Owners.
Pennsylvania is one of the most popular states for automotive industry professionals due to both the history of vehicles here and the multitude of auto dealers and repair shops in the state. Because of this, Northampton Community College has a multitude of partnerships through their Automotive Service Education Program. These include opportunities with General Motors and MoparCap which is a program where Fiat and Chrysler automobiles partner with Subaru of America and Subaru University to provide students with automotive industry opportunities. This is a unique experience that various other colleges will not have.
Northampton Community College is a very affordable option of education programs in Pennsylvania for automotive technology. There are also plenty of scholarships and financial aid opportunities if you qualify for aid. Don't fear not progressing your career for a lack of financial support!
Northampton Community College is one of the best colleges in the United States for automotive careers. If you are considering attending, be sure to schedule a visit of their beautiful campus.
Autoshop 101
Unlike other options on this list is Autoshop 101. This is not a school, but an automotive training company. This skips the education and directly prepares you for the Automotive Service Excellence Certification tests. If school isn't up your alley, or if you already have the experience and just need to prepare for the exam, this is the best option for you.
Autoshop 101 functions fully online and offers free online tutorials, practice tests, and technical articles for those looking to get further into the automotive industry and get hired by mechanics faster.
This option is best if you'd like to save money by just taking the necessary exams. If you have been working in the automotive field but would like an extra edge on competitors by receiving your Automotive Service Excellence Certification, this method is also a great option for you.
Online training modules go over the exact things you need to prepare for the exam, and you can then take online practice exams just like the one you'll have to take for your actual certification.
Autoshop 101 is a great test preparation company for those looking for a quick way to study and pass the Automotive Service Excellence Certification test.
Penn Foster Career School
Penn Foster Career School is great for those who do not live by a school or would like to get their training done faster, as this program is completely online. This option saves you a lot of money and can get you into your prospective career field in less than six months! Compared to other school options on this list, this is great because you don't have to travel anywhere or move from your home! Take classes and prepare in the comfort of your own home.
This, though, can be a drawback for tactile learners. If you are someone who enjoys doing things and learning firsthand, this option may not be the best for you. Because you'll be taking online classes, you won't have that hands-on opportunity as you will in other schools with a campus and automotive shop. If you are a visual or auditory learner, though, this course would work perfectly for you. Penn Foster Career School offers video and audio resources which have how-to videos you can watch to hone your skills.
Professors and teachers you are working with are all certified in Automotive Service Excellence and therefore know exactly how to help you through the process of gaining your own certification. Penn Foster Career School offers success coaches, teaching assistants, and student support staff for those who have a harder time learning as well. Nobody will leave you behind or let you struggle at Penn Foster Career School! Everybody wants you to succeed. 
Penn Foster Career School is a great option for an automotive technician school and to gain help with your Automotive Service Excellence Certification process if you want to finish faster and complete your work online.
What to Look For in an Automotive College
Attending an automotive college is a great opportunity and resource for aspiring mechanics and automotive technicians. They provide you with opportunities and connections to some of the largest auto industry leaders in the United States. This experience along with the access to mentors to help you through your Automotive Service Excellence Certification makes attending one of these schools worth it. If you are unsure of how to choose the best program for you, take a look at these criteria below.
Location
Where you are located in the United States can greatly influence where you decide to attend a school for automotive technicians. If you are in a popular city, there are likely to be more opportunities than if you live in a small, rural town. Consider if and where you are willing to move to attend school. If you feel as if you don't want to move and aren't close to a campus, consider taking online classes.
Type of School
Various kinds of schools exist for automotive technicians. They include four-year degree colleges, two-year degree colleges, or diploma and certification technical schools. All three take different amounts of time and different levels of work involved. Diploma and certification schools can take the least amount of time, often less than a year of work. Depending on what type of program you want to partake in or how much experience you'd like to get from your school, the amount of time your education takes will vary. This is important to keep in mind when picking a school, as you should think ahead in your career.
What Kind of Program
There are many different programs that colleges offer throughout the United States for the automotive industry. They can include anything from general auto mechanic work to specialized repairs. Take time to decide what specific field you are interested in entering. Do you want a specialty job? Do you want to work in a mechanic shop? Would you like prospective careers with other popular car industries? No matter what you decide, look for these programs in schools you are interested in and choose based on that.
On or Off Campus
Are you a first-time student or never lived on a school campus before? Do you crave the experience a college campus will give you? If so, find a four-year school that will supply you with room and boarding on campus. This way, you'll be closer to the action and be surrounded by plenty of like-minded people who have the same goal as you. If you own a house or live at home and want to continue to do so, find a school closer to you to commute to. This way, you don't have to pay extra for a dorm you won't stay at and you can enjoy your time at home. Similarly, online classes are options and you can enjoy the comfort of your home by taking classes online.
Best Automotive Schools in the United States
There are plenty of options of automotive schools to attend in the United States that will help you gain your Automotive Service Excellence Certification. This is a constantly growing industry and is bound to provide you with lots of hands-on opportunities to fixing cars and other automotive technologies. No matter what school or program you decide to attend or take classes in, obtaining your ASE Certification will help you in your future career greatly. Enjoy your future career as an Automotive Technician after gaining experience and opportunities from a top automotive college in the United States!