How to Clean Mechanic Hands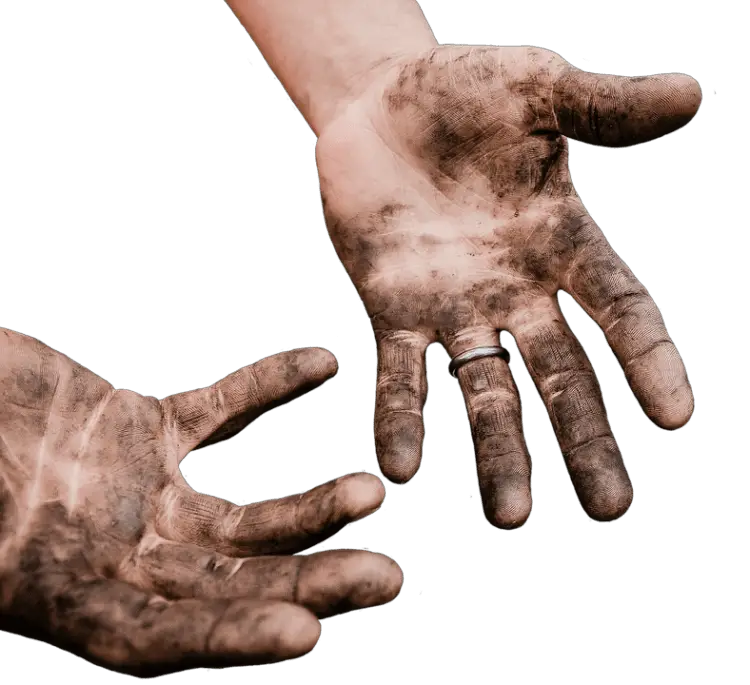 Anyone who has ever worked as a mechanic or even done a DIY mechanical project could agree that the grease and oil that your hands meet is difficult to remove.
Your hands are one of the most important parts of your body and can transport millions of bacteria and germs. Mechanics hands can get clean surfaces filthy in seconds, so it is important to make sure they are thoroughly clean.
If you are a mechanic or just like to do dirty work yourself, you probably want to know how to clean mechanic hands. This list will show you multiple different products that cut through tough motor grease and oil to get your mechanic hands clean.
How to Clean Mechanic Hands
Before we get into the list, it is important to consider that some of these products may have chemicals that could irritate your skin. It is always important to pay attention to the ingredients to make sure any allergies or skin irritations you may have are not exacerbated by these products.
Mechanics know that their hands are going to become stained regularly, and that it takes a powerful cleanser to remove that dirt and grime.
Let's take a look at the top five products for cleaning mechanic hands.
Gojo Natural Orange Pumice Industrial Hand Cleaner
Any long-time mechanic will know to have this hand soap in their shop. It is a quick acting, lotion formula soap that scrubs off the toughest grease and dirt.
The pumice in this soap are tiny scrubbing particles that you will be able to feel scrubbing the dirt off your hands. They are specifically included to clean industrial soils, dirt and grease from hands without harming your skin.
Aside from the high cleaning power, it also has an orange-citrus scent and is gentle enough to not dry out your hands. The ingredients are also renewable and USDA BioPreferred.
This soap has heavy duty cleansing capabilities that get rid of dirt and grime, but also general sanitizing properties to get rid of every day germs and bacteria. The conditioning ingredients help keep your skin healthy so you can be more productive.
Pros:
No harsh chemicals
Condition and sanitize skin
Citrus scent instead of chemical scent
Cons:
Pumice particles will likely hurt already damaged hands
Zolex Water Activated Hand Cleaner for Working Hands
Zolex is a powerful cleansing product that removes grease, grime, dirt, ink, sap, odor, tar, paint and many other industrial adhesives from working hands. The formula absorbs toxins and exfoliates skin while lifting the unwanted particles so they can be rinsed away.
The soap is made of natural ingredients and comes in a grease form that is activated by water. It can even be used to clean household items like sinks and drains because it is not solvent based, so it will not cling to the edges of your pipes.
This is also an eco-friendly product made with non-toxic, non-hazardous ingredients that also do not include harsh chemicals. It is safe to use on cracked or cut skin and on any part of the body, not just the hands.
A little bit of this product goes a long way, and leaves behind a clean, fresh scent.
Pros:
Industrial strength cleaner can remove many different strong products like tar and paint
Gentle enough to use on damaged skin
Won't clog drains and sinks
Eco-friendly
Cons:
Gritty texture can irritate cut or scraped hands
Fast Orange Xtreme Fresh Scent Pumice Hand Cleaner
This is another gritty soap that scrubs through tough grease, oil and many other industrial level liquids and soils. Carbon, cement, ink and paint are no match to this cleanser.
Fast Orange Xtreme is a professional lever cleanser with gentle properties that condition and strengthen your skin, cleaning it while making it healthier at the same time. The light formula leaves nothing behind but a fresh scent, no grease or oil residue.
The soap is petroleum and solvent-free and has no harsh chemicals or ammonia that will harm cuts and scrapes. It's also fused with MicroGel technology, which helps the solution cling to your hands meaning you will use less and waste less.
Pros:
Waste-preventing technology
Strong enough to remove industrial stains
No greasy residue
Cons:
Gritty texture could hurt on damaged hands
ZEP Cherry Bomb Heavy Duty Pumice Hand Cleaner
Pumice is a prime ingredient in heavy duty hand cleaners, and this product is no different. Just like other products listed, the pumice particles act as an exfoliant that loosens tough dirt and grease from the skin.
This product also lifts stubborn industrial soils such as grease, tar, carbon, ink, paint, adhesives and many more. The solvent formula has a mild cherry scent that overcomes residual odors of diesel and other strong-smelling motor scents.
It is gentle enough to leave hands moisturized and exfoliated after using while still cutting through the dirt and lifting stains from fingers and fingernails.
Pros:
Removes industrial strength soils
Scented to get rid of soil odor
Exfoliating
Cons:
Contains harsh chemicals
Solvent base may leave behind residue
Tub O' Towels Heavy Duty Multi-Surface Cleaning Wipes
If you are looking for a mechanical hand cleaner that's quicker and on-the-go, these wipes could be a good alternative to washing with soap and water.  These are no ordinary towels. They're huge, 10 by 12-inch towels that are meant for both cleaning hands and other surfaces.
These towels can remove heavy stains and odors from grease, oil, tar, ink, paint, break dust, permanent marker, and so many more hard-to-remove products. Though effective, they're gentle on skin and contain lanolin, Aloe Vera and Vitamin E which all have soothing and healing qualities.
Not only do these wipes work on skin but can also be used to clean your work space, your home surfaces, boat and RV surfaces, and practically any other surface that you need cleaned. The are durable, fiber-weaved wipes that will not fall apart while using them.
Plus, they are environmentally friendly, so you do not have to worry about creating waste with these wipes.
Pros:
More convenient then hand washing
Environmentally friendly
Large size allows for better cleaning
Cons:
Large wipes could mean wasting them on small stains
If you are a hard-working mechanic or a DIY mechanic who wants to leave the grease in the shop where it belongs, any of the products listed above will work for you. When you are looking for a product, be sure to look the benefits of each one to make sure it is usable for your needs.
For example, the Gojo product is well known for cleaning grease, while the Fast Orange Xtreme can also tackle paint and ink. Think about what kind of soils you are coming into contact with the most and choose the product that can handle them.
It's also important to get the one that will not cause you any harm or irritate your skin while still doing the job. Certain soaps have pumice in them which can be an active ingredient in scrubbing off tough stains and grease, but these can also irritate cracked skin. If you are worried about cuts or scrapes, a product like the Tub O' Towels wipes would probably be a better option for you.
It is also important to think about where you will be using these products. If you will have this mechanic hands cleaner in your home, you will want to make sure no greasy residue is left behind that could clog your home's plumbing. Or, you may have small children and do not want them to be exposed to harsh chemicals that some of these soaps could contain.
No matter which soap you choose, these products are all heavy duty enough to leave no trace of your mechanical skills.