Infiniti vs Lexus: Compare Price, Reliable, Performance… 2022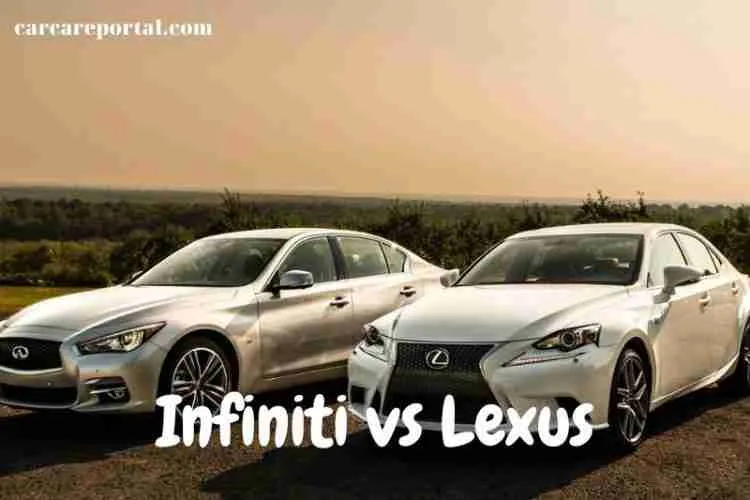 Infiniti vs Lexus is two of the world's most recognized luxury car brands. Both have a reputation for quality, performance, and reliability, but which is better? Comparing them side-by-side can be difficult, as they both offer different benefits.
Infiniti typically provides more power and performance-oriented vehicles, while Lexus is known for its comfort and convenience features. Ultimately, it comes down to personal preference.
Infiniti might be the right choice if you're looking for an exciting driving experience. If you're looking for a comfortable ride with all the bells and whistles, then Lexus could be the better option.
Infiniti vs Lexus
1. Battle Of The Sports Coupes
There is the Infiniti Q60 and the Lexus RC350. Comparing the basic models of both cars, Infiniti is more powerful than Lexus. In terms of performance, standard features and price. The Q60 includes additional basic features to provide a more relaxing journey.
It features larger engines and lower starting prices than the Lexus. Infiniti's new range of sporty luxury coupes and sedans is the epitome of automobile design innovativeness, power, and innovation. Infiniti brand is the leader in this area.
2. Flagship Sedans
The Lexus LS460 is often compared to the Infiniti Q70. Both cars come with a wealth of high-end features, resulting in an even score in this comparison section. However, they're not the same. If we examine the finer details, we discern that the Q70 base model is more prominent in the engine. Lexus outshines Infiniti.
The Lexus LS460 has the more muscular horsepower, torque, and enhanced speed and acceleration. The Infiniti flagship car has the same fuel economy as the LS460. If you choose Infiniti vehicles, the warranty coverage is higher, and the cost is less than $10,000.
3. Safety Features
Safety features in the automotive sector have advanced a great deal through the years. Both manufacturers are renowned for their distinct safety features, and high-end models have earned a reputable reputation in the premium segment.
Only in the realm of vehicle dynamic control and blind-spot monitors do the two companies have a chance to compete.
Lexus isn't equipped with many of the features that Infiniti offers. While both vehicles have received excellent marks for their unique features, Infiniti is the more affordable choice when it comes to safety features.
Regarding technological benefits, Lexus edges away with the most advanced security features even though it's priced at a considerable cost premium. In AutoExpress's rankings of the most reliable used automobiles, Lexus also came out at the top of the list on the J.D. Power Vehicle Dependability Study.
4. Pricing
Infiniti is the top-priced car in the all over this market. It's easy to understand the reason. When deciding between Lexus and Infiniti, consider that Lexus is more expensive, so Infiniti is the best deal for those on a tight budget. Infiniti offers discounts on the upper and lower models of every one of its vehicles.
It's a good choice for many drivers due to its premium SUV models that are priced lower and the lower cost entry-level sedan models compared to Lexus. People who don't have to think about cost can choose a Lexus or Mercedes-Benz S-Class.
5. Convenience and Luxury
The higher-quality materials used in the interior give Lexus an advantage over other competitors. This results in better durability and a more comfortable experience for passengers and drivers. High-end materials in the interior ensure a more comfortable and comfortable journey.
Lexus ranks first in the convenience and luxury features of the market due to the control systems being easier to access and utilize. Since its introduction, Lexus has frequently changed its models, while Infiniti has kept its vehicles the same.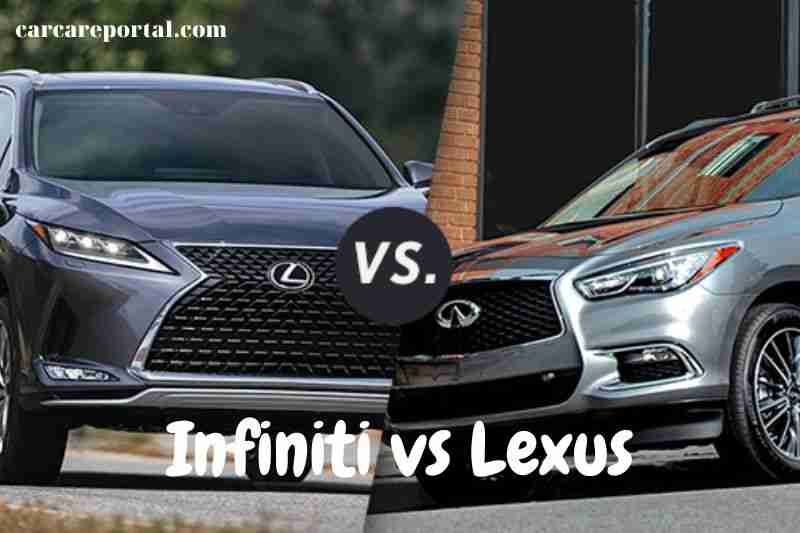 6. Practicalities And Amenities
Lexus interiors have premium materials and superior design for the driver's and passengers' comfort. While both vehicles are almost identical in most efficiency factors, the Lexus is a little more efficient if the economy is an issue for you.
If cost is a significant concern in your life, or you are on a budget, Infiniti will be the best choice. Lexus is a lot more expensive, and in comparison to Infiniti, It offers fewer features in basic models of various vehicle kinds.
Lexus, as well as Infiniti, are in a close race for a luxury vehicle. However, Lexus is more lavish and has a more excellent range of options, whereas Infiniti offers more value in terms of price.
7. Power
Suppose you're searching for something more exciting to travel to every day! Infiniti has earned a name for itself by selling powerful V6 engines at one of the most economical trims in its lineup.
The engine inside the Infiniti Q60 is a lot stronger than the engine in the rival's car. The base 3.0L V6 Twin Turbo engine in the Q60 has 300 horsepower and 295 pounds-feet of torque.
The 2.0L turbo-in-line engine inside the new 2020 Lexus RC makes 241 horsepower and 258 pounds of torque. Lexus negative Qualities There is less emphasis on speed. They primarily designed Lexus automobiles to offer customers the most enjoyable ride and luxury.
8. Vehicle Inventory
Customers are drawn to a brand that has a wide range of vehicles. Automobile manufacturers compete to provide the most diverse selection of vehicles. Let's begin with Infiniti. Infiniti includes 3 sedans, a coupe, and four crossovers and SUVs.
In contrast, Lexus gives customers a selection of seven luxury sedans, including three coupes and five SUV models. This indicates that Lexus is ahead of the pack in terms of its range of models. This means that buyers have fewer options when looking for an Infiniti.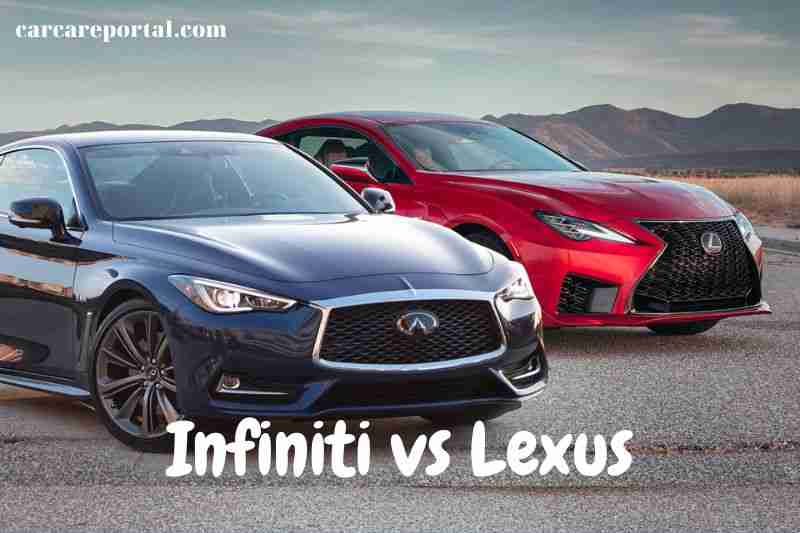 9. SUV comparison
It is the Infiniti QX80 is the flagship SUV for the brand. It's a bit more expensive than its counterpart, the Lexus LX570. Both are top-quality luxury cars. However, when you compare them to each other, the Infiniti has more basic features, higher fuel efficiency, more horsepower and torque, and a better warranty.
The QX80 also offers more room for greater comfort, as well as more extravagant features when luxurious features are considered. If we examine the price of both Infiniti and QX80, the Infiniti is about $20,000 less than the base version.
Infiniti and Lexus Which is the superior luxury brand?
Each brand has its distinct style, with pros as well as cons. There is no ideal luxurious vehicle. However, some come close. The ideal vehicle depends on the requirements of the buyer and what one is closest to satisfying your lifestyle and driving requirements.
We look at some of the features that matter for consumers with real-world applications. Regarding living, The Lexus has plenty to offer families who need extra space for seating in its selection of SUVs of different dimensions. There's more room to provide greater comfort for passengers.
Those who love to drive their cars off the roads would likely enjoy a better experience using the Lexus alternatives. The Infiniti needs to meet the standards with off-road performance.
Comfort, luxury and convenience are all areas in which Lexus surpasses Infiniti. Lexus has more high-end interior materials, with comfortable and user-friendly configurations regarding luxury and comfort. Though both are equally effective in many aspects of efficiency, when consumption is a concern your way, Lexus is slightly superior in efficiency in the fuel department.
If manufacturer's suggested retail price is a concern or you're a budget-conscious person looking for a budget-friendly car, Infiniti is Lexus outshined all the way around. Lexus is a lot more expensive, and for specific models, it has much less than the standard models regarding basic features compared to Infiniti.
The two brands claim that they offer superior technology. However, Lexus vehicles have an advantage in terms of safety features. However, you'll have to pay more to get it.
If you want an extensive range of car models, Lexus is the winner by a wide margin. Infiniti offers fewer options in every vehicle class.
Infiniti and Lexus have neck and neck in various aspects related to quality and performance, but the conclusion can be said to show it's Lexus offers more lavishness and has more options, and options, while Infiniti provides more value for the cost.
Read also: