Is It Illegal To Have LED Signs In The Back Window Of Your Car?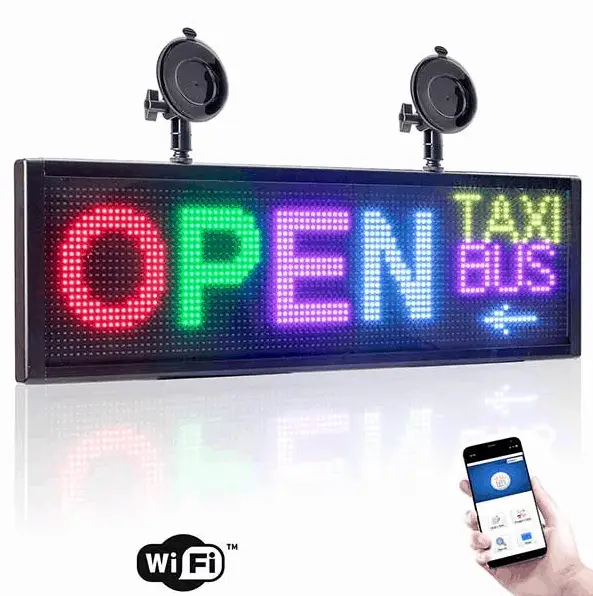 If this is your new or 25th car, you may be wanting to jazz up your car a little bit. That is definitely okay, and there are a few ways you can go about it. You can put stickers on the back of your car, find seat covers for the inside, and in some states, you may even be able to put LED signs in your vehicle.
Is it illegal to have LED signs in the back window of your car? In some states, they banned certain LED products in your vehicle. However, in most states, it is entirely okay to put an LED sign in your car. The best way to find out if it is okay is to read the state rules or call your local police department on the non-emergency line to ask questions.
Cars can be tricky because every state is different with what they will allow. You must look at the state you're living in and make a decision based on the answers you find. If it is illegal in your state, you could have serious consequences, even for a cute LED sign.
Where to get LED signs
Most of your local stores like home depot and best buy will carry versions of LED signs. If you are looking to have a super fancy custom made sign, you may want to order it online. There are even some great apps where you can buy budget-friendly custom-made signs, like Etsy.
LED Scrolling Sign- This sign scrolls through the message you program and can be hung up really easily. It is a decent size and will fit in most cars.
Remote LED Car Sign- An excellent car sign with no need to plug it in anywhere. It has suction cups so it will stick right on your windows without falling. You will also need to program your message on this car sign.
Emoji LED Sign- This one is great because you can change it through Bluetooth. It comes with 8 different moving modes. It is a great way to show how you're feeling while driving.
There are many more options to choose from, all you have to do is a quick Google search, and you will find some of the best signs. You can also walk into a local business, and they will have some good options for you.
What LED lights are illegal
Most states have their own laws about LED lights, so it can be hard to know if something is legal or not. The best way is to do research about the state you live in. Here are some examples of where certain LED lights are illegal.
New York laws
In New York, your car may not have any under glow lights if it is any color other than white. Why? If a driver has blue or red lights under their car, it confuses drivers as well as policemen. Therefore under glow lights are not illegal, but you need to choose the correct color if you want to avoid trouble.
Connecticut laws
In Connecticut, one state away from New York, all under glow lights are illegal, and this is due to safety reasons. Under glow, lights are strictly for emergency vehicles only. If you live in CT, you could get a massive fine. CT also has more rules, if any of your car lights are so bright, they cause a distraction on the road they will get taken away, and you will get a fine. So, when picking out any kind of lights, including an LED sign, you need to think about if it will cause any sort of distraction.
Pros and cons of LED signs in cars
There are many reasons why someone would choose to put an LED sign in a car, but there can also be some negative outcomes from doing this.
Pros
Promotes a business- If you're looking to share your work with others, this can be a small way to do it. You can share your phone number or business name. People will remember the sign in the back of your car.
Shares how you feel– You don't have to use it for business, it can be an easy way to tell someone to back off without having to honk. In a way this can be less of a distraction than honking would cause.
Passing- You can program the car sign to tell someone to pass you. Someone may not get the hint if you wave once, but if they can read a sign, they will surely get the hint to pass you.
Expression- It is an excellent way to express yourself, you can use happy or sad emoji on your sign. Everyone will know what kind of mood you're in.
Cons
Illegal- Depending on the state, you won't get the option to do this. If a state finds it distracting, they may tell you to take the sign down.
Anger- If your sign is a little too snarky, it may really hurt people's feelings, and cause road rage. You don't want to be responsible for that, so if you choose to get one, think about keeping the message on the lighter side.
Pulled over- If your sign is too bright with colors of blue and red, even if it is not illegal, officers may ask you to take it down because those are emergency colors.
Expensive- Depending on the sign you want, it can get expensive. If you want a big custom-made sign, it will be more costly than getting one on Amazon or Etsy.
For each state, there will be more pros and cons. It really just depends on where you live and what the rules of the road are. If you know it is legal in your state, you should think about adding some flair to your car!
Final thoughts on LED signs
The critical thing to remember is you want to make sure you are following the rules. You will want to add some pizazz that will not get you a ticket or your sign taken away. These signs can be a fun way to promote happiness and positivity, or an excellent way to send other drivers a sign that allows them to pass you.
LED signs in cars can be fun and yet very practical. It all depends on how you use it and the message you send to others. Make sure you do the proper research, and then if it is okay in your state, make sure you read on how to program the sign correctly.