Toyota Tacoma vs Tundra: Which Is Better? 2022
There are a few key differences between the Toyota Tacoma vs Tundra. The Tacoma is a midsize truck while the Tundra is a full-size truck. The Tacoma is available in both rear-wheel drive and four-wheel drive, while the Tundra only comes in four-wheel drive.
The Tacoma has a starting price of $24, 200 while the Tundra has a starting price of $31, 120. Both trucks come standard with a six-speed automatic transmission. The Tacoma has a V6 engine with 278 horsepower, while the Tundra has a V8 engine with 381 horsepower.
The Tacoma can tow up to 6, 800 pounds, while the Tundra can tow up to 10, 200 pounds. The Tundra is a better choice for those who need a full-size truck with more power and towing capacity.
2022 Toyota Tacoma
A legendary vehicle in the midsize pickup market, The Toyota Tacoma has remained a symbol of durability due to its tested reliability, durability and unique features, which allow it to be a success both off-road and on.
Drivers can pick from Access Cab (6-foot bed) or Double Cab (available in a 5-foot short bed or a 6-foot bed) depending on their cargo or passenger needs. For performance, you can choose a low-cost 2.7-liter 4-cylinder engine that produces 180 pounds of torque.
If you want to increase your power, the 3.5-liter V6 produces an impressive 278 horsepower and 265 pounds of torque. You can also choose between a manual 6-speed or a 6-speed auto based on your preference for driving.
Apart from its smaller size, Another reason to go with the Tacoma rather than the Tundra is the higher performance in terms of fuel efficiency when comparing the base trim levels.
Inside the cabin, The Tacoma features 39.7 inches of headroom and 42.9 inches of legroom when seated in the driver's seat.
In the rear seat for Double Cab models, passengers will have 38.3 inches of headroom and 32.6 inches of legroom.
Other features available on the Tacoma include a wireless charging pad, a deck rail system, and an outlet with 120 volts inside the bed.
Apple CarPlay and Android Auto smartphones are included on all six models that make up Tacoma. Toyota Tacoma.
Read also: Why Are Tacomas So Expensive
2022 Toyota Tundra
If you're seeking the most performance from your large truck, look no further than the fantastic Toyota Tundra. A long-haul option with 32.2-gallon tanks for fuel, massive front brakes, as well as the capacity to tow 12,000 pounds shows how the Tundra will help you overcome every obstacle that stands before you.
The i-FORCE standard 3.5-liter Twin-Turbo V6 motor puts out an impressive 389 horsepower with 479 lb-ft torque to provide plenty of low-end torque and power.
Drivers can upgrade to the i-FORCE MAX 3.5-liter Twin-Turbo V6 Hybrid that produces an impressive 583 pounds of torque.
Six distinct trim levels range from the functional SR and SR5 through the lavish Platinum and the 1794 edition. A trailer brake controller gives you stability when towing a significant burden.
The Tundra is more significant than its smaller sibling and more extensive in its overall size. The Toyota Tundra offers front seat passengers 41.0 inches of headroom and 41.2 inches of legroom.
Within Tundra CrewMax configurations, the back seat passengers will have ample space to relax because of 38.5 inches of room for headroom and 41.6 inches of legroom.
The process of hooking up your trailer is never easier or more convenient due to the standard backup camera. If you're looking for the most luxurious and comfortable, Tundra 1794 Edition trims feature a western-themed interior with brown leather seats with perforated leather trim.
Toyota Tacoma vs Tundra
1. Configurations & Prices
The main difference between Tacoma and Tundra isn't the number of trim levels. They both have six options to choose from, meaning there are plenty of choices when choosing the one that best fits your Leander requirements for driving.
Of course, the Tundra cost is more expensive due to its being larger. Check out the beginning MSRP for every trim level in Tacoma and Tundra. Tundra:
2021 Toyota Tacoma
Tacoma SR priced from $26,150 MSRP*
Tacoma SR5 starting from $27,940 MSRP*
Tacoma TRD Sport: Starting at $33,060 MSRP*
Tacoma TRD Off-Road: Starting at $34,315 MSRP*
Tacoma Limited: Starting at $38,905 MSRP*
Tacoma TRD Pro: Starting at $44,075 MSRP*
2021 Toyota Tundra
Tundra SR: Starting at $33,675 MSRP*
Tundra SR5: Starting at $35,365 MSRP*
Tundra Limited: Starting at $42,390 MSRP*
Tundra Platinum: Starting at $48,895 MSRP*
Tundra 1794 Edition: Starting at $48,895 MSRP*
Tundra TRD Pro: Starting at $48,775 MSRP*
2. MPG and Engine Performance
Check out between the Toyota Tundra vs. Tacoma MPG as well as engine performance and towing capacity to find out the advantages these trucks offer you:
2021 Toyota Tacoma entry-level configuration
The base engine is a 3.5L V6 engine
278 horsepower and 265 lb-ft of torque
Six-speed Electronically Controlled Automatic Transmission with intelligence (ECT-i).
The EPA estimates 18 mpg for the city and 22 mpg highway.** Fuel economy
The maximum towing capacity is 6,400 pounds
2021 Toyota Tundra entry-level configuration
5.7L Aluminum i-FORCE V8 engine
381 horsepower and 401 lb-ft of torque
Six-speed Electronically Controlled Automatic Transmission with Intelligence (ECT-i)
APE estimates 13 mpg for the city and 17 mpg on the highway.** Fuel economy
If you are appropriately equipped, you will be able to haul up to 10,200 pounds
3. Interior Dimensions
It is not surprising that as a full-size truck Toyota Tacoma vs. Toyota Tundra is the case. The Tundra is the giant truck. The thing that might be surprising Georgetown drivers is the similarity in the interior dimensions.
If you decide to purchase the Tacoma due to its responsive handling and don't need the horsepower of the Tundra, You'll be pleased to find the spacious interior:
2021 Toyota Tacoma
Headroom (front/rear): 39.7/38.3 inches
Length (front/rear): 42.9/32.6 inches
Passenger Volume (behind the rear and front seats): 57.5/42.6 cubic feet
The capacity of Seating: 5 to a maximum of five persons
2021 Toyota Tundra
Headroom (front/rear): 39.7/38.9 inches
Length (front/rear): 42.5/42.3 inches
The capacity of Seating: Up to 6 people
4. Is The Toyota Tacoma Or Tundra A More Powerful Vehicle?
As a large-sized pickup, this Toyota Tundra has greater pulling power. If you go with the 4.6-liter V8 engine, you can get 327 lb-ft torque on the line, which is quite impressive.
Available only with the Standard Bed, it can carry upwards of 6,800 pounds – ideal for towing camper trailers of small size and a lot of equipment to locations beyond Hollidaysburg and State College.
If this isn't enough, you can get the 5.7-liter V8 engine, which boosts the power output to 381 horsepower and 403 lb-ft of torque. Towing capabilities increase because the Tundra can haul upwards of 10,200 pounds depending on whether you need the option of two- or four-wheel-drive and the size of box you'd like behind.
Although this Toyota Tacoma can't match those towing or hauling capacities, it comes with the power of a pint.
This is a 2.7-liter four-cylinder inline engine that can produce 180 pounds of torque. Even with low numbers for power, it makes an effort – with 3,500 pounds of towing capacity, it's great for smaller boats and off-road vehicles. With 278 horsepower and 265 pounds of torque. The 3.5-liter V6 engine offers the Tacoma an excellent power-to-weight ratio.
This is an excellent choice for hauling and towing. With a towing capacity of 6,800 pounds, it's up to the standard Tundra.
The Tundra and Tacoma come in two- and four-wheel drives; however, when you consider the region's conditions and certain roadway conditions – or the lack of roads when you're in the wild – driving with four wheels is typically the preferred option.
If you're a fan of playing in the dirt and mud, the Tacoma comes with an option called the TRD Off-Road and TRD PRO trims with the ability to be trail-ready and agile. The Tundra also comes with its TRD PRO trim, which has some fields and trails; however, it lacks the same go-anywhere attitude as the Tacoma.
5. Is The Tacoma Or Tundra A More Economically Friendly Truck?
The price on the sticker is only the beginning of the cost of an automobile. The ongoing costs, from registration, maintenance and fuel, can increase throughout life.
The less powerful engines of Toyota's Toyota Tacoma also come with the advantage of being more friendly on your monthly budget for fuel.
Even the most fuel-sucking version is the V6, equipped with an automatic engine and four-wheel drive provides a commuter-friendly fuel efficiency of 17 MPG in the city and 21 MPG on the highway.
Select the four-cylinder engine with two-wheel drive, and you'll get 20 MPG in the city and 23 MPG on the highway.
With more power from the massive V8 engines of the Tundra, you'd expect a reduction in efficiency in fuel consumption, but it's pretty good! If you choose 2-wheel to-drive 4.6-liter combination, you'll receive 15 MPG around Altoona while on highways, 19 MPG.
In the worst case, you'll need to endure 13 MPG in city driving and 17 MPG on the highway when you choose the more extensive, four-wheel drive Tundra equipped with the potent 5.7-liter V8 engine. It's not a bad deal for all the towing power.
6. Which Truck Can Haul More Cargo, The Tacoma Or Tundra?
Not every person living in the Johnstown and State College region has plenty of parking on their property. While driveways and large garages are abundant, modern construction is geared towards smaller garages. And not every home has parking off the street. Sometimes, you need to squeeze your vehicle into the space in your garage.
It is a great truck. Toyota Tundra is a thoroughly efficient truck. Three beds are available, based on the Cab size you choose – a 5.5-foot short Bed, a 6.5-foot Standard Bed, and an eight-foot long Bed.
Although these beds are highly efficient, they have a size cost – the most miniature version of the Tundra that you can get is 229 inches long. They're also 76 inches or higher, and the width is 80 inches. It's not ideal for parking garages with smaller spaces or attached garages in Hollidaysburg.
With 5 feet of Standard Bed and a 6-foot Long Bed, The Toyota Tacoma can haul a reasonable amount. Though not as far as the Tundra, it's pretty close.
It's a smaller package with a maximum of 75 inches wide and 72 inches of height. If you take the 6-foot bed, the Tacoma weighs in at 225.5 inches, less than the narrowest Tundra.
Choose its Standard Bed, which measures 212.3 inches, which means that it can fit into the smaller spaces in Hollidaysburg without getting caught in the traffic. The Tacoma is the best choice if you're looking to meet size restrictions for parking and driving.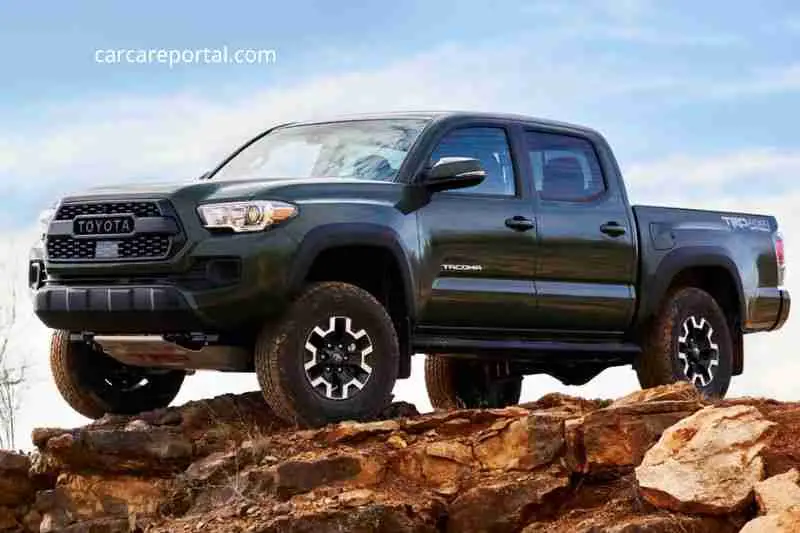 7. Is The Tundra Or The Tacoma A More Comfortable Vehicle?
Two different-sized cabs can be found in each truck. All four cabs provide plenty of space in the front row; however, in the back row, it differs somewhat.
The Toyota Tundra is ready to carry you and your group using the Double Cab and the Crewmax Cab. Both provide plenty of room for adults to sit in any position – however, the Crewmax takes it to the next level. Its Double Cab offers 34.7 inches of legroom.
This is enough for most adults to take short excursions around Hollidaysburg. There are 42.3 inches of space available in The second row on the Crewmax can be enough for lengthy journeys, whether you're transporting your family on a trip on a trip to Long Island or running a crew of workers to a job site that's a few hours away. Both cabs have 65.5 inches of shoulder space or more.
To make it easier to squeeze into garages with smaller spaces to make it easier to fit into smaller garages, to fit into smaller spaces, Toyota Tacoma had to trim someplace.
The front seats have the same leg and head space as the Tundra but have a slight disadvantage of 5 inches less hip room and seven inches more shoulder space.
The seats in the rear are part of the Tacoma Access Cab. Tacoma Access Cab is primarily suitable for storage or more minor children. They provide 24.6 inches of legroom and 34.9 inches of head space.
Choose the Double Cab, and you'll have enough room for large adults to feel comfortable on short trips. However, with 32.6 inches in legroom, we don't suggest longer than an hour or then back if you have complaints.
However, it's almost the perfect size for small families or even for a few brief excursions around Hollidaysburg. For amenities, both trucks have the same infotainment systems, luxurious trim and features – it's an issue of putting everything exactly how you'd like it.
Tacoma or Tundra: Which is better?
Deciding which is the best for you is a matter of individual preference. Are you a weekend runner who needs a vehicle to carry your bulky toys? Tacoma might be the right choice for you. Do you require an equipment truck for your job or farm site? The Tundra is designed for you.
If you want to know which features Tacoma compares with other pickups, we've also compared it with other pickups of different brands. If you're looking for the Tundra that you're looking for, We've put it in the spotlight to help you know more about it.
Shift offers best-in-class service contracts for any vehicle you choose for a reasonable price without a pushy sales pitch. It means you will get bumper-to-bumper protection from a brand-new vehicle at a lower cost than an old model.
Read also: