The Bone Rough Rider 7031 Mechanic's Creeper Review 2018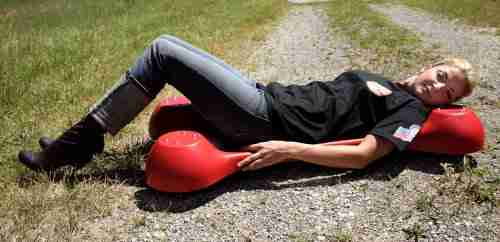 Dale Adams Enterprises The Bone Rough Rider 7031 Mechanic's Creeper Review 2018
Mechanic's creepers have now become an essential tool as they have the capability to make the task more comfortable and interesting. A mechanic's creeper is the tool which helps a mechanic roll down a machine or an automobile for maintenance or repair purposes. These tools have a very durable and sturdy steel frame with a weight capacity of hundreds of pounds and are loaded with features to assist the rider.
Mechanic's creepers are equipped with 360-degree swivel casters and have wheels too. These features allow the rider to roll smoothly around the workstation and make the work more manageable for mechanics.
Dale Adams Enterprises is a big company and manufactures high-quality automotive restorations. Now, it has manufactured the Bone Rough Rider 7031 mechanic's creeper. In this post, we'll review this product and see whether it lives up the claims.
Features
The Bone Rough Rider 7031 mechanic's creeper is small yet sturdy and is designed to improve the performance of mechanics, especially DIY ones who don't have other facilities such as hydraulic lifts. Following are the main features of this handy tool:
Design
The Bone Rough Rider is made up of high-tech, engineering-grade polypropylene copolymer. The material is resistant to oils, common solvents, and gasoline that are usually present at a workstation. The secret of the Bone Rough Rider's performance lies in its design as it has a unique shape. The body is made up of one piece of solid and sturdy material which glides 3 inches above the ground. The distance above the ground is 3 inches, but it is low enough for sliding under an automobile or a vehicle to check the situation there.
Mobility
The best feature of the Bone Rough Rider is that it can go to places where other creepers can't. It can be used outdoors and even off the pavement, while most mechanic's creepers are not designed to roll over dirt or tiny pieces of gravel. It is termed as an 'off-road creeper' by many users because of this feature. It offers amazing mobility even on rough terrains and makes it easier for users to go to places which are difficult to reach otherwise. This is possible because of its 5-3/8" diameter wheels that offer the right clearance for work sites.
Weight Capacity
The weight capacity of the Rough Rider is 400 lbs. which are very impressive. It allows mechanics to go anywhere in the workstation and outdoors and get the job done quickly. The good thing is that the creeper won't turn over even if there is too much load on it. There are individual wheel pods present on the corners that make the creeper very stable and provide a low center of gravity so that the tool doesn't tip over. It allows the user to fit well inside the wheel humps no matter how tall they are and rolls smoothly over cracks and rocks, even if the weight is too much.
Versatility
The Bone Rough Rider is a very versatile mechanic's creeper and is used by people belonging to different fields. It can serve different purposes and is used by auto-geeks, military, police, off-roaders, and aircraft technicians. The creeper can be taken anywhere off-road for maintenance and routine tasks, and it won't disappoint because of the large wheels and durable build. It can also be used to repair and maintain a variety of machines and automobiles as it offers excellent mobility and good enough weight capacity.
Premium Quality Parts
This mechanic's creeper is equipped with high-quality and durable components that make it an excellent choice for all mechanics. The 3/8" wide tires are designed to resist sinking in muddy and soft surfaces and are made to roll smoothly over rough and dirty terrains, broken pavements, gravel, and grass and thus, the creeper can work anywhere you want. All the wheels are custom molded and have a center bearing that is made up of heavy-duty, oil-impregnated steel. Dual race adjustable ball bearing swivels are used to attach the wheels to the heavy-gauge, steel caster frame.
Specifications
Item number: 7031
Weight: 20 lbs.
Weight capacity: 400 lbs.
Wheel size: 5.275 inches
Ground clearance: 2.875 inches
Length: 45.5 inches
Width: 25.5 inches
Height: 7.875 inches (assembled)
Pros
It has a sturdy and durable frame.
It has a large weight capacity.
It offers excellent off-road mobility.
It has large wheels that are designed to resist sinking.
It is very versatile.
It doesn't tip over.
It is equipped with high-quality components.
It rolls smoothly.
Cons
It doesn't include a headrest.
There are no side trays for accessories.
The logo on the head causes discomfort.
Customer Reviews and Conclusion
The Bone Rough Rider is very popular among automotive enthusiasts and is purchased a lot. There are many positive reviews regarding this tool, and the feature that is admired by most customers is its off-road mobility. One customer stated that it could roll smoothly no matter what came its way and that the extra ground clearance provided by it is very handy. It rides smoothly on rough terrains and is comfortable for the user too.
Another customer reviewed the mechanic's creeper and wrote in spite of his enormous weight and extended height, the creeper can support the weight perfectly and his hair didn't get caught in the rollers either, making for a very comfortable experience.
Dale Adams Enterprises Bone Rough Rider 7031 is a high-quality mechanic's creeper designed especially for those who want to use it outdoors as well as indoor. It is 100% American and is available with a limited one-year warranty. The extra ground clearance and large sturdy wheels are its best features that make it easier for users to perform their tasks smoothly and comfortably. It is lightweight and sturdy and will make your work more relaxed and enjoyable.