What Does Audi TT Stand for?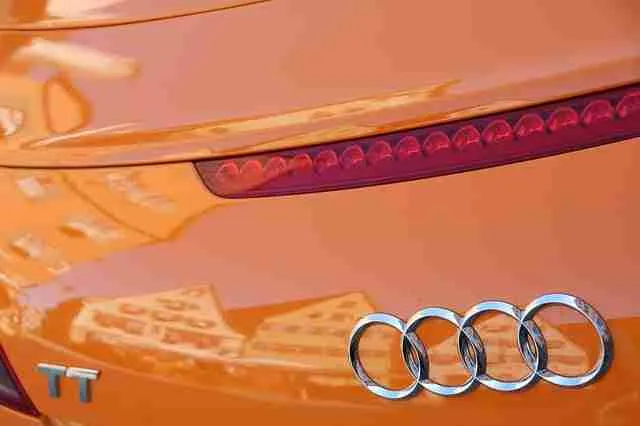 This two-door sports vehicle's first generation was produced in 1998 and it has been consequently in production of its new models up to the current fourth generation. The first two Audi TT generations were assembled by the Audi Hungaria Motors using body structures created and painted in Bavaria, Ingolstadt city. What does Audi TT stand for? 
The two TT letters are an abbreviation for 'Isle of Man Tourist Trophy'. The Tourist Trophy was a yearly motorcycle contest that was held between May and June (1949-1976). This race involved the motorcycle model known as Grand Prix. This usually makes people wonder why the four-wheel sports coupe would be named after a motorbike competition.  
The TT was also to honor the NSU's motorcycle unit which started participating in the Isle of Man in the year 1907, finishing the race in 5th position overall. The competition was won by Edward Cluge with his supercharged DKW motorbike. Later on, the NSU and DKU decided to merge and create a company called Audi. So what does Audi TT stand for? Read on.
Audi TT MK1 (1998-2006)   
The TTMk1 also known as the Type 8N coupe was first introduced to the market in 1998 (September) while the Roadster seconded it in 1999 August. It's categorized in the PQ34 platform (Volkswagen A4 Group). It came along with lightly restructured bumpers, added rear quarter-light windows in the background ( behind doors).  
However, early Audi TT models came brushed shoulders with the press regularly due to the high-speed accidents they caused when changing lanes or making sharp corners at high-speed i.e. 180 km/h and above. Bothe the roadster and the Coupe Audi models were revised in 1999 and during the 1st quarter of 2000.  
This revision was supposed to improve the car's handling at high speed to reduce the number of reported fatalities due to overspeeding. Audi's ESP (Electronic stability program/system) as well as the ASR (Anti-Slip Regulation) were added to the model and assimilated into other models that were subsequently produced thereafter. 
Later on, the Audi TT has pronounced North America's best car of 2000. It also appeared top list in car magazines in 2000 and 2001. This led to a few improvements and minor structural changes. The Audi TT (Type 8N) was produced in June 2006.   
Mechanical Layout 
This car uses the same powertrain as the other Volkswagen groupmates. It has an inbuilt internal combustion engine with two drive options: the four-wheel drive and the front-wheel-drive also known as the two-wheel drive. 
The two engines share a common basic design but defer in power output since the 180PS version achieves 132kW power while the 225 PS gives out 165kW. In 2003 (July), a brand new 6-speed dual DCT (dual-clutch transmission) popped in to improve the car's acceleration due to the reduced number of shift times.   
TT Mk2, Type 8J (2006-2014) 
Around mid-year in 2004, Audi TT proclaimed that their next-generation was around the corner. They stated that this car would be manufactured out of Aluminum and its production and sales were going to start in 2007. 
After introducing the Audi TT 1st generation, many people became big Audi fans after realizing and experiencing its outstanding features. Therefore, people shifted from asking 'What does Audi TT stand for?' to 'when will the 2nd generation of Audi TT be launched?'. 
Audi provided a preview for their next car in 2005 to depict the shooting-brake concept and the two-door design as well.  
Audi TT MK2 debuted the 8J design type on 6th April 2006 using the FQ35 Volkswagen platform with aluminum frontal body parts while steel came in for the rear panels to induce front-rear weight balancing and distribution. 
This two-seater Audi TT comes in handy with a Quatro-wheel drive as well as the front-wheel-drive also known as the two-wheel drive. This successor vehicle has an add-on of five inches on its length and a 3 inches add-on on its breadth as well. Production for the 2nd Audi TT generation kicked off in August 2006. 
8J mechanical structure 
The powertrain structure options of Audi TT were previously petrol engines only consisting of one of the in-line 4-cylinder engines i.e. the TFSI (Turbocharged Fuel Stratified injection which was originally available only in Germany. The FSI technology was acquired from the Audi "Le Mans" racing cars. 
There was an improvement in its fuel efficiency, greater power output, and dirtless emissions. This car has a six-speed primary manual transmission and an optional six-speed DSG (Direct Shift Gearbox) for all its engines. The Quattro ( four-wheel drive)Audi is available on 'V6' models but not on the 1.8 Turbo-charged Fuel Stratified Injection model.  
Audi TT Mk3, Type FV (2014- present)
Just like the previous Audi TT generation the Audi type FV/8S was displayed and previewed in the Detroit motor-show to reveal the 'shooting brake' idea in 2014. This generation was manufactured based on the MQB Volkswagen group. It hoped in with TDI and TFSI engines as choices.  
The TFSI engine is available in two different versions depending on the power output i.e. a 169kW (370 Nm torque) power output version and a 228kW version with 380 Nm torque as well.  
The TDI engine produces 135 kW power output is also an engine option for the Audi Mk3 car.
However, the TDI inline 4-engine comes with a front-wheel-drive system while the TFSI contains a Quattro four-wheel drive.  
This generation contains an HVAC interior design, featuring the air exchange and control features enhanced by the inbuilt air vents; as well as temperature regulators which make it outstanding than other initial generations.  
What Does Audi TT Stand for? – Conclusion
Lastly, Audi made an announcement in May 2019 that this Audi TT generation is likely to be discontinued when the model's life cycle comes to completion. This generation is available in the United States from the 2016 model to the present one. 
Due to the company's high level of sponsorship, Audi TT's models have been featured in popular movies such as Spider-Man and the Avengers. This Marketing strategy has rapidly improved Audi's sales and demand across the globe. 
Now that you have your answer to 'What does Audi TT stand for', I believe you'll be able to distinguish between the various Audi models and generation since the first day of production.