Cheap Bicycle Racks for Cars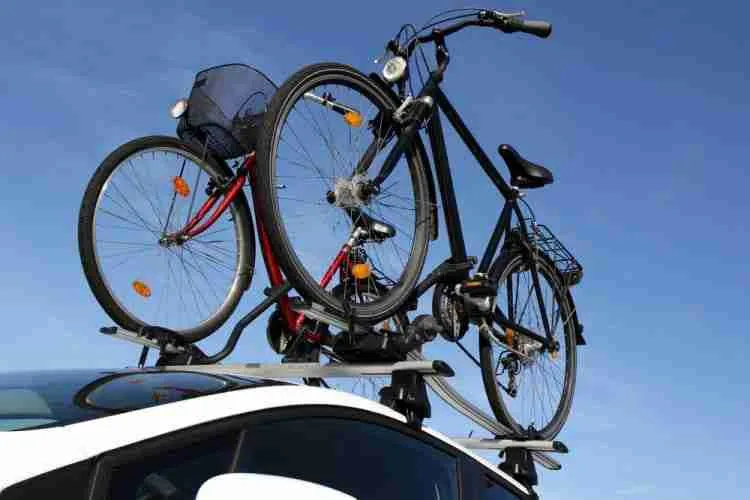 With a new year brings a renewed energy to focus on being healthier or getting ourselves back on track after the holiday season. Whether you are into jogging, yoga, weightlifting, or biking, each activity involves an investment of time and a willingness to prepare to incorporate your desired activity into your lifestyle. An excellent way to plan for the time involved is to research and purchase proper support equipment. In the case of biking, that could involve items such as a helmet, gloves, biking attire, and a rack for your vehicle if you plan to go other places with your bike. This article will provide a complete look at different bicycle rack options that come in a variety of sizes. Hopefully by the end, you have a better idea of the options available before making your purchase.
This top-rated trunk mount bicycle rack comes out of Allen Sports who is one of the leading manufacturers of bike products including bike stands, carriers, and storage options. This company has been around since the late 1960s and has a lot of experience building bike specific products. This carrier is made of steel, but lightweight and easily transportable. It has three padded legs that rest against the vehicle's trunk and is adjustable in multiple locations. It utilizes tie-downs to secure the bike within the rack while keeping the bike from rubbing against the backside of your car.
Pros
A major pro of this carrier is that it is capable of being used on vehicles of various sizes including compact, mid-size, SUVs, and minivans. This makes it ideal for all users and allows flexibility for people who own multiple vehicles. Another pro for this carrier is that it can fold up to a very compact size that can be carried in a backpack or in its included carrying case, making it ideal for cyclists who frequently travel. In addition, Allen Sport is also located in the US, which can be a plus for buyers looking to buy locally and support small businesses.
Cons
If you are looking for a bike rake that is capable of holding multiple bikes, then this rack is not for you. Additionally, a common complaint from buyers was that while the unit is compact, it tends to make the carrier a bit flimsy on some vehicles.
Another top selling car mounted bike rake is the Cross Country 2-Bike Hitch Mount Rack by Swagman. This product comes from another well-known bicycle product company so you know you are going to get a well-made, experience-backed product. It has the capability to hold up to two bikes with a max capacity of 35 lbs. per bike. It is adjustable for all vehicle types and can be stowed when not in use.
Pros
A pro of this rack is that it can handle multiple bikes compared to the Allen Sport's model. It also has moveable arms that allow for adjustments to different bikes frames along with the ability to stow it for access to the back of your vehicle.
Cons
A major con for this item is the price tag. At nearly $180, it does not fit the bill for affordable car mounted bike rack options. However, you get what you pay for and this rack has high marks amongst customers and that may make the price tag much easier to swallow. Additionally, this rack requires a trailer hitch to mount on your vehicle so this would not work for buyers who do not have one.
This car mounted option comes in at number three on our list as it is not only inexpensive, but also capable of carrying multiple bikes. It is specifically designed for mountain bikes and is adjustable to secure most frames. Additionally, it has a six-point system that secures the carrier to your car without rubbing against the vehicle unnecessarily.
Pros
If you are in the market for a two bike carrier, this option is definitely for you. However, it is also capable of carrying just one bike if that is all you need. It has soft rubber grips as well that protects your bikes from being damaged while mounted on the rack. It is also capable of being mounted on multiple vehicle types as it is adjustable.
Cons
This was one of the lowest rated bike racks we found even though it was one of the most purchased. Common complaints were that the system did not properly hold up to longer trips and that the securing bolts tended to pop off quite regularly.
Another Allen Sports product is the Deluxe 2-Bike Trunk Mount option. Like the single version, this bike is made by a leading manufacturer of bike products and is composed of steel. It has 12 inch long carrying arms, which makes it ideal for bikes of various sizes. In addition, it can be used on multiple vehicles, which definitely makes it ideal for cyclists who travel. Similar to the one bike option, it also utilizes tie-down straps to secure it to your vehicle trunk.
Pros
A common complaint we have noted amongst other carriers is that the instructions are not always clear and that some of the carriers can be placed in multiple configurations without the user knowing it is wrong. This is not the case with this model. The 2-Bike Trunk Mount Rack only has one configuration that enables it to fit on a vehicle, which removes the confusion and risk of bicycle damage.
Cons
This is another high rated option by customers; however a common complaint was that it does not appear to fit all vehicles as it claims. Some customers noted that they had significant issues attaching it securely to their cars. It also has the same complaint against it as the one bike option offered by Allen Sports, that it can be flimsy on some vehicles.
Another top rated model is the Yakima Products' Ridgeback Hitch Bike Rack. This model comes from a company that is dedicated to outdoor equipment including biking products and is known worldwide for its excellence. It is also known as a top model amongst professional cyclists including the Olympic team. The Ridgeback comes in a variety of sizes that can fit two bikes all the way up to five, which makes it perfect for a family or group of cyclists.
Pros
Yakima Products are backed by expertise and quality so you know you are going to be getting a great product. It has easy to use locking mechanisms to firmly secure your bike to its frame. In addition, the secure ties keep the bike from rocking while the vehicle is in motion to prevent any damage to the bike or your car. It folds flat for compact storage and can be tilted while on your vehicle to allow access to your trunk.
Cons
The biggest con is the price tag on this item. It is one of the more expensive options at $270, which definitely does not fit our inexpensive bike rack criteria. It is also another hitch mounted option, which limits it for users who are looking for vehicle flexibility.
This Allen Sports model is ideal for families who like to travel and bike. It comes with 28 inch long carrying arms, which can accommodate bikes of various sizes. Additionally, it can fold down allowing for easy stowage and access to the trunk of your car. The 5-Bike Mount comes back by a lifetime warranty.
Pros
If you are looking for a sturdy bike rack to handle multiple bikes, then Allen Sports has provided you with a great option. While the price tag is a little hefty, it seems appropriate given the ability to carry five bikes at one time. It is also easy to install and remove when not in use.
Cons
This is another hitch mounted option so car variability is limited with this model. Additionally, for cars that do have hitch mounts, this only fits two inch hookups, which can limit it for even those buyers who have a trailer hitch. Another common customer complaint for this model was that it tended to rub the bikes together so users recommended putting some type of soft material between each bike to prevent this.
This highly rated model is the invention of Saris, a company that has been around since 1989. They are known for bicycle products and strive to produce a great product for all cyclists to use. The Bones model is marketed as one of the strongest options out there now and is made from 100% recyclable materials.
Pros
The natural product marketing is definitely a pro if you are more environmentally conscious. It includes rubber feet that sit on the back of the vehicle and prevent rubbing and damage. The Bones model is also capable of carrying up to two bikes, which makes it ideal for multiple bike users. In addition, this model is capable of fitting over most car spoilers, which has been a problem other customers have noted with other models.
Cons
This is another hefty price tag option at $150, but again you get what you pay for and customers seem to be happy with the overall product.
The Thule's T2 Pro XT rack is capable of holding up to two bikes standalone, but also has the option of an add-on that allows for four bike carriage. This is also a hitched mounted option that is marketed as a carrier that removes side to side bike rubbing due to its spacing and design. It can fit all sorts of bike frames including carbon, mountain, fat, and downhill bikes and has up to five adjustments to accommodate various tire sizes.
Pros
A major pro is that this hitch is easy to install and remove without additional tools. It folds allowing access to the trunk of your vehicle and is compact enough for garage storage without taking up a ton of space. Additionally, bikes can be locked into the rack as the T2 comes with a locking system for each bike spot.
Cons
A major con of this carrier is the price tag as it is well outside of our inexpensive criteria. It costs upwards of $800, which most likely puts it out of the price range of most buyers.
We have provided a lot of useful information to help you make an informed decision about which car mounted bike rack is ideal for your usage. Keep in mind that even though we attempted to find affordable options, not all bike racks were inexpensive in price. You get what you pay for and if you are an avid cyclist, spending a little more money up front may not be too difficult for you to handle. Additionally, we provided a mixture of hitch-mounted and trunk-mounted options, but that does make it difficult for users looking for bike racks that are universal and can be mounted to almost any vehicle. If you do not have a trailer hitch, then half of the listed options will not work for you. Whether you are looking for a bike rack that is capable of managing your family's bikes or for you as a solo rider, please make sure to read all the online reviews you can. Several of these models state that they are compatible with all vehicles, but customers have stated that this is not always the case. Make sure to keep your receipt and return any product that does not fit your needs. One final note is that you need to make sure any rack you purchase has some type of warranty as long car rides and swaying bikes can damage the carrier along the way.