Auto Detailing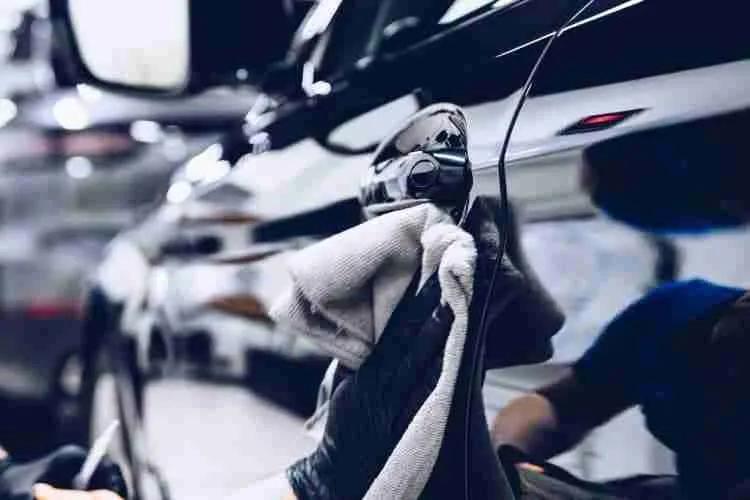 Auto Detailing
How long does detailing a car take? This is probably one of the most common questions an auto detailer hears daily. The answer is simple; it depends. An auto detail can take anywhere from 2-8 hours, depending on the steps involved. (Some show car details can even take longer upwards of 12-15 hours to complete throughout a couple of days.)
If you've ever been curious about auto detailing and the specifics of what goes into a full car detail, this is the article for you. Below we will discuss some of the most commonly asked questions regarding getting a vehicle detailed.
How long does detailing a car take?
 This tends to be one of the first questions asked when getting your car or truck detailed. As we have mentioned, this can take anywhere from 2-8 hours. So what makes the difference in how long it takes, you might ask? There are a few different factors that will play a role in how long it can take. Some of the variables include but are not limited to:
How large is the vehicle?

How old is the car?

Are you having both the interior and exterior done?

Do you have the engine bay cleaned as well?

Does the paint have excessive scratches and swirl marks?

How dirty is the vehicle?

Which detail package did you choose? Basic, Standard, or Premium?
As you can see, many questions need to be answered before the auto detailer can fully estimate how long your car detail will take.
How much does a car detail cost?
One of the second most common questions asked is cost. The cost can vary greatly depending on location, size of the vehicle, and the detailers' expertise. Some starter package details can cost as little as 200 dollars. In comparison, some of the more in-depth 3-step processes can cost upwards of 1000 dollars. The price difference is determined by how much is done to the vehicle and how long it will take the detailer to finish it.
What does an interior detail entail? 
An interior detail has many steps involved. Interior detailing can be very time-consuming. The detailer must have a keen eye for critical small steps like cleaning out the air vents. Most interior details include leather, plastics, vinyl, carpet, and glass cleaning. Some of the process steps include but are not limited to:
Vacuum seats, dashboard, floorings

Leather cleaning and conditioning

Shampooing of carpets

Cleaning and conditioning the dashboard and steering column

Steam cleaning air vents

Cleaning of all door panels

Wiping rearview mirrors, sun visors, and roofings of the car
What does an exterior detail include?
Exterior details include the washing of your vehicle, followed by a 3 step process. The 3 step process provides compounding, polishing, and wax. Some will even go as far as a 4 step process that includes compounding, polishing, wax, and a sealant.
Compounds: Compounding is used when the auto detailer discovers small scratches or swirls in the paint. Generally speaking, they will use a random orbital buffer. A detailer can use a strong pad and some compound to buff out minor scratches, swirl marks, and blemishes out of the paint.
Polish: A good polish is applied as the second step in the exterior detailing process. Polish can increase the glimmer and shine of the vehicle's paint. A polish applied with a random orbital buffer is what will give your car a mirror like finish. 
Wax: The third step involved in the exterior detail is applying wax. People often think that wax gives the vehicle its shine, but this is a false statement. The wax's job is to provide a shield of protection for the paint against contaminants and fallout. 
Sealant: If you are looking for lasting protection of your vehicle paint, it's a good step to consider adding into your detail. The Sealant will provide more extended protection of your newly shined up paint job. 
Pro Tip: Do not allow anyone to use a high-speed buffer on your vehicle unless they have been adequately trained to do so. A high-speed buffer can quickly leave swirls and burn marks in the paint if used improperly.
How long does a car detail last?
For the vehicle's interior, the detail can last quite a while if you manage to keep it clean. Pick up trash, water bottles, and anything else that might clutter your newly cleaned car. Avoid spilling drinks and food on the car console or floorboards.
As far as the exterior of your vehicle, this can vary greatly. If you opted to do a compound, polish, and wax, your car is usually safe for about three months. At the three month marker, it does not mean that all steps need to be repeated. At this time, usually just another wash and wax will do the trick. 
If you opted for the Sealant, you would be set for around six months of protection against your vehicle's paint. 
What to do before getting a car detailed?
It's a good idea to clean your car up a bit before getting it detailed. This may sound counter-intuitive, but this will allow the auto detailer to focus on the vehicle's sufficient details. Some of the things you can do before a detail include:
Remove everything out of the car that isn't necessary.

Throw away all trash from the center console, cup holders, door pockets

A quick vacuum job ( Get the big stuff up, let the detailer handle hard to get animal hair, crumbs, and spillage in the carpets)
What is an engine bay detail?
Have you ever lifted your hood to see dirt, grime, and debris inside your car's engine bay? Auto detailers will clean and detail your engine bay if requested. 
Detailers may use a pressure washer and an excellent safe degreaser inside the engine bay to get it clean first. After the engine bay is cleaned and dried, they will usually finish the job with dressing areas safe to apply. This will give the car a full new makeover look. This is an excellent add-on service that can be used, especially if you are looking to sell or trade-in your vehicle. 
What is undercarriage cleaning?
An undercarriage detail usually consists of a high-pressure washing of the underside of your vehicle. This is an excellent service to have completed, especially if you happen to live in an area where you drive through mud or roads that have been salted due to snowy conditions. Cleaning off these contaminants will prevent rust development on the underside of your vehicle. 
Can car detailing remove scratches?
More often than not, a car detailing that includes a compounding step on the exterior paint will remove minor scratches during the buffing process. If the gash is deep and severe, chances are compounding with a buffer won't be enough to take them out. 
Can a car detail remove smoke smell?
The smoke smell in a vehicle can be a challenge to rid from the car. The first step needed is a deep cleaning of all the vehicle's interior surfaces, including cleaning out the air vents. Merely masking the smell with an air freshener will not do. 
In this case, you should seek a detailer who owns an ozone machine. An ozone machine is used to treat impurities in water and air. The most effective way to do this is to let the air conditioning run and cycle the ozone through the vehicle for quite some time. This will remove the smoke smell from your vehicle vents, usually where the smell gets trapped the most. 
(SAFETY NOTE) Ozone is dangerous to humans and animals. Be sure to hire someone licensed to operate an ozone machine and understand how to use it safely. 
Can car detailing fix paint chips?
No, car detailing will not fix paint chips. The only way to fix paint chips is to have the chips filled with paint again. However, car detailing can fix scratches and swirl marks.  
Are car detailings worth it?
Yes, vehicle details can keep your car looking fantastic and protect your vehicle's interior and exterior from contaminants and fallout from the roads. It is necessary to have a full detail done once a year and to have wax applied 2-3 times a year, depending on the elements and conditions of where you live and travel in your vehicle. 
Will car detailing remove mold?
Often an extensive interior detailing can help rid the vehicle of mold. Mold requires wet, damp conditions. Therefore depending on your environment, you might run a higher risk for developing mold in the car. Some of the most common places your vehicle will find mold is in the carpets, floor mats, and any fabrics that may get and stay damp. 
Completing a deep scrubbing and shampooing of carpets and floor mats will generally prevent mold from growing and living in your vehicle. Remember that the interior of your car needs to stay as dry as possible to avoid mold growth. 
Wrap Up:
As you can see, there is a lot that goes into a car detail. Deciding on what you want to have done is half the battle. Remember that things like smoke removal, and undercarriage cleaning, or engine bay details will be added on services and increase the time required to finish the job. 
As a vehicle owner, car detailing is an excellent practice to get into, having completed once or twice a year. This makes your vehicle look very presentable and allows for protecting your car's interior and exterior against the road elements. It will also increase the value of the vehicle should you decide to sell it.