How to Make a Fuzzy Steering Wheel Cover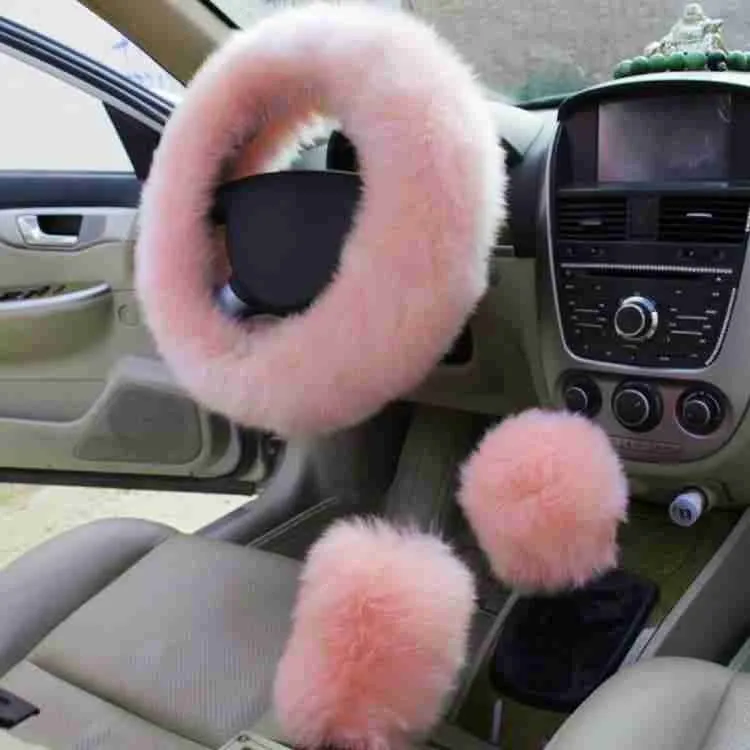 Maybe you're looking to update your car interior's look, maybe you're a fan of loud colors and funky style, or maybe you need to replace a worn-down steering wheel cover. Either way, you're looking for a way to do it yourself. This project is easy enough for a beginner, and fun for anyone who wants to express their wild sense of style! Follow these simple steps to add some functional pizazz to your ride.
Step 1: Gather Supplies
You'll need to gather some supplies to make your own steering wheel cover. You can find all of these items at your local craft store. For a durable and long-lasting final product, invest in good quality materials.
Fuzzy material can be a little harder to work with than smoother fabric, so be sure and    a little extra in case of mistakes. Purchase enough to cover the measurements of your wheel. Bear in mind that light fabric will be less likely to fade from sun exposure.
Cheap scissors won't give you a smooth cut to work with on your fabric.
The better quality thread, the sturdy your cover will be.
Either width is fine, but you'll want to steer clear from bargain bin elastic that won't stretch as well. Look for at least 40" long elastic.
You'll need at least ten, but twenty would be best.
This will wipe away and won't leave permanent marks on your material.
A medium to large pin will work better than a small one for this project.
Step 2: Take Measurements of the Steering Wheel
In order to know how much material you'll need, start out by measuring your steering wheel. Measure the circumference of the steering wheel by stretching a tape measure along the outside of the steering wheel, from one end to the other. Then, measure the thickness of the wheel by wrapping the tape measure around the grip at its thickest point.
Your steering wheel cover will need to be cut slightly longer and wider than these measurements, so be sure and write them down.
Step 3: Prepping Your Materials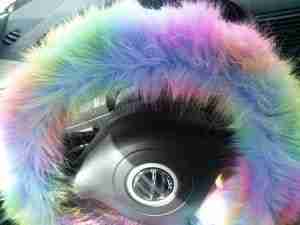 If you purchased fabric that is not pre-shrunk, be sure and run it through the washer and dryer as indicated by the fabric before you get started. Some fabrics will not need shrunk, but washing fabric is recommended before any sewing project. Have your needles threaded on your machine, and be prepared for an hour or so of work to complete your project.
Step 4: Setting Up Your Cover
Outline the material needed based on your measurements taken plus 1″ on the width and length (½" on all sides.) You will need this extra fabric for the seam and elastic. Cut your fabric along the outline. Be sure and iron the fabric once it is cut out for a smooth working surface.
Cut your elastic next. Remember, elastic is pretty stretchy and does not need to be the same length as your material. A good rule of thumb would be to measure it as your material's total length minus ⅓ of its length. Ex: If your material is 45″ long, cut two elastic pieces at 30″ or so.
Step 5: Get To Work
Mark Your Cover Outline:
Flip your fabric to the inside, or whichever side you don't want to be visible. Measure in 1/2″ from the edge of your fabric along the length on both sides of the fabric and mark with chalk. Fold one side of the fabric inward, up to the first chalk line, and pin at each end, creating your seam-line. Repeat on the other side.
Pin Your Outline:
Next, insert sewing pins along the length of the seam on both sides to firmly fold the material before sewing. I recommend testing your newly pinned product by matching it to your steering wheel. If the width doesn't look like it will fit, or will have more than a half-inch of extra fabric dangling over the wheel's width, re-measure. It's better to check now than after stitching everything together.
Stitch Your Outline:
Once your pins are in place, you can get to sewing! It doesn't matter if you stitch by hand or machine, just follow the edge of the pinned fabric carefully, missing a stitch can leave a bubble in your seam. The end result should leave a small "pocket" to thread in the elastic you chose.
Insert the Elastic:
When sewing is done, attach your safety pin to one end of a piece of elastic. You'll use this to more easily feed the elastic through the "pocket" of the seam. Feed the elastic through one of your newly made "pockets" until it comes out the other end and pin it in place with a sewing pin.
Scrunch up your fabric down towards the safety pin until the other end of the elastic appears. Pin the elastic in place with a sewing pin to prevent the fabric from covering it again, and then repeat again with the second piece of elastic on the other side of your steering wheel cover. It should end up looking a bit like a giant hair scrunchy once done.
Sew in the Elastic:
Once you've got your elastic pinned to the cover, sew it in place to prevent the tension from falling in the steering wheel cover. The tension is necessary to keep the cover on your steering wheel. When the elastic has been stitched in place, remove your pins and stitch the two ends of the cover together.
Step 5: Test Your Results and Enjoy!
Once the final stitch is done and the thread cut, the next step is to make sure your newest car accessory fits. Slide the cover over the wheel and fit as you would any steering wheel cover. There should be enough tension from the elastic to create a smooth fit.
Conclusion
The best part about a fabric cover is that you can wash it if it gets grimy! If you want to wash off your fabric chalk marks, handwashing is recommended. Air dry, and refit it to your steering wheel. Enjoy your next commute with your fashionably fuzzy steering wheel cover!