Which Truck Is Better Ford or Chevy?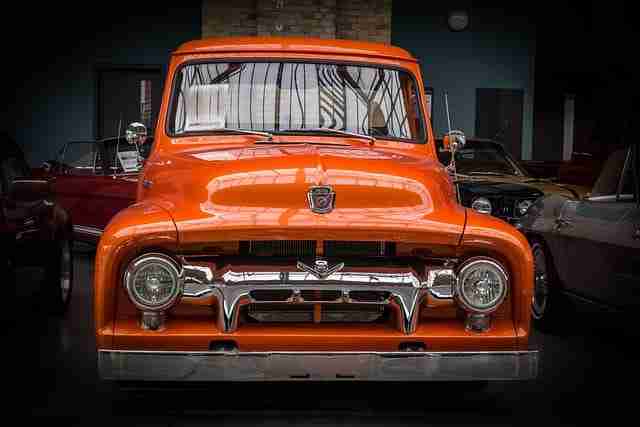 The dominance war between Chevy and Ford has lasted for years, with each brand coming up with new trends to keep up the competition. The debate on which truck is better ford or Chevy when it comes to rugged off-road rides and superior haulage and towing performance has lasted for decades.
However, while the rivalry isn't free of casualties, it has greatly shaped the automotive industry. The decision on which truck to buy is left for you to make.
Most of the debaters end up in disagreement because the debaters are devotedly allied to their favorite brands.
Technological Advancement—Which Truck Is better Ford or Chevy?
If you're a tech guru, you will never entertain any car that doesn't offer the best and latest technology. Chevrolet outperforms ford when it comes to technological advancement. Trucks from Chevy pack superior built-in 4G LTE Wi-Fi, Chevy MyLink, Android Auto capability, steering wheel-mounted audio controls, and smartphone integration. 
The standard bed lighting allows for more convenient and easier loading and unloading of the bed, reducing the hassle linked to handling heavy and bigger loads.
Ford trucks aren't a throw when it comes to next-level technology. They have sweet tech features such as Pro Trailer backup assist, and Pre-collision assists coupled with Emergency Braking. Ford F-150 also has a sync 3 infotainment system, Ultimate trailer tow system camera, and Android Auto functions that allow for more seamless control.
Power and performance
The two trucks are designed to offer good hauling and towing performance. It's, however, good to note that Ford trucks outperform Chevy trucks when it comes to performance and power. We can prove this by comparing the Chevrolet Silverado 1500 and the Ford F-150, both of which were released in the same year.
The Ford F-150 offers four engine variations with its basic 5.0-liter V8 engine delivering 395 horses of power and 400 pound-feet torque. As for the Chevrolet Silverado 1500, it runs on a 3.5-liter V6 engine that provides only 375 horses of power and 470 pounds-feet. 
As for both trucks' towing capacity, the Ford F-150 model can tow 13,200 pounds while the Chevy Silverado 1500 can only tow 12,500 pounds.
Pricing and Efficiency—Which Truck Is Better Ford or Chevy?
Value for money and efficiency of any truck goes hand in hand. If a truck isn't efficient enough, even if it's the cheapest model available, it won't offer value for money. Ford has beaten Chevy when it comes to power and performance, and they still do the same when it comes to pricing and efficiency. 
We can't say any of the two trucks have the most amazing gas mileage, but we can prove beyond a reasonable doubt that Ford offers a better gas mileage.
A good example is the Chevy Silverado 1500 with a little lower average miles per gallon rating of 20 miles when compared to Ford's F-150 22 miles per gallon rating. When talking of the price, a standard Ford F-150 goes for $25,913, while a Chevy Silverado 1500 is priced at $34,754. 
While we only compared two car models from both brands, it's obvious Ford trucks offer better fuel efficiency ratings and are more budget-friendly.
Exterior design and looks
The exterior construction and look of any truck speak volumes about the durability. You don't expect a flowerily truck exterior with no heavy-duty construction to stand the mishandling in off-road and bumpy environments. When we take Ford F-150 and Chevy Silverado into a weighbridge, comparing their looks and design, we can tell you without fear that Ford F-150 will outweigh Chevy Silverado.
F-150 has a military-grade aluminum construction with tons of amazing color options, which make it not only heavy-duty but also appealing. Buyers have got more than 20 different color options to compare, which gives them a chance to customize their truck's exterior look. The unique grille on the different trim levels provides the truck with a unique look.
As for the Silverado 1500 truck, it offers not more than ten color choices. Its tailgate, doors, and hood are made of high-quality aluminum. The floor bed is constructed of high-strength roll-formed stainless steel, which makes it sturdy and durable.
Interior Features— Which Truck Is Better Ford or Chevy?
Both trucks have several similar features. Features such as variable speed intermittent wipers, engine immobilizer, blind-spot monitor, a trip computer, woodgrain interior trim, rear head airbag, keyless start, child safety locks, and cooled front seats are standard on Ford. These aren't common on Chevy trucks, though. 
The ford also offers you an excellent choice of features such as automatic parking, seatbelt airbag, cross-traffic alert, power-retractable running boards, adaptive cruise control running boards, and heated rear seats.
Consumer reports favor Ford over Chevy trucks. In the most recent surveys, Ford F-150 was rated at 9.3, while Chevy Silverado only got a rating of 8.6. That's not just all. Most reviews and expert ratings back Ford F-150 as the ideal truck choice because it offers optimal convenience, driving dynamics, value, good-quality design, and comfort.
Crash and safety tests done on both trucks confirmed that they are equal. The weak points and crash ratings rolled on the same scale, meaning if you are the kind who want to enjoy safer and more enjoyable rides, you should consider opting for any of the two.
Conclusion
The debate on which truck is better between Ford and Chevy has been around for decades. People have debated the same topic, expert reviews written, and vehicle gurus gave their expert verdict. 
However, all the writings and opinions have not gone to the gutter. Although most of these are personal opinions in which the writers backed their favorite brands, we have written a comprehensive review and comparison of both trucks above, giving detailed information on every aspect and feature making any of the two better than the other.
Have a look and decide which of the trucks to consider, chiefly depending on your budget, the value you want to get, and the amount of towing and hauling you wish to be doing.