Arcan 3-Ton Quick Rise Aluminum Floor Jack — A Review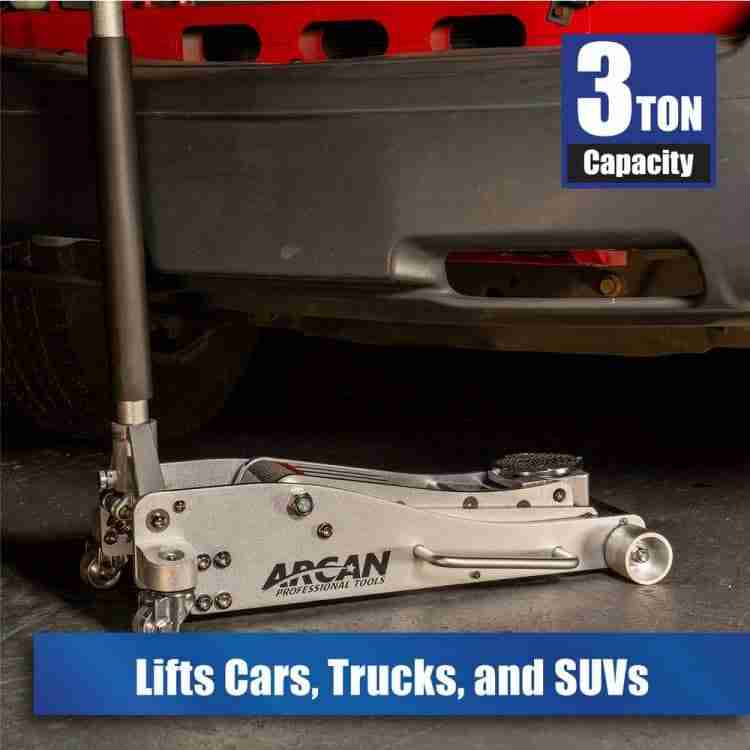 Anyone that works on vehicles regularly knows how important it is to have a high-quality floor jack to help you raise it up to a level where working on it is actually possible. With all the options available on the market when for anyone in the market for a floor jack, it can be hard to narrow it down to the best ones. We're here to help. In this article, we'll review the Arcan 3-Ton Quick Rise Aluminum Floor Jack to go over what it is, the features it comes with, and how other customers feel about theirs.
Features and Benefits of the Arcan 3-Ton Floor Jack
The Arcan 3-Ton Floor Jack makes lifting your vehicle a breeze every time you have to jack it up. To learn more about why this floor jack from Arcan is such a phenomenal product, let's take a look at some of the main features and benefits that you get when you purchase this jack.
Quick Rise Dual Pump Pistons
If you've ever used a smaller jack to lift a vehicle, such as the included bottle jack that comes with many vehicles, you'll notice how long it takes to raise the vehicle high enough to do anything with it. One of the reasons for how slow these jacks raise the vehicle is of course the smaller size of the jack without a doubt. The second reason is that the pistons in most lower-end jacks are only single-pumps pistons.
With dual pump pistons, such as the ones you'll find in the Arcan 3-Ton Floor Jack, you get twice the pumping action for each raising and lowering of the lift arm (jack handle). This means that the vehicle will twice as fast when compared to how long it takes to raise it using a jack of the same size with single-pump pistons. This is where the Arcan gets its 'Quick Rise' nomenclature since it's able to raise your vehicle much more quickly than other jacks due to the dual pump pistons.
Versatile Lifting Capacity
The Arcan floor jack can lift vehicles of all ride heights as well. With its's low-profile design while in the fully down position, the top of the saddle is only 3.75″ off the ground, meaning this jack can slide easily under most vehicles without much of a hassle. Once the jack is under the vehicle, you can raise it a whopping 14.25″ higher. This puts the top of the saddle at 18.00″ at max height.
Not only is the Arcan capable of lifting a vehicle through a wide range of working heights, but it's also able to safely hold the vehicle in place and allow for small adjustments. This is because the Arcan has a heavy counterweight pawl that locks it in place securely which prevents the jack from slipping downwards. This means that the vehicle will not start drifting back downwards once you let go of the handle; this is an issue that is much more common among jacks of lower quality.
Reinforced Lift Arm
In order for the Arcan floor jack to have quick rise capabilities and also be able to lift a whopping three tons, the lift handle is reinforced to increase its strength. A floor jack works through hydraulic pressure that forces the jack to go up as the lift arm is being pushed down. This exerts incredibly high amounts of force on the lift handle, which is acting sort of like a lever being used to lift up the vehicle.
With a lift handle of poor construction, it can easily be bent during operation and in the worst cases, the handle can fail. With the reinforced lift arm that comes with the Arcan floor jack here, it has significantly increased strength, improves the chassis torsion control, and is also much more durable than a non-reinforced lift handle would be. Without a quality lift handle, a floor jack of this compact size would not be able to lift 6,000-pound vehicles without breaking a sweat!
Lightweight Aluminum Construction
One of the most surprising features about this floor jack due to its incredible lifting capacity and all of that about the lift handle being reinforced is that the Arcan floor jack is surprisingly lightweight. This is due to its aircraft-grade aluminum construction which drastically lowers the total weight of the jack down to under 60 pounds. Similar jacks with these capabilities are often constructed of steel and can weigh 150 pounds or more!
Since it is relatively lightweight compared to other units out there, the Arcan floor jack is perfect for anyone that will be moving it around a lot or even worse, for those that load up their jack and take it with them when they go on long trips. Very few people want to be lugging around a 150-pound floor jack around their garage every time and they need to use it. Even fewer people want to have to lift a 150-pound jack into their trunk or the bed of their truck whenever they decide to take it with them!
3-Ton Lifting Capacity
One of the single most important features of any floor jack is what its lifting capacity is. This is how much weight the jack is rated for that it can safely lift. Many smaller floor jacks of a similar size are 1.5, 2, or 2.5-ton jacks. This is fine for smaller vehicles which typically weight around 3,000 pounds to 4,000 pounds. But for larger vehicles, and even for smaller ones, it's better to be able to lift more so that the jack can not only lift it but also hold the weight without slippage.
That's where the Arcan 3-Ton jack comes in handy. Having a 3-ton lifting capacity, these jacks can lift an astounding 6,000 pounds. This is more than enough for most vehicles on the road outside of large pickup trucks. For its compact size and lightweight construction, these Arcan jacks really pack a punch!
Vehicle Protection
One last feature about the Arcan floor jack is that it was designed with vehicle protection in mind. This is because of the foam wrapping found along the lift arm. This protects your vehicle from any damage that it might incur during the lifting process from accidental hits on the body when going up and down with the handle. Many jack handles are left just as metal with no protection, and one mistake while jacking it up can lead to a significant amount of body damage.
What Users Of This Jack Are Saying About It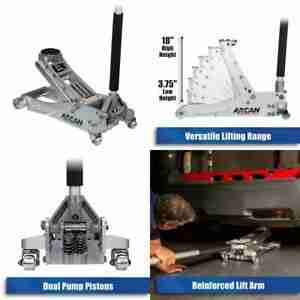 Now that you know about all the different benefits and features that come with this jack from Arcan, let's take a look at what the people that have bought and used the product are saying about it. After all, a company can tout all of the features that their product offers all they want, but what matters is how people that buy the product feel about it.
The most commonly seen thing that reviewers have to say about this jack is how sturdy the Arcan jack is. Arcan jacks are proudly made in the USA and their quality is top-notch. Comparing it side by side with their old jacks is a common theme in the reviews for this product to show the obvious design superiority of the Arcan when compared to other cheaper brands. Customers love showing how much thicker everything on the Arcan jack is and how much sturdier it looks. The manufacturers can get away with this since it's aluminum rather than steel. Jacks made of steel with all the beefiness of this Arcan jack would be way too heavy for anyone to want to tote around their garage.
The second-best thing about this jack according to the reviewers is how lightweight it is compared to other 3-ton floor jacks. Customers that have bought the Arcan love how much lighter it is compared to steel jacks so that they are actually able to pick the jack up and take it where they need to go rather than having to drag it all over the place. Anyone that has ever tried to drag a heavy jack across a gravel driveway will understand why the customers are so happy about this jack!
The only complaint that seems to come up most often is the rubber pad on the saddle of the jack seems to get destroyed fairly quickly after only a few uses. This is a common issue with all floor jacks that are regularly used, as raising thousands of pounds will destroy a small rubber pad in no time. Arcan could likely have done a better job with the rubber selection with something a bit more durable but it shouldn't be anything to prevent anyone from buying!
Check Out the Arcan Floor Jack on Amazon
Now that you know everything there is to know about this Arcan 3-Ton Floor Jack, it's time to give it a shot. You'll be the envy of your block when you're able to quickly and easily raise any of your vehicles with a few swift pumps!
You can check it out on Amazon here, we know that you will be satisfied with your purchase every time you have to jack up your vehicle and this model makes it easier than ever!
Arcan ALJ3T 3-Ton Aluminum Floor Jack Owner's manual:[PDF]