McCulloch MC1275 Heavy-Duty Steam Cleaner — A Review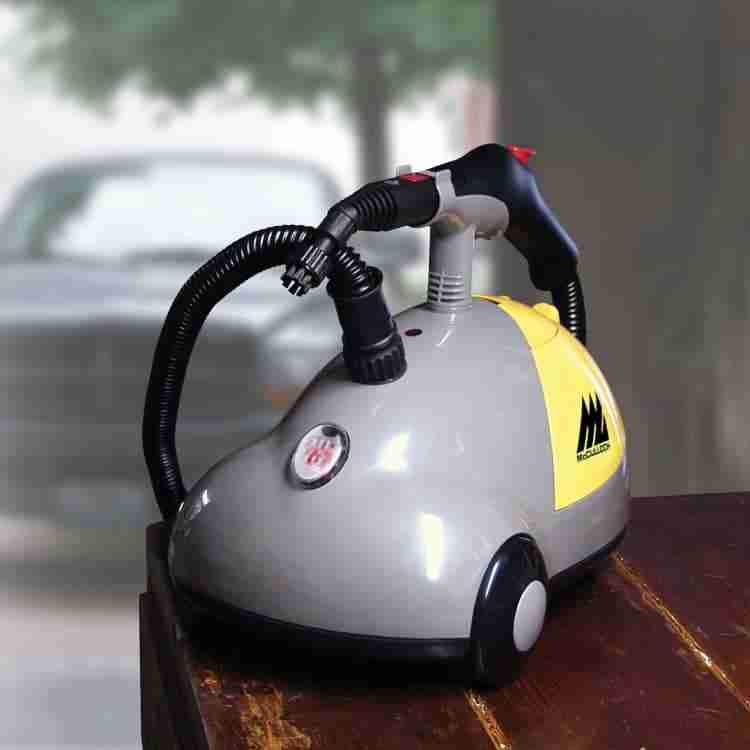 Keeping your home clean is one of the most important things in the world to many people. After all, it's where you live, where you raise a family, and where you entertain. Whether it's a vacuum cleaner or a high-pressure steam cleaner, you want to make sure you're getting the best bang for your buck.
In this article, we'll review the McCulloch MC1275 Heavy-Duty Steam Cleaner to look at what it is, why it might be a great option for you, and what other people who have bought the cleaner have to say about it.
Features and Benefits of the McCulloch Steam Cleaner
The McCulloch Steam Cleaner makes cleaning and powering through tough dirt easier than ever. To learn more about why this steam cleaner from McCulloch is a great option for anyone in the market, let's go through some of the main features and benefits that you get included when you purchase this steam cleaner.
Powerful Jet Nozzle With Continuous Spray
Anyone that is in the market for a high-quality steam cleaner is shopping for one because they have some dirt and grime somewhere that they just can't seem to get clean any other way. That's where a quality steam cleaner with a powerful jet nozzle comes into play, just like what you get with this unit from McCulloch.
The nozzle on this steam cleaner is designed to focus the flow of steam into a powerful stream that can attack dirt and grime like never before so that it leaves behind a spotless surface. The handle of the wand also enables the user to simply flip a switch to lock it into the steam position. This will allow the cleaner to continuously spray steam out without you having to manually hold down the steam button like on other steam cleaners.
Large Capacity Water Tank and Quick Heat Up Time
With any steam cleaner, one of the worst parts of using them for extended periods of time is the constant need to refill the water tank every time it runs out. Not only do you have to refill the tank, you then have to wait for the new water to heat back up every time that you refill it before you can start spraying steam again. The McCulloch MC1275 handles both of these issues!
With an above-average tank that holds 48 ounces of water, this steam cleaner will last you through any project you're working on. This huge water tank allows for a continuous spray for a whopping 45 minutes. That's long enough to tackle almost any job out there that you would be using a steam cleaner for on its own.
If for whatever reason you need more than 45 minutes of operation and you have to refill the tank, don't worry about it taking all day to heat back up to a reasonable level. This steam cleaner from McCulloch will heat a fresh tank of water in only 8 minutes! That means that you can fill the tank up and let it start reheating while you run inside and grab a drink or pet the dog. By the time you get back outside, the steam cleaner will be warmed up and ready to get back to cleaning!
Floor Mop Attachment
The floor mop attachment is one of the best accessories that comes with this steam cleaner and so it deserves its own feature here. This attachment quickly and easily attaches to the steam cleaner and can then be used like any other floor mop. It will feed hot steam down through it and evenly distribute the steam along the surface that you're cleaning for the ultimate cleaning power.
This floor mop attachment should only be used on sealed flooring surfaces to prevent any leaks due to the thorough clean, but once on a sealed flooring surface, this attachment works wonders! Easily power through the toughest dirt and grime on stone, wood, tile, and laminate floors leaving them more sparkling and cleaner than they were the day you moved in.
Superior Reach
One of the issues that many people come across with all sorts of appliances, especially cleaners, is the lack of reach due to both the power cord and the length of whatever you're using such as the hose or wand. Whether you're using a vacuum cleaner or a steam cleaner, reach always seems to be an issue. And to make it worse you always seem to run out of reach at the worst possible times!
Thankfully the team at McCulloch took care of the reach issues on the MC1275. First of all, this steam cleaner comes with a nearly 16 feet long power cord that enables it to be plugged in once and moved around as needed to clean whatever you're working on. In addition to that, you also get an extra 9-feet in length from the steam hose. These two combined means you have over 25 feet (including the size of the cleaner itself) worth of length to work with so you should never be struggling with running out of reach again!
Versatile Accessories
One of the big kickers with this unit is the plethora of accessories that you get in conjunction with the cleaner itself when you purchase the McCulloch MC1275 Steam Cleaner. This unit touts that it includes 18 accessories with it to make it one of the most versatile and all-inclusive steam cleaners on the market. So, without further ado, let's take a look at what all the included accessories (other than the steam cleaner) are:
Carrying handle. Convenient handle makes it a breeze to carry the steam cleaner anywhere you need to take it.
(2) 19" extension wands. If the 25 feet of length mentioned above weren't enough or if you need to be a bit more accurate, these will do the trick!
12"x6" mop head. This is the floor mop attachment mentioned above. It's 12" width allows it to clean your floors in no time.
Triangle brush. Perfect for using the power of steam to clean corners.
Brass utility brush. Add steam to the scrubbing power of a brass brush to get the handle the toughest grime out there.
(5) nylon brushes. Perfect for everyday cleaning with plenty of extras to last a lifetime.
Scrub pad. Ideal for scrubbing all sorts of surfaces.
(2) microfiber pads. The best type of pad to clean delicate surfaces that you don't want to create swirls in or the possibility of any scratches.
Steam jet nozzle. This is the powerful nozzle talked about earlier that directs the steam into a powerful stream so it can remove more dirt and grime.
5" squeegee. Ideal for steam cleaning windows.
Water funnel. To ensure you pour the water directly into the steam cleaner and don't spill any.
Measuring cup. Helps you get the perfect amount of water every time.
What McCulloch Steam Cleaner Users Are Saying About It
At this point you know all about the various benefits and features that come with this McCulloch Steam Cleaner, so let's take a look at what the people that have bought and used the product are saying about it. Customer reviews and comments can often tell you a lot more about a product than the manufacturer!
Customers are absolutely thrilled about the versatility of this product and how well it works more than anything else. Customers all over the world have talked about their uses for the steamer including making wallpaper removal easier than ever, using it to kill bedbugs and rid the house of them, using it to clean various surfaces in the bathroom, and much more! With its powerful steam action and versatile accessories, this steam cleaner gets the job done no matter what it is!
The second most commonly revered aspect of this cleaner by its customers is how easily portable it is. This steamer only weighs 12 pounds in total. When that lightweight construction is combined with the carrying handle, it's an absolute breeze to move around. Customers have talked about how easy it is to move room to room or area to area and they can simply pick the steamer up and carry it to where they need it to go.
The biggest complaint that customers of this product have most commonly is the excessive use of plastic parts in this design. Many customers feel that there is a bit too much plastic for a steam cleaner in this price range, but even so, they're often surprised at just how well it works. The use of plastic certainly shouldn't be a game-changer as long as the product works as well as this one does!
Check Out the McCulloch Steam Cleaner on Amazon
Now that you know everything there is to know about the McCulloch MC1275 Heavy-Duty Steam Cleaner, it's time to give it a shot if you're in the market for a high-quality steamer! This product will leave everywhere in your home that you use it shining and looking cleaner than ever!
You can check it out on Amazon here, we know that you will be happy with the pristine clean left behind by the McCulloch Steam Cleaner every time you use it!
McCulloch MC1275 Heavy-Duty Steam Cleaner Owner's Manual:[PDF]