Best Android Double DIN Head Units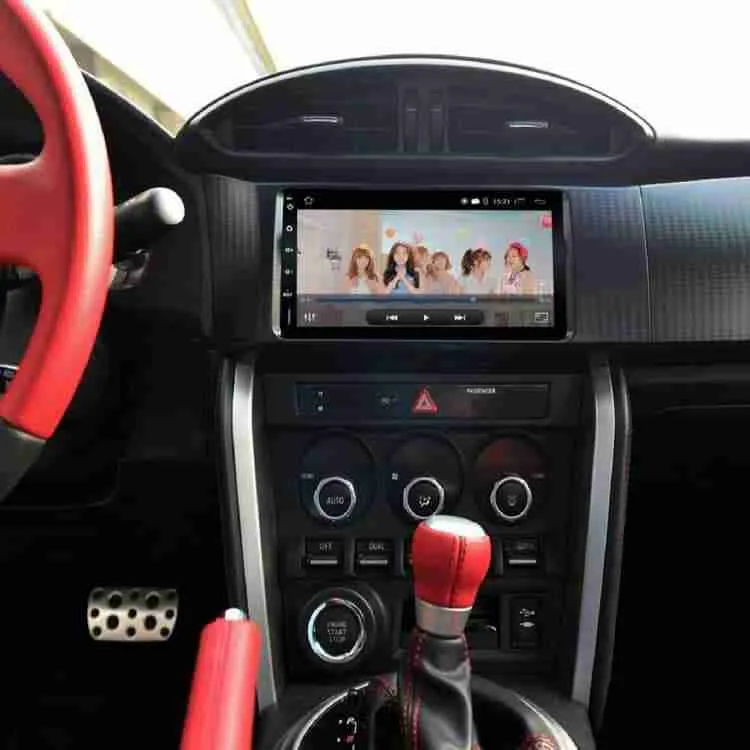 Aftermarket stereo systems are becoming popular for those individuals who do not have newer cars with all the upgraded features. Since many units now contain a lot of those unique features that come standard on newer model cars for a fraction of the price, they are often the better bargain. Most models are compatible with newer model phones such as Apple and Android products. They have built-in GPS and navigation or the ability to add that feature on and they work with your existing stereo connections. The nice thing about the aftermarket stereo systems is they can be upgraded quite easily compared to built-in units on other vehicles and they almost always support additional upgrades so you can slowly expand your features as you can afford or as you want to.
One of the most common units found out on the market today is the double DIN unit. It is basically double the size of single DIN units if you have heard the terminology. Some cars only have the capacity to hold a single DIN unit since the stereo front face plate is not wide enough to accommodate a double DIN. Additionally, even if you have the room for double DIN head unit, you can still install a single DIN unit with the right kit. However, keep in mind that most double DIN units contain the more upgraded features like touch screen and built-in navigation that you will not be able to find with single DIN units. Let us compare some of the top android capable double DIN head units.
LESHP Android Car Player
The LESHP Car Player is a double DIN, Android 5.1 compatible car radio stereo with a 7 inch touch screen. It has a 1024 x 600 high definition screen as well as built-in GPS navigation. Additionally, it contains Bluetooth and has a USB connection along with approximately 16 gigabytes of memory. The LESHP has a built-in phonebook feature and you can control your subwoofer and equalizer settings right from the console. This unit costs about $187.
A major pro of this model is that it comes with a lot of built-in features without requiring the purchase of additional units. The hands-free calling option available with Bluetooth is a nice to have for safety reasons and because most states have laws against texting and non-hands-free calling. This package includes the GPS antenna required for navigation and also a backup camera for use when backing up the vehicle. The backup camera is night vision capable and waterproof. The LESHP is compatible with nearly any type of vehicle including cars, truck, vans, and even recreational vehicles.
This unit had mixed customer reviews. A common complaint was related to the sound quality or lack of sound entirely even though customers followed the directions and hooked the unit up as required. Several other customers complained that their unit would function intermittently and the screen took a long time to power up once the vehicle was started.
Pioneer AVIC-8200NEX Navigation Receiver with Carplay/Android Auto
This unit comes from Pioneer who is a leader in aftermarket car units. They produce audio equipment from speakers to these touch screen units that are compatible with most older model cars. They offer a variety of options for car owners that are compatible with iPhone and Android alike. This particular unit is one of Pioneer's top end models and can cost upwards of $1400. However, we recommend doing your research as there are some sites that sell this for closer to $700. It comes equipped with a built-in DVD/CD receiver and 6.2 inch touch screen. In addition, it is Apple CarPlay and Android Auto compatible
A really nice feature of this unit is that is comes with voice command features such as Siri compatibility. This is a great safety feature to have as it maintains the hands-free options for many users. Since it already has the built-in GPS navigation feature, it comes equipped with maps of the US and Canada so there is no need to pay extra to download those items. The AVIC-8200NEX also works with Pandora, Sirius XM, and HD Radio. Another pro that customers will appreciate is that it has a five display color customization feature along with 112 key colors so that you can match your cars other backlight dashboard colors. It also includes a remote and a one year warranty when purchased through an authorized dealer.
This was another mixed review unit with high marks from most customers. However, the most common complaint for this unit was that the navigation system lacked some basic functionality like zoom-in and zoom-out buttons. It required touching the screen and using your fingers to scroll in or out, but that in turn tended to cause the system to think you were asking to select another destination. Additionally, it had similar complaints as the LESHP model in that it had intermittent functionality especially with the navigation system and would sometimes blip in and out.
JOYING Car Stereo Android Double DIN Head Unit
This model from JOYING comes with Android 6.0 software, 2 gigabytes of RAM, 32 gigabytes of ROM, and a good amount of memory compared to other units. It has a 7 inch touch screen with 1024 x 600 high definition resolution. It can even support videos up to 1920 x 1080 resolution. An added feature is that it has built-in Wi-Fi functionality that can connect via Hotspot features. The JOYING unit also has built-in Bluetooth for hands-free calling. This unit costs about $330.
A pro of this unit is that it has compatibility with numerous other upgradeable features such as GPS navigation, backup camera, and a DVD player. Additionally, as with other units, this model has Bluetooth capability, which helps maintain safety functionality while driving. The JOYING unit is also compatible with iPhone and Android phones that run updated iOS and Android software.
Even though it has the capability to add additional features, it is definitely a negative compared to other models that it does not include a DVD player or the GPS navigation as standard features. In addition, a common complaint from customers was that the unit did not always fit their cars as stated and that the device did not come standard with all the necessary adapter cables. Pay close attention to your needs before purchasing this model to ensure you get the right adapters. The JOYING was also noted to freeze and glitch repeatedly with many customers units.
EinCar Android Quadcore Car Entertainment
The EinCar model comes standard with a 7 inch touch screen display and built-in multimedia functionality including AM/FM radio. It has built-in Bluetooth functionality for hands-free calling and backup camera features. The EinCar unit also includes GPS navigation and comes installed with standard maps. Additional features include built-in Wi-Fi, USB connectivity, and a 32 gigabyte SD slot. This unit costs about $165.
A major pro is the screen resolution and ease of use with newer devices such as iPhone and Android. It has easy to use functionality and buttons that work with existing car features such as steering wheel controls. EinCar also includes 24 hour support as part of this purchase so that users may get the help they need at any time they have issues or have questions regarding install.
This unit does not come equipped with a built-in DVD/CD player if you are looking for that functionality. It also has not been on the market long enough for numerous customer reviews. The one notable complaint was that it was difficult to install and fit in the user's vehicle as provided instructions were lacking. We suggest waiting a bit longer to buy this unit for more reviews to talk about its functionality and reliability.
Pyle Premium Double DIN Android Car Stereo Receiver
This is another 7 inch display unit that has built-in Bluetooth functions for hands-free calling. It includes a touch screen high definition display and a HD DVR dashboard camera plus a backup camera. The Pyle unit includes GPS navigation and Wi-Fi web browsing capability. It is compatible with both Apple and Android phones and costs about $270.
This model comes with a lot of built-in features as part of the complete package. The built-in dashboard camera allows you to record road trips and other adventures and the backup camera is night vision capable and waterproof. It resembles more of a standard tablet than anything else and is very user-friendly. It comes with 16 gigabytes of memory, a DVD/CD player, and a remote. It is an all around package that includes most every upgrade users are looking for.
The Pyle unit has mixed reviews as with the other units, but most customers seemed extremely happy with its functionality. The most notable complaint seems to be related to display freezing and glitchy behavior, which seems to be a common issue amongst units like this that include all this functionality.
PUMPKIN Android Double DIN Car Stereo
The PUMPKIN unit has a 7 inch flip out touch screen with built-in Wi-Fi functionality. It is compatible with both iPhone/iPod devices and Android. It includes built-in Bluetooth capability, a dashboard camera, and a backup unit. This model also has a USB hookup port as well as a SD card slot. It costs approximately $230.
This is another unit that runs on Android 6.0 software and has a 1024 x 600 high definition resolution screen.  Since the screen is retractable, it can adjust to provide the driver a better view while the vehicle is in motion. Similar to the Pyle model, this unit comes with some many built-in options that it is definitely worth the money compared to other models that require additional purchases. In addition, it seems to be compatible with just about any model car.
This is another unit that has not been on the market long and does not have a lot of customer feedback against it. The only reviews that were noted all seemed to be positive relating to the price and functionality of the unit.
Pioneer AVH-4200NEX 2-DIN Receiver
This Pioneer model comes equipped with multimedia functionality and a built-in DVD player. It is Apple CarPlay and Android Auto compatible and includes the AppRadio mode functionality that allows users to utilize apps already found on their devices. It is Pandora, Sirius XM, and HD Radio compatible and includes voice command functionality. It costs about $700 on the high end, but can be found as low as $480 through various online retailers.
This is another high end model from Pioneer, a company known for excellent aftermarket car audio equipment. Customers know they will be getting a good product when they buy this unit. The added voice command functionality is a plus for safety features as it allows users to control the music and make phone calls all while remaining hands-free. In addition, it comes with a remote and when bought through an approved dealer, a one year warranty.
This unit had high customer reviews; however, a common complaint was that the Bluetooth functionality was hit or miss with most units. Sometimes it seemed to work well and other times it would come in and out on calls.
Hopefully we have provided you with a lot of useful information on various Android double DIN head units that you can make an informed decision when it comes to purchasing one of these models. This is not a comprehensive list, but does contain most of the best units available on the market today. We recommend you determine what features you are looking for whether it be a built-in DVD/CD player or GPS navigation functionality or even both before purchasing any units. As always, we also recommend reviewing pricing and customer reviews to find out about any known deficiencies with any units to avoid frustration along the way. Most of these units have great return policies should you find it does not work for you, but always verify the timeframe you have to return a unit before purchasing to avoid getting stuck with a bad device.