Best Budget Dual Dash Cam 2020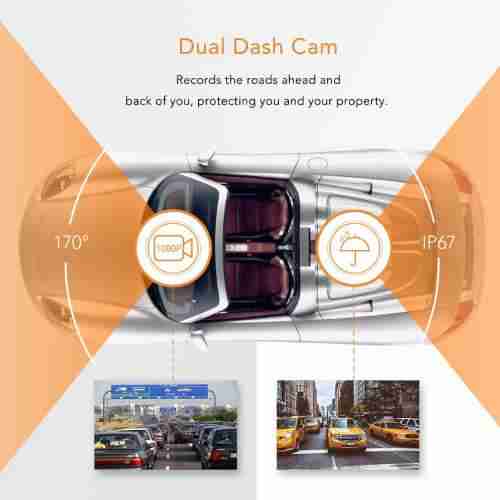 Have you been run around by an insurance company over something you know wasn't your fault, but you had no proof? Do you drive for a rideshare company and need to keep a watchful eye on your passengers? What you need is a dual dash cam, and you've found the right article to help you decide which one to buy.
What is a Dual Dash Cam?
Not long ago, dual dash cameras were priced way above what the average consumer could afford. The only places you might see one were charter buses or rentals. Recently dual dash cams have gotten much cheaper, and now they are a go-to item for rideshare drivers, smaller rental companies, and proactive citizens alike.
Many modern dash cams use two cameras, hence the name dual-lens dash cam, dual-channel dash cam, or simply dual dash cam. There are many styles of dual dash cam, and many form factors from which you can choose.
We can divide them up into two main categories: ones that film ahead of and inside the car, and ones that film ahead of and behind the car. Variables like video quality and resolution, memory capacity, build quality, and a slew of other features help us separate the good from the bad.
Installation is easy, with the hardest part being running a wire from your dash to the back of your car. Get creative and tuck it under the carpet or headliner, or just lay it across the floor. Your choice!
11 Dual Dash Cams You Should Know About
Most of these dual dash cams would be suitable for different needs, but this is one place where the better product will carry a higher price tag 100% of the time. Skip ahead to "Which Dual Dash Cam Should I Buy?" if you're in a hurry; continue reading to learn everything you need to know about dual dash cams.
Each of these dual dash cams includes free two-day shipping for Amazon Prime members. That means you don't have to drive down to that one big-box store with the yellow tag logo and spend ten minutes discussing an extended warranty you probably won't end up buying anyway.
As usual, we're going to make our way down to the best ones. Without further ado, let's begin with the
Worst Dual Dash Cams Available Today
isYoung 720P HD Dual Dash Camera
At first glance, this dual dash cam looks like a pretty good deal. It clips over your stock mirror. It has a 4.3-inch display, low price, and storage up to 32GB through the microSD slot. It even has G-force Activation, meaning it continuously deletes the incoming footage until an accident occurs, then it locks down the affected footage and a few seconds on either side.
It turns on and off with the car (Auto on/off), which is nice, and the 720p quality will capture the gist of what's happening around you. Sound quality is good, installation is easy, and the rear camera's cord is long. Those bold items come standard on every camera on this list, though, and this one's drawbacks are numerous.
A multitude of bad reviews covers details like the mirror is dull at night, the screen is hard to see during the day, and the software is sluggish and overly complex. Even the most positive reviews mention you can't make out critical details like license plates in the footage, so what good is it? The problem with this dual dash cam is quality.
One glance at the Related Products list reveals at least five other brands of what appear to be the exact same dual dash cam. You find this often with these companies whose names are two English words pushed together, and it means your isYoung is no different from a VICTONY, EHOOM, or one of the countless other rebrands of the same dual dash cam. And they're all terrible.
Pros
Low price
720p quality
Easy installation
Cons
Only 32GB memory capacity
Low video quality
Unknown lifespan
As Seen on TV: HD Mirror Cam Dual Dash Camera
This dual dash cam has 720p quality, a 2.5-inch screen, auto shutoff, motion detection, an infrared night vision LED, and a micro SD card slot. Cool. But again, those are standard on the rest of these, and the list of flaws is extensive.
This isn't a dual dash cam in the same way most others are. This one has a pivoting camera which faces either forward or backward, filming either the road ahead or your interior cabin. Why limit yourself to one or the other?
It covers your existing rear-view mirror using rubber straps instead of plastic clips. The stability of your footage relies entirely on two rubber straps. Have a weirdly shaped rear-view mirror? Good luck getting this thing installed. Reviewers say you might get six months out of this dual dash cam, and many got just a couple weeks.
If this were Wikipedia I'd say As Seen on TV (by who?). Sure, they have this cheesy commercial with a bunch of staged fake accidents. The beginning shows a girl backing out in front of someone while texting and driving in a parking lot, and the implication is that this dual dash cam would have saved her from that accident. No way José.
They even cut their own video short at the end, omitting the part where their contact information would be if this had been an actual TV commercial. In other words, all signs point to that "As Seen on TV" statement being a total lie. Couple that with the chintzy pivoting camera and the rubber strap installation, and you can do a lot better than this.
Pros
Cons
Low quality
Short lifespan
This one barely makes the cut of "Worst" – it's got 1080p recording quality, a full 170 degrees of visibility, and a WiFi connection for controlling the cameras and navigating recordings through their custom app. It's got a nifty parking assistance interface that helps you into your spot, as well as auto on/off and a g-sensor. This one looks to be well-equipped, considering we won't see most of those features again until the more expensive dual dash cams.
It's even got an unconditional 90-day warranty and return policy. That's right, PARTIM will refund your money if you don't like their dual dash cam for any reason. That's a big promise from a small company, and you should keep it in mind because of the following serious issues.
Reviewers say this dual dash camera can't record with both cameras at the same time. We might as well stop here because that sort of makes it useless as a dual dash cam, but users also report that regular sunlight can easily wash out the footage. Many say the app is poorly designed and that on 1080p the footage is unusably rough.
They say 720 is smoother, but you'll be shooting in 720 after paying for 1080, and maybe through only one camera at a time. Not cool.
Pros
Pivoting front camera
1080p capabilities
Wi-fi
Custom app
90-day warranty
Cons
Many software and hardware problems
Best Dual Dash Cams Available Today
We've covered the bad, now let's see the best ones for everyday use. G-sensors, auto on/off, motion sensors, parking assistance, micro SD ports, and night vision LEDs are now standard fare.
APEMAN 1080p Dual Dash Camera – THE ONE TO GET
This style of dual dash cam doesn't cover your rear-view mirror, so that's a plus. It features 170-degree lenses, 30fps 1080p film quality, a g-sensor, auto on-off, motion detection, night vision, shock sensor, date stamp, and onboard GPS. Onboard GPS embeds the latitude and longitude of the footage in real time, and that data can be pulled using a variety of tools like Google Maps.
NOTE: For the GPS to work, you must buy a GPS antenna like the one APEMAN sells.
Like the others, it will loop record (overwrite incoming footage) until the shock sensors, g-sensors, or motion sensors detect an event. Its neatest feature is that while most other cameras power down with the car, this one doesn't have to. The APEMAN can record while the car is off, allowing you to capture parking lot collisions by cars or shopping carts.
Drawbacks are few: the rear camera is only capable of slightly blurry 720p and has poor night vision capabilities. The form factor may intrude on your visibility, and more expensive cameras have better footage quality.
Pros
Low price
1080p quality
Capable of GPS logging
Can run 24/7
Cons
GPS antenna not included
Low-quality rear camera
A new Amazon offering is this wide 10-inch dual dash cam which clips over your stock rear-view mirror. It features a front camera with 1080p resolution, a sturdy plate-mounted rear camera with 480p resolution, and a massive 10-inch display that appears to span the entire mirror. I say "appears to" because as of this writing, nobody has reviewed it yet. You could be the first!
To further entice you to throw down a Benjamin, this dual dash cam features a narrow-angle rear lens that should read incoming license plates just before they smash into your car. There's parking assistance, an onboard battery to recover footage in the event of power loss, and a 12-foot power cord with a substantial 19-foot extension for the rear camera. Weight and bulk are drastically reduced compared to other models.
Pruveeo's other dual dash cam (model F5) is highly reviewed, with 4-or-more-star averages across the board, and they're an established company with products on the ground in over 20 countries worldwide. Reviewers on other sites say this product is great. Are you brave enough to be the first Amazon reviewer of Pruveeo's newest dual dash cam?
Pros
Light weight
Slim construction
Large display
Clips over existing mirror
Cons
Low resolution rear camera
Possible mirror visibility issues
Right off the bat, Luna addresses one of the major complaints we've had with other dual dash cams. Namely, the rear camera is always terrible. It's some cut-rate 480p affair that's grainier than a 60s tube TV. Luna gives you a 720p rear camera, so you can tell what color eyes the person behind you has as they rear end you. Cool.
We've stepped up in price because the Luna utilizes a Sony CMOS night vision sensor, 1080p or better front camera, and a 5" screen in addition to the standard g-sensors, waterproofing, parking assistance, and auto on/off. Some people say the cameras are finnicky to set up, and that the interface will sometimes stop working for a few minutes. Those comments are rare, though, and the next bit makes up for all of that.
Finally, Luna publicly offers a 2-year 100% money-back guarantee. That's right, they will replace or refund your purchase for 2 years, so if you get into an accident or something breaks during that time they will replace your hardware for free. That's a rare thing in any industry, especially dual dash cams. Luna is very active in the questions section on Amazon, too. All good signs if you ask me.
Pros
High resolution rear camera
Great customer service
2-year replacement plan
Cons
This one has a similar form factor to the APEMAN from earlier, and it also features GPS capabilities with an antenna that's sold separately. AUKEY (probably pronounced "okay" with an Australian accent) brags that this dual dash cam has "Extreme Temperature Operation," not that the others don't, but if you find yourself in -22F°/-30°C or 167°F/75°C rest assured that your dual dash cam will hold up.
If you're going between those temperatures frequently, check to make sure the apocalypse hasn't started. Unless you live in the Midwestern United States, in which case get used to it.
Here's why a good dual dash cam is so expensive. It has actual buttons instead of just a screen. It can record time lapses. The aperture on the front camera is 1.8 and the rear is 2.0, for superb nighttime recording. Both have 150+ degrees of vision. You get a full 1080p rear camera in a durable housing. However, that makes things more difficult in the mounting department.
The AUKEY's rear camera is designed to mount to your rear glass, and your tint will affect the footage. Plus, it may not mount to all vehicles. The cable that connects the two cameras is a proprietary design, so guess where you'll go for parts. Reviews say the menu system isn't very nice by modern standards, and their phone support is apparently somewhat useless.
Pros
Great form factor
Full 1080p quality
Superb night vision
Can capture time lapses
Cons
Larger form factor
Odd rear camera mounting
Long-Term Dual Dash Cameras
Without a doubt, the best way to get quality footage, quality hardware, and quality customer service is to spend twice what those other products cost. It just is what it is.
The cheaper ones can get you by in a pinch, but no matter your reason for getting a dual dash camera, I suggest spending a little extra dough to do it right. This is your safety we're talking about, so it's worth spending a few extra bucks to have quality footage should you ever need it.
By now you know the standard fare like g-sensors, auto on/off, and IR night vision. We're just going to hit the major points on these last three because they're all very different, but one of them is the one you should buy if you're serious about using a dual dash camera in the long term.
Pros
Capture full dynamic range 1080p at 30fps, both front and rear. Record up to 2880×2160 Ultra HD or a framerate up to 120fps using one camera at a time. It mounts flat to your windshield and doesn't cover or replace your mirror. The whole unit is small enough to not obstruct your view.
Control its features using physical buttons or the proprietary app and built-in Wi-fi connection. Take still photos through the app using those amazing cameras. USB power source. 92% 4 and 5-star reviews.
The only device currently available with all these options.
Cons
Look at the pictures and you'll notice both cameras reside in the same housing that mounts to your windshield. That means this is more suited for use in a corporate vehicle, Uber, taxi, or similar applications. Visibility of rear-end accidents may be compromised depending on the vehicle you drive. Night vision through tinted windows will be minimal.
It has a small display and no GPS. It's expensive, but cheaper than the next ones.
Pros
This device mounts directly to your windshield and is independent from your mirror. It has a 4-inch HD display with picture-in-picture optional. The rear-view camera is separate. Both cameras capture full 1080p at 30fps. The front camera goes up to 1440p at 30fps for taking impressive still-frame shots. USB power source.
Users report outstanding audio quality from both cameras. Sony image sensors provide superior low light footage.
The software is intuitive, with easy manual event marking. A 32GB Kingston SD card is included with card support up to 128GB.
Cons
Its large form factor is like gluing a double-din head unit to your windshield. The power cord positions for both the front (at the top) and rear (at the bottom) cameras are awkward and the cables are thicker than usual. No Wi-fi, no app, and no GPS.
Pros
The Vantrue features dual 1080p 60fps cameras, one front, one rear-facing interior. The front camera can capture up to 1440p. There's a plethora of infrared night vision LEDS backed by a Sony sensor. 24-hour motion-activated parking mode and time lapse functionality are handy. It has a small form factor which can hide behind your rear-view mirror. GPS works with an extra sensor (not included). USB power source.
The system auto-logs sensor events in the footage, and the default sensitivity setting picks up every little bump. All those files are protected which means the card will fill up faster. Fortunately, the sensitivity can be changed.
This dual dash cam uses a suction cup instead of messy adhesives, and that's a big plus.
Cons
Only 64GB of possible expansion space. The power source plugs into the lever that's used to loosen the suction cup which is awkward. The ball mount loosens over time and requires tightening.
The Big One
BlackVue DR650S Dual Dash Camera
Pros
If you're familiar with this site, you know we're big fans of including some absurdly expensive item at the end just for kicks. In this case though, it's not that crazy at all. This dual dash cam has built-in GPS, IR night vision, parking mode, and cloud streaming capabilities which let you monitor your car from anywhere on Earth using the Wi-fi connection and the app.
There's a two-way communication system which allows the driver to talk with a remote viewer. It even has a discrete form factor, slim cables, and USB power. The rear camera is high quality to make up for its lack of resolution.
By all accounts, this is the best dual dash cam available today and its price reflects that.
Cons
Rear camera is only 720p and is interior only. You could buy a used car for the same price.
Which Dual Dash Cam Should I Buy?
Congratulations, you've learned everything you need to know about dual dash cams! Take your newfound knowledge and save thousands of dollars the next time someone hits you and claims it was your fault.
In this case money really does buy the best product, but for most of us, falling just short of perfection is worth saving a few hundred bucks. There are so many details that it's really a personal choice, but I can narrow it down for you:
Don't buy one of the Worst Dual Dash Cams Available Today.
For everyday use, get one of the Best Dual Dash Cams Available Today. The best one for most needs is the APEMAN.
For a true investment in your safety, buy one of the Long-Term Dual Dash Cameras.
For the hands-down best dual dash cam on this list, get The Big One: the BlackVue.