How Long Can You Drive With Expired Tags In California?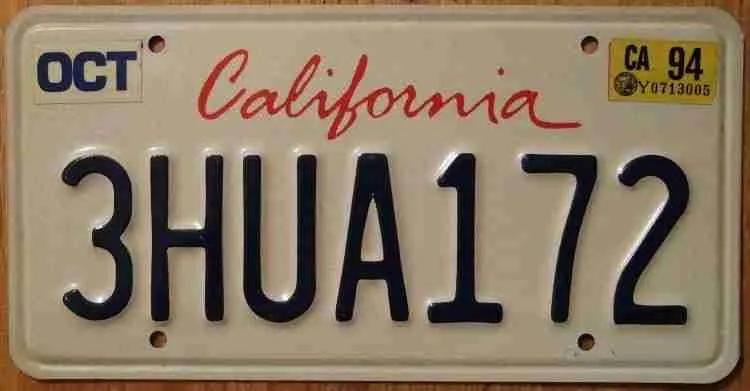 If you have recently moved to California, you could be wondering how long you have to drive your car after your tags expire. The answer is, none. For California, you do not get any grace period when your tags expire. It is best to do it before your tags expire and change them as soon as you can.
If you do not change your tags, you may get pulled over and a ticket for having expired tags. From your very first offense, you get six months to get new tags or to renew them. If you do not do this within six months of your early warning or ticket, your car could be impounded.
A ticket can be around $65 or more, if you get more tickets and do not pay them, this number could be higher. This price is before surcharges.
There is no one price for all cars in California, it is a base price plus whatever the fee is for your specific vehicle. This additional price you pay is dependent on the type of car, the age, and mileage. The base price starts any registration out at $46, and depending on your car could be up to double. This may seem expensive, however, if you do not pay, they can take your vehicle away.
If you do not pay before your tags are expired, in the state of California, you will pay late fees. The later you are registering, the more you will pay in late fees.
What happens when you get pulled over
If you choose not to get your tags the first time, and you get pulled over by an officer. There will be a chance the police officer will give you a "fix-it ticket"; however, there is no guarantee. If you have proof that you paid for your registration but have not received it in the mail, there is an excellent chance that they will not ticket you.
Impounded car in California (CA)
When you choose not to pay your registration fee for your tags, you risk getting impounded. If you do end up getting towed away, there are specific steps to take in order to get the car back. First, you will want to make sure you pay all the fees and tickets right away.
The first step– Go to the police station and tell them you need your car back.
Second step– Show proof of a California's driver's license.
Third step– Show accurate insurance information.
The fourth step– Show your registration and the tags that you paid for.
If you have other tickets involving your car, they may make you pay those off as well, before they release the car to you.
You will need your license plate number written down for the application
Review previous information to make sure it matches up
Make sure you have a way to pay for the fees
Read an accept terms of the payment
Receive a receipt to use until your tags get to you
These steps are super simple to follow, they are meant to be easy. Anyone can do these steps in just a few minutes. California does not intend to make it a difficult process; however, the longer you wait to renew your tags, the harder it will be. It will also be much more expensive.
Buying a new car
If you are purchasing a new car from a dealership, most of them will take care of everything for you. They will register your car for you, so you won't have to worry about it till the next year. The dealership may also give you temporary plates.
If you are buying a car from a neighbor or friend, it is vital to make sure you transfer titles and bring that information in when you get your tags. You will want to have it in your name and make sure you have a copy of the transaction to prove to the DMV.
Moving from out of state
If you are moving to California from another state, you do not have as long to get a new license plate and update your information. From the day you officially live and move to California, you have 10 days to switch all of your information and get new tags.
Smog check
If your car is ancient, the DMV might require you to go to a mechanic and get a smog check to renew your tags. A smog check is the best way for the DMV to see how much pollution and chemicals your car spreads to the environment. Not every state requires this, but it is crucial to get in California if your vehicle is older than a few years.
If you do not get a smog check in the state of California, you have two choices. You can sell your car for pieces and stop driving it. Or you can fix the parts that pollute too much. Depending on what is wrong with your vehicle, it could be relatively cheap to fix the polluting problem.
There is a good chance that if your car did not pass, it's because it is officially too old to drive. New vehicles will not have as many problems. Older cars generally do not pass as much and therefore, cannot be driven around the street. Smog is a serious issue in California, and they do not take this requirement lightly. It is best to pay for the smog test and fix the problem right away.
If you do not pass, you will not get a registration, which could cause more fees.
Final thoughts
Renewing your tags should be an easy process, however, driving with expired tags could make life a bit more complicated. It could make life harder and much more expensive than just going forward and paying the fees for registration in California.
If you are new to the state, make sure you switch your license plate and pay all of your fees as soon as possible. Make your car tags a priority to avoid drastic consequences.