MAG 1 Full Synthetic SAE 5W-30 SM Motor Oil Review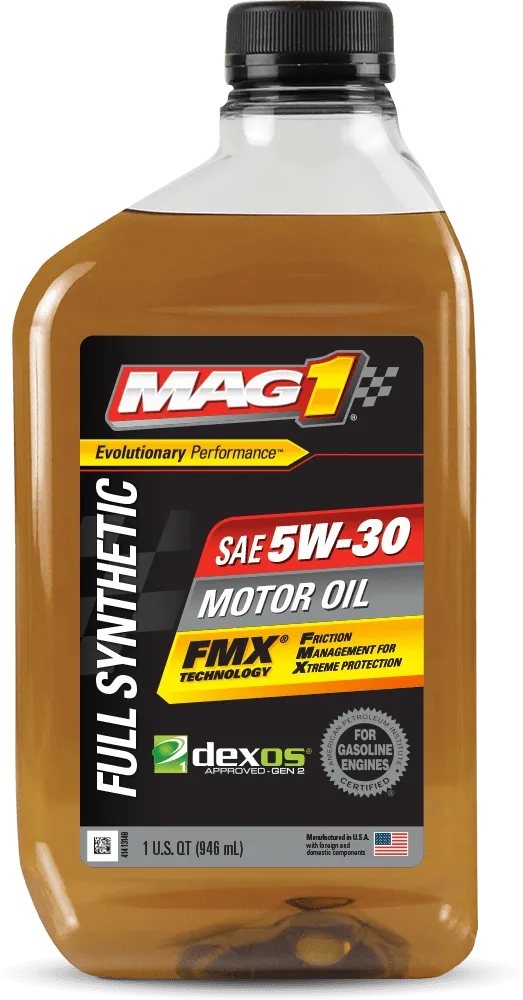 Today's engines are evolving fast as manufacturers are constantly pushing for higher power and lighter viscosities in motor oil products to increase fuel economy. If you need to change the oil in your car and are thinking of switching brands, I am sure you know that there is a plethora of different motor oil options at auto parts stores and supermarkets from which you can choose.
You may not know that there are even more which are not normally stocked at these locations. MAG 1 motor oil is one of these motor oil brands that is little well known but has a positive reputation among the automobile community. MAG 1 motor oil is manufactured by Warren Distribution located in Omaha, Nebraska and is considered their flagship product. MAG 1 is specifically formulated to maintain pace with the demands of today's engine performance which require lighter viscosities with increased power densities.
MAG 1 lubricants and oils have been chemically formulated so as to deliver the elite level of performance that meets the always increasing demands by automotive manufacturers. See below the major advantages of MAG 1.
What is MAG 1 Full Synthetic motor oil?
Most motor oil is manufactured from crude oil and is mostly used to lubricate, clean, and cool combustion engines. MAG 1 full synthetic motor oil means that no crude oil is used during the manufacturing process. Synthetic oils often provide superior performance, as noticed that at high temperatures engine wear is reduced substantially as well as increased gas mileage.
Since the manufacture of fully synthetic motor oils is complex, these motor oil options are often significantly more expensive than crude-based motor oil. MAG 1 full synthetic motor oil is the only brand with Friction Management for Xtreme protection or FMX® or technology. This technology uses advanced additive sciences with specific molecular formulas that form anti-wear film barriers between the mechanical parts of the engine.
This is accomplished as the heat load generated from the engine provides the energy to stimulate a chemical reaction between molecules in the oil causing them to bond tightly together to form a multi-layered mesh that is efficient in fighting friction. This multi-layered oil film retains multiple points of contact with the surface of the engine to help prevent metal-to-metal friction and wear between rotating or moveable parts.
Additionally, Zinc Dialkyl Dithiophosphate (ZDDP) another well-known additive that is also included but there has been some debate over whether this additive functions as well in older engines. MAG 1's thinnest fluids and oils commonly perform substantially better than thicker oils. (see customer reviews below). The result is a more consistent, reliable performance in the most extreme weather and operating conditions.
Are there any special requirements?
There appear to be no special requirements for the use of MAG 1 SAE 5W-30 motor oil. However, not all combustion engines use the same oil type and you will need to check your vehicle's instruction manual to determine if this oil is right for your specific model of car. You will also need to confirm with your mechanic if switching over from a conventional motor oil is carefully considered to make sure no additional harm comes to your engine.
Benefits
MAG 1 SAE 5W-30 is generally more expensive than most comparable fully synthetic name brand options (see further discussion below) so offers excellent value for the price.
Fully synthetic blend means crude oil from drilling is not used during manufacturing and leaves a lower carbon footprint on the environment.
MAG 1 SAE 5W-30 is DEXOS 1 approved and suitable for use where GM 4718M was previously recommended.
Reduces engine wear up to 50% more compared to regular synthetic oil and provides more engine resistance to cold starts.
Provides greater fuel economy to conventional or fully synthetic SAE 5W-30
Drawbacks
Currently, the MAG 1 SAE 5W-30 is not eligible for international shipping from Amazon.com and can only be shipped within the United States, and to APO/FPO addresses. It is not known if other suppliers provide international shipping to countries besides the continental United States.
Some users have experienced poor performance in both extreme heat and cold weather conditions, but these are a minority of users who have reviewed the product (see customer reviews below).
The cost of the product is nearly twice as much per fluid ounce compared to other name brand options (see next section).
While a manufacturer's warranty can be requested, it is not described in detail on the Amazon product webpage.
Changing from conventional motor oil to MAG 1 SAE 5W-30 may cause leaks if the change was not converted over properly.
Customer experiences
Currently, this product has a rating of 4.1 out of 5 stars on Amazon.com with the majority (70%) of 108 customers that have reviewed the product and gave the product a 4 or 5 start rating. Several users have even submitted used samples of MAG 1 SAE 5W-30 to the widely known Blackstone Laboratories in Fort Wayne, Indiana, which specializes in providing understandable and accurate spectrometry-based motor oil analyses.
These users reported that MAG 1 SAE 5W-30 reports showed less wear on engine parts compared to name brands such as Valvoline, Pennzoil, and Mobil 1. It also comes in a clear plastic bottle with a wide mouth which makes it easy to pour and to monitor how much you have poured into your engine. Some customers have reported that the price of this oil has increased since it was released in December 2011 which was met with some criticism.
Additionally, several users have mentioned that when they moved from cold to hot climates or if the engine overheated that the oil burned out. Alternatively, one user mentioned that under extremely cold conditions the oil did not seem to hold up very well but no further information describing the why was offered. However, these poor reviews represent only a small fraction of the negative reviews that have been submitted.
Final thoughts
MAG 1 SAE 5W-30 seems like a pretty good product with a strong and supportive reputation among the automobile community that provides a novel FMX chemical additive technology to generate a protective lubricating barrier within the movable or rotating parts of the engine that performs better than conventional or name brand synthetic motor oil options.
This oil also complies with ILSAC GF-5 and API SN and gives the engine more resistance to cold stars. This increased performance has been backed by many positive customer reviews on Amazon and other forums such as bobistheoilguy.com. However, it is a little more expensive at nearly two times the cost per fluid ounce compared to conventional synthetic oil or name brand varieties.
However, if you are currently an Amazon Prime subscriber, the cost per fluid ounce of MAG 1 SAE 5W-30 is reduced and comparable to conventional and synthetic oil products. With this reduced price in mind, purchasing this product from Amazon is a much better deal than you would find at auto parts distributers such as AutoZone or O'Reilly's or supermarkets like Walmart.
Unfortunately, this product is not very high on Amazon's best seller list as it is not even in the top 100 items for motor oil or automobile products. However, this poor best seller rating could be due to a nearly non-existent marketing campaign as most consumers outside the automobile industry have likely never heard of this company or this product.
But if you are interested in trying this product out in your own car or truck to increase engine performance and fuel economy, it is totally worth the investment. However, I would consult with a mechanic to make sure that your vehicle is compatible with 5W-30 grade motor oil and to make sure that switching over will not cause oil leaks.