Pro-Lift C-2036D Grey 36″ Z-Creeper Seat Review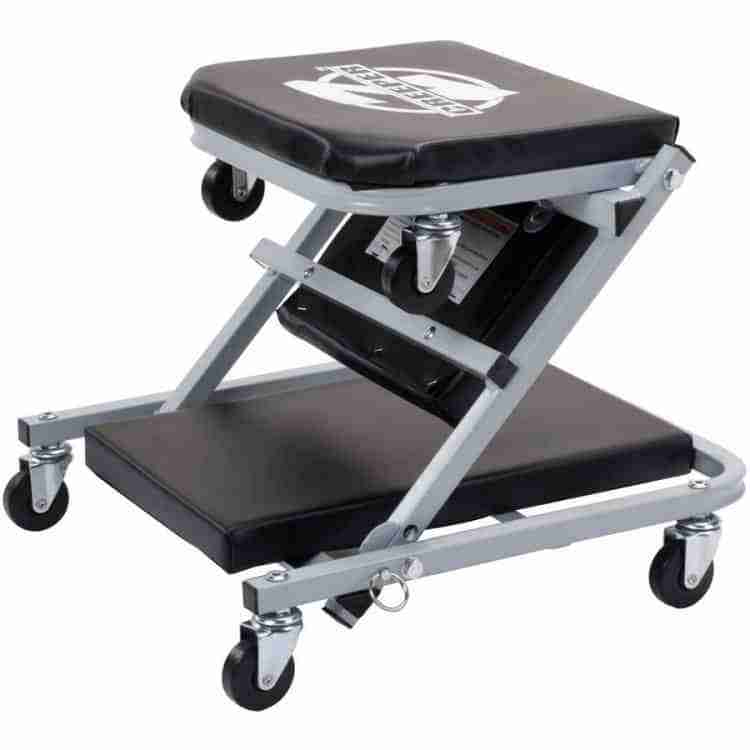 Is this 2-in-1 creeper worth the hype?
When looking for a creeper, its sturdiness and comfort are among the key things one looks at. If you have worked in a garage or have had the chance to work on an automotive at any point in your life, then you know how tiring it can be and how a good creeper comes in handy.
Overview
The Pro Lift C-2036D Creeper was designed and engineered primarily for reaching hard to reach spots and is suitable for performing automotive maintenance and service.
This creeper can be folded into a "Z" shape for use as a mechanics seat or kept unfolded as a mechanics creeper simply by the pull of an easily retractable pin in the mid-section. This feature enables the creeper to be functional no matter which part of the vehicle is being fixed and saves the user quite some time since the conversion from seat to creeper is not complicated. You can get more information or buy on Amazon.
Find out more about the product on Amazon.com
Features:
Thick padding for maximum comfort
The Pro Lift C-2036D Creeper has a thick vinyl padding and a very soft cover that makes it really comfortable for the user to sit or lie on. The type of padding used does not only guarantee comfort for now but has a resistance to thinning out making it perfect for long term use. The cover is easy to clean in case of any spillages but it is also quite light and can tear easily. The presence of a headrest that is well designed to accommodate the human posture reduces discomfort while working.
Heavy- duty and durability
The creeper has a strong steel frame that is held together by strong bolts and nuts. Despite the steel frame, the creeper is lightweight. It also can hold a weight capacity of up to 300 pounds whether used as a creeper or as a seat. This is equivalent to one person and a few tools depending on their weight. The steel is also well painted to prevent rusting which can reduce the life of the product. With this kind of framing the creeper is suitable even for everyday use.
Swivel casters for easy movement
The Pro Lift C-2036D Creeper has six 2-inch wheels on the creeper that are capable of handling and evenly distributing the weight to ensure the creeper well balanced and efficiently mobile even when fully loaded. These wheels however are mainly suitable for smooth and well levelled surfaces. Presence of aggregates or cracks on the surface can affect the efficient use of the wheels.
Product weight and dimensions
The product weighs 6.74 Kg which is very light considering it has a steel frame and thick padding. With this weight it is easy for anyone to carry it around. It is 55.5cm in length and 44cm in width. This is a reasonable size that can accommodate most adults comfortably. It has a height of 11.4cm, which makes it less strenuous to move around and allows ease of movement under the vehicles.
The product is currently available in black. It comes unassembled but this shouldn't scare you since the product manual has all the information needed to guide you through this process. It is well written and easy to understand.
Specifications:
| | |
| --- | --- |
| Product brand | Pro-Lift |
| Product model | C-2036D |
| Item Weight | 6.74 Kg |
| Product Dimensions | 55.5 x 44 x 11.4 cm |
| Material | Steel |
| Product color | Black |
| Assembly Required | Yes |
Company behind Pro Lift C-2036D Creeper
This product is manufactured by Shinn Fu Company of America, Inc. which is located in Kansas City, United States of America. It has been in operation for over the 40 years, with it becoming the leading distributor of hydraulic lift equipment in the US and Canada, which reflects its reputation for quality and service. The company has a website, however there are several other companies marketing and selling the product.
Claims
There are several claims made by the manufacture of Pro Lift C-2036D Creeper. Some of them include:
The device can hold up to a weight of 300 pounds without falling apart.
It is designed and engineered to be used to support and move along a smooth and level surface.
It can easily be folded into a seat and quickly unfolded into a creeper by use of the retractable pin.
Product cost and Availability
If you are looking for a stable and durable 2-in-1 creeper that is quite affordable then this should be at the top of your list. Its well-coated steel framing that makes it sturdy and less prone to rust, together with the thick pads, guarantee a very long use of this product. The product is readily available on amazon and at a very affordable price.
Pros and Cons
Pros
It has a thick padding that guarantees comfort while working.
It has a steel framing for stability and durability
It has a well-designed headrest for a good posture thus maximizing comfort
Can be used as both a mechanics seat and creeper.
The device is quite affordable
Cons
The weight capacity can be considered a bit low
The wheels hinder it from being used on aggregated surfaces
Customer Reviews
The Pro Lift C-2036D Creeper can be considered as a versatile, affordable and durable device; thus, its high demand should not surprise you at all since the 2-in-1 creepers are the way to go now.
There were 1,557 customer reviews at the time this article was being written and they had given the Pro Lift C-2036D Creeper a star rating of 4.2 out of 5, which is quite a good review for such a product.
These reviews were generally positive though there were a few people who had encountered issues with the product. Some of these issues they raised were that the casters came loose and needed to be tightened often. Another problem was that some felt the padding was not thick enough. The length of the Pro Lift C-2036D Creeper was also said to not accommodate very tall people.
Those that did not encounter issues loved the product and commented on some the features like the device was a good size and they fit comfortably. Some commented on how sturdy and stable it is. Most people agreed it was easy to assemble thanks to the detailed manual provided. The efficiency of moving from under the car to a sitting position in a matter of minutes fascinated many. This seems to be the products best feature.
With many people loving the product and reviews being majorly positive, it makes it easy to recommend the Pro Lift C-2036D Creeper to anyone looking for an efficient 2-in-1 creeper.
Conclusion
To sum it all up, the Pro Lift C-2036D Creeper is a sturdy, stable and a very durable device. It is also very pocket friendly. It can be easily be folded into a seat and quickly unfolded into a creeper with just the pull of the retractable pin. The lightweight frame and its slim build have no effect on its ability to accommodate people of different sizes comfortably or hold a weight of up to 300 pounds. This makes it very popular amongst people who work on automotive.
It moves easily along smooth and level surfaces but presence of cracks or aggregates can limit its mobility. These well-thought-of considerations by the manufacture have made many real buyers pleased with their purchase to a point they would recommend it to others.
Click here to buy now on Amazon.