Ionic 5-in Stainless Steel Curved Nerf Bars (423309P) Review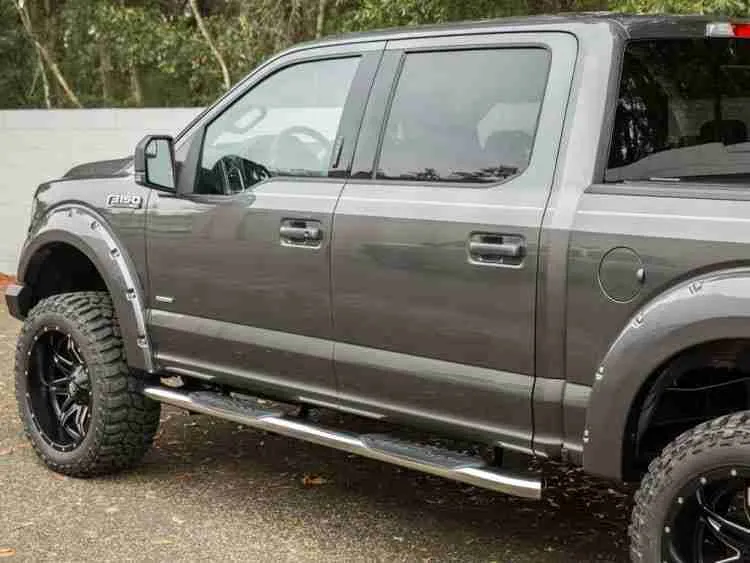 There are an almost unlimited amount of vehicle customization products available on the market that automobile owners can peruse or add to their car or truck to make it their own. But if you own a SUV or truck that is, at times difficult to get into, you might be on the search for nerf bars or running boards to solve this issue.
Here we will review the 5" stainless steel nerf bars that are manufactured by Ionic Automotive. These specific nerf bars are manufactured to fit Dodge Ram Crew Cab model of trucks that were made between 2009 and 2018 but this review likely also holds true for nerf bars and running boards manufactured for other makes and models as well.
What are basics of this product?
Ionic stainless steel nerf bars were first released on July 13, 2016 and are manufactured by Ionic Automotive. Ionic Automotive is a company that has been in business for over a decade and has a known reputations in offering a comprehensive selection of nerf bars and running boards for trucks, SUVs, vans, and CUVs.
Several vehicle brands and models for which Ionic carries parts for are Ford both the F150 and Superduty models, both the Chevy Silverado and Colorado trucks, the GMC Sierra and Canyon trucks, Toyota Tacoma and Tundra trucks, Nissan, and Jeep. It also should be noted that the curve of these nerf bars will vary by vehicle.
It is unclear for which models of Nissan and Jeep that Ionic makes nerf bars and running boards. Ionic also claims to employ an in-house engineering department responsible for the design of their products to fit a variety of vehicle models. The Ionic 5" steel curved nerf bars are manufactured with solid T304 marine grade stainless steel tubing. T304 grade of steel is described as a softer grade of steel so that it is flexible enough to mold or to bend, but it is still quite durable.
T304 is one of the most popular grades of steel used in the manufacturing of a variety of goods from silverware to medical care instrumentation. The foot treads on these bars are made of a sturdy non-slip plastic material. Ionic also offers these nerf bars in a black powder finish that is made with solid carbon steel tubing.
Are there any special requirements for use or installation?
There seem to be no special requirements or tools needed for installation and Ionic even offers how-to videos so that you can install the nerf bars yourself in your driveway or garage. Of course, if you do not feel comfortable or lack the required tools necessary to complete the job you can always visit your local mechanic for installation. Some customers have said that paying for installation is a waste of money though.
What are the benefits?
The stylized curvature tube design adds a sleek look to your truck or SUV.
These are sturdy bars and can hold up to 350 pounds (159 kg) of weight with easy installation and minimal time required to complete.
Two shapes curved and oval bars are offered as customization options.
Bars come in both polished chrome and black powder coated finishes.
Finishes will last for several years but it is unclear exactly how long.
These nerf bars qualify for free shipping from Amazon.
The package of two nerf bars also comes with all of the hardware (nuts, bolts, and washers) that you will need to complete installation yourself in your own home.
The product page says nerf bars backed by Ionic for 5 years but the product description says 3 year warranty so it is unclear exactly how long the nerf bars are covered.
What are the drawbacks?
The bars only seem to fit Dodge Ram Crew Cab trucks from 2009 to 2018 and it is not known if the same product is offered for other makes and models.
These nerf bars are not compatible with Dodge Ram Quad Cab models only the Crew Cab with a full size rear door.
Relatively simple finish selection with only two options. Additional options would make the item stand out more among all the other brands.
The warranty information listed on the product page is unclear. It says there is a three year warranty but further below it says the bars are backed by Ionic for a total of five years. You may need to contact the manufacturer to clear up this confusion.
The washers that are suppled with the installation hardware are metal and will scratch the paint if they are used up against the car body. Accessory Teflon washers have been recommended to solve this issue.
What are other customer experiences?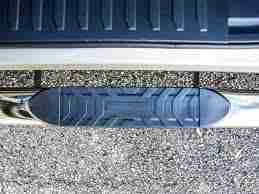 This product has an average rating of 4.5 out of five stars. The majority of customers (88%) out of a total of 138 who reviewed this product on Amazon.com gave this product 4 or 5 star ratings. Most customers said that the nerf bars look great as advertised and were delivered in solid packaging. The bars were simple to install with clear assembly instructions that could be completed in just a couple of hours.
One customer stated that the image on the Amazon.com page is advertising the "pro" version of the nerf bar with the Ionic plastic foot treads while what they received were the standard version of foot treads. It is unclear what the standard version foot treads look like. So, it might be worthwhile to ensure you are receiving the correct product. Overall, though, the customer did recommend this product if it does fit within your budget. Another customer reported that the bars were cheaply made with the plastic step plates falling off within a year of installation.
One customer complained that these bars often leaked rusty water after they were rained on so additional waterproof seals may need to be applied to keep this from happening should you experience it. Fortunately, the customer contacted the manufacturer and a replacement bar was quickly shipped to them. I think this experience speaks well to their customer service department.
Several other customers mentioned issues with the hardware missing, not fitting properly, or falling apart during installation, but these reviews likely reflect quality control issues and represent a small proportion of the total reviews that have been submitted.
Final thoughts
Overall, Ionic 5" stainless steel nerf bars have pretty good customer reviews and ratings. These nerf bars are generally competitively priced or maybe a little more expensive compared to similarly rated nerf bars and running boards. Additionally, these nerf bars appear to suffer from minor quality control issues when it comes to the foot treads and the installation hardware as several customers reported issues.
It needs to be reiterated however that only a very small number of customers reported these problems so your chances of experiencing these problems are low. For some vehicles the brackets will be shipped in a separate box from the bars.
Fortunately, Ionic customer service responds quickly to ensure you are satisfied with your purchase by shipping replacement parts or a new nerf bar which supports their 3 or 5 year warranty. It is however unclear which length of time (3 or 5 years) that the nerf bar warranty lasts. Ionic also offers these nerf bars in a separate oval shape as well as a black powder finish option should you not prefer the stainless steel finish.
What would make this product stand out more is if they offered a brushed stainless steel finish or perhaps other colored finishes as well. It also would be nice if these bars came with brackets that offered a folding capability as another customizable option or if these nerf bars get in the way you can just fold them up underneath the vehicle. It is unclear if this product is available for international shipping.
In conclusion, if the Ionic 5" Stainless steel nerf bars fall within your budget, they are worth the investment to customize your truck or SUV. For further information you can contact Ionic at 855-889-2062 Monday through Friday during the hours of 8AM and 5PM, but it is unclear what time zone.