Best 6.5 Component Speakers 2019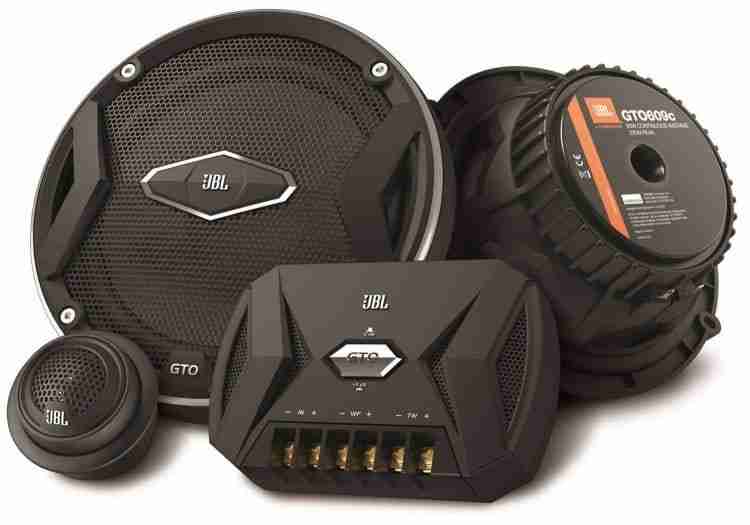 If you are looking to upgrade your vehicle sound system, one of the best components you can invest in is 6.5 inch car speakers. However, it can be difficult to find the right ones since they vary in price, sound quality, and capability. Here we have provided a comprehensive list of some of the best 6.5 inch component speakers for 2018 so that you can make an informed decision before purchasing new speakers.
JBL GTO609C Premium Component Speaker System
One of the top rated models of the year is the JBL GTO609C unit, which comes with two speakers. While JBL makes a variety of sizes, these are the ones we are focusing on for this review. These particular speakers have a carbon-injected cone shaped that allows for more airflow and higher quality bass sound. The speakers have large voice coils that allow the unit to dissipate heat and produce a smooth sound.
Since these units are slight larger than other 6.5 inch speakers, they produce a higher quality bass sound due to the speaker movement. In addition, they have a patented flexible mounting system that allow a user to surface or flush mount these speakers. The GTO609C model also includes a volume adjuster than can adjust if the speaker is not placed in an optimal position within the vehicle. These speakers are incredibly versatile and are capable of being mounted in virtually any vehicle.
Perhaps the biggest con of these speakers is that they do not include a factory warranty, which can be a major deterrent to buyers. Additionally, consumers complained that the mounting bracket quality was extremely poor and broke quite easily since it was made of plastic. Additional comments included the inability to use these speakers with a built-in amp and lack of bass even though the manufacturer states they have high quality base sound.
Polk Audio DB6501 2-Way Component System
The DB6501 2-Way Speakers have built-in adapter rings allowing easy fit to any vehicle sound system. It includes a two-way outboard crossover with vented housing, electronic treble speaker protection circuit, and built-in woofers. These speakers have a polymer composite dome that produces clear, crisp sound. The built-in woofers are also a composite cone shape with a rubber surround for premium low-range sound.
One of the largest pros for this speaker set is that it includes the rubber surround for the woofer, which protects the woofer for a longer life. Another plus of this model is the adapter rings that make it easy to install even for first time users. Consumers reported an extremely clear and high quality sound and felt that they got every pennies worth out of these speakers. 
This model received very high marks amongst consumers and there were very few negative comments. However, it does not have an included warranty if not bought through a certified buyer and cannot be returned other than through the manufacturer. Additionally, buyers also warned against the included crossovers because while the adapters are versatile, the brackets are so large it was hard to mount the units in vehicle side panels.
Pioneer TS-A1676R 3-Way TSA Series Coaxial Car Speakers
Another highly rated 6.5 component speaker set comes from Pioneer, a known name in the car electronics business. They produce high quality aftermarket components for a variety of vehicle uses. These particular speakers produce a dynamic bass range and a high quality, powerful sound. They come in a variety of options, but these specific speakers are 320 watt three-way speakers that have a cone shape structure that disperses the sound quite well. The treble speaker also produces mid to high range frequency sounds at appropriate leveling.
The Pioneer is aesthetically appealing and built to last. Since it comes from a company known for high quality products, you know you will be getting a great speaker set. The sound quality on these speakers cannot be beat and they produce a wide range of sounds from low to high range without crackling. 
Similar to the other units, the largest con for this item is the lack of warranty. In addition, due to the high quality of this unit, it requires a professional to do the installation or someone quite knowledgeable in car sound systems. However, it is an extremely popular model with few complaints. Notable complaints related to faulty speakers right out of the box and not fitting in certain model vehicles.
Rockford Fosgate R165X3 3-Way Car Audio Coaxial Speakers
The R165X3 speaker set is probably one of the best systems on the market today. It has a peak power of 90 watts with a continuous output power of 45 watts for each speaker. The design is dome shaped to allow the treble speaker to produce optimum mid to high range sounds clearly. These speakers also have a mounting depth of 2 3/16 inches. Each speaker is surrounded by rubber and is steel mounted for extremely long life.
These particular speakers are incredibly easy to install and can go in just about any vehicle. Compared to other models, this kit also comes with four speakers as opposed to the typical two. Most consumers noted that this model produce a much better sound than the factory installed speakers on their vehicle and they were well worth the install time and money. 
As with other models, the R165X3 speakers do not include a warranty. They are also not very powerful so if you are looking for extreme base sound, these are not the speakers for you. A common complaint for these speakers related entirely to customer service response. Many users found it hard to get a resolution if they had any issues with their product.
Infinity PR6500CS Primus Speaker System
The Infinity Primus speaker system has a 70 watt continuous and 280 watt peak power handling capability. It can handle frequencies ranging from 21 to 53 hertz and has a 93 dB sensitivity rating. These speakers come with a built-in woofer that is wrapped in high density rubber, which maintains speaker life. This model includes starfish mounting brackets similar to factory installed speakers for ease of install.
The installation is the biggest pro of this speaker set because they mimic factory sets so that users do not have to drill other holes for installation. This also adds to the ease of install for first time users. This model is also extremely appealing looking and is a top picked item amongst consumers. The Primus produces a crisp and clear sound way beyond any other brand. 
This top rated model had practically no complaints amongst consumers except to say that some buyers felt they could have been better units if they handle a bit more wattage. These speakers also do not include a warranty.
Kicker 41DSC654 D-Series Car Audio Coaxial Speakers
Another highly rated speaker set is the Kicker 41DSC654 D-Series. It is a 2-way set that can handle 240 watts of power per speaker and output a continuous power of 60 watts. The speaker set includes midrange woofers and treble speakers. In addition, the 41DSC654 D-Series speakers are extremely thin, which allows them to fit practically any car.
These speakers are incredibly easy to install and do not require professional help. The thinness of each speaker makes them ideal for side door installation as they do not impede window mechanisms. The unique design also features treble speakers that do not protrude which keep them from getting snagged and broken. In addition, these speakers also handle add-on amps, which many other models are not capable of. 
As with all our other models, this speaker set does not include a warranty and does not have technical customer support, which leaves installers to fumble their way through installation. However, they had no notable complaints.
Skar Audio FSX65 Pro Audio Midrange Speaker
This single speaker kit by Skar Audio is an eight ohm voice coil version that handles a max power of 300 watts and a continuous output of 150 watts. It also has an 89.1 dB sensitivity rating. The FSX65 is capable of producing mid to high range quality sounds with clear and crisp sound leveling.
Compared to the other speaker sets we have mentioned here, this unit is quite powerful as it was built to be so. It is also capable of loud, high quality sound, which may be right up your alley. In addition, this model is built to last with a steel pressed basket and copper voice coil. 
This model is only a single speaker kit compared to the two and four speaker kits with most other brands. It also does not include a warranty. Common complaints relate to the difficulty in installation as they do not have a universal bracket like other models.
Focal PS 2-Way Performance Series Speaker System
The Focal speaker set is a 2-way system that has 160 watt max power and 80 watts of continuous output. They are cone shaped with a polyglass construction, an aluminum basket, and butyl surround. The Focal PS speaker shape allows for premium quality sound.
These particular speakers are extremely lightweight and easy to install. The material used for design also keeps the cone rigid and is encased in a sturdy frame that keeps these speakers held in place and producing great sound for a long time. The built-in treble speakers are composed of high grade aluminum, which allows them to push high range sounds quite well. In addition, the Focal PS speakers come with three different mounting options to fit in a variety of vehicles. 
This is another speaker set that does not include a warranty and a common complaint relates to the treble speaker producing distort sounds at medium volume settings.
JL Audio ZR650-CSi Evolution ZR Series 2-way Component Speakers
JL Audio speakers feature built-in woofers and treble speakers. They feature die-cast alloy baskets and are cone shaped for optimum performance. The treble speakers are about one inch long and composed out of aluminum with rubber surrounds for a long life. The sound produced with these speakers is extremely high quality since they are manufactured in Germany.
What sets these speakers apart from many others is the construction. They are extremely well built compared to other models and use high quality materials. They are compatible with add-on amps where other models are not. The built-in power resistors are mounted on a high quality heat sink to keep these speakers from burning out. In addition, the treble speakers can be attenuated at five different levels and as well as four mid-range specific levels. The fact that these speakers are extremely customized with about 20 settings definitely sets them apart from other brands. 
These are such a high quality speaker set that they only have high consumer ratings and very little complaints.
We have provided you a wide variety of speaker options. Each has unique qualities such as mid to high range treble sound quality or great bass sound. Some of the kits come with one speaker, two speakers, or even four speakers. It just really depends on how many speakers you are looking to replace in your vehicle. Additionally, some of the speakers are produced from better quality materials for longer life and considering the installation time and money spent, you definitely want your speakers to last. Some of these speakers also have various installation options, which can make them extremely easy for first time installers or someone who is not a professional. None of these models comes with a warranty, but that appears to be fairly common with aftermarket speakers unless you buy through a certified dealer. As always, we highly recommend reading any online reviews you can find on a speaker set you are interested in purchasing as consumers can be extremely honest and brutal about the overall quality of a product.