BIG RED T43202 Torin Steel Jack Stands Review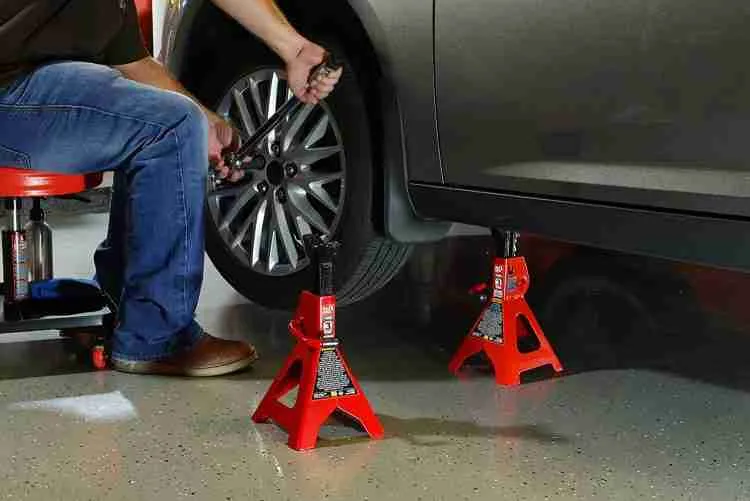 Every vehicle should have a jack stowed away. You never know when a flat tire could occur, and you don't want to be stuck waiting for a tow. While jacks are acceptable to use by themselves for quick jobs like changing a tire, if you want to work safely under your vehicle you're going to need a jack stand.
There are several jack stands to choose from, but the Torin T43202 from Big Red stands apart from the rest.
Big Red T43202 Torin Steel Jack Stands Review
This pair of Torin steel jacks stands are a must-have for anyone that likes to work on their vehicles. The jack stands are lightweight but still constructed for durability. They are also designed to provide ultimate support.
The two stands are constructed from forged high-grade steel and able to safely support up to 3 tons (6,000 lbs.). For added durability, the frame is welded. Even though the jack stands are steel, each one only weighs a little over seven pounds. This makes the stands easy to position wherever you need added support for the jack.
What sets the Torin steel jack stands apart is how easy they are to adjust for height that ranges from 11-1/4" to 16-3/4". The stands come with a multi-position ratchet bar for quick and easy adjustments. To ensure the bar is securely locked in place, it has a sawtooth design. This provides additional security when you're working under the vehicle.
These lightweight jack stands can support most vehicles from light pickup trucks to small cars and SUVs. This versatility is due to the enlarged saddle surface. The larger surface area results in improved vehicle contact for better support. This means you won't have to worry about the stand not being wide enough to safely hold your vehicle up.
You get additional support from the wide base. It is pyramid-shaped for added strength and stability. You won't have to worry about the stand shifting or wobbling when you're underneath the vehicle. However, you do want to follow safety precautions and always set the jack and jack stands on stable, level ground.
If you're worried about safety and reliability the Torin steel jack meets ASME standards. It also comes with a one-year warranty from Big Red. The company has a long-standing reputation for providing exceptional customer service dating back to 1968. You get safety, reliability, and customer satisfaction with this pair of steel jack stands.
Features
Lightweight at 7.7 lbs.
Forged steel construction
Larger saddle area
Lock-in-place multi-position ratchet bar
Adjustable height
With any product, there are advantages and disadvantages. Here are a few for the Torin 3 ton steel jacks.
Pros
Capable of supporting up to 3 tons
Lightweight
Easy to adjust and secure
Compatible with various vehicles
Affordable price point
Cons
The welds on the pair jacks will need to be lubricated periodically to prevent rust.
How to Use the Big Red Torin Steel Jack Stands
Even if this is your first time using a pair of jack stands, there's nothing to worry about. Big Red designed this pair of 3-ton jack stands to be quick and easy to use. The company knows that you don't want to spend more time than necessary setting up the jack and stands when you could be working on your car.
However, before you jack your vehicle up and use the stands for support there are a few things you want to keep in mind. These tips will help keep you safe when you under a vehicle that weighs 3-tons or less.
Always use your jack and the Torin jack stands on flat, stable ground. Concrete is best but other firm surfaces can also be used. Just avoid any areas with any degree of a slope, regardless of how slight.
If the vehicle has an automatic transmission the gear should be placed in 'park'. Standard transmission should be in 'first-gear'.
Apply the parking brake and turn the wheels. This will help prevent the vehicle from rolling.
Don't forget to read the owner's manual before using the Torin jack stands. Even if you're an experienced mechanic every tool is different.
After you've followed these safety tips, it's time to place the jack stands. Once you've used your jack to lift the vehicle, slide the stands into place. You want to position the stands on either side of the jack to provide equal amounts of support. Once the stands are in place, use the lever to adjust for height. The sawtooth design will lock it in.
It's that easy to use these Big Red jack stands.
Do You Need a Big Red Jack Stand?
If you never plan to work on your vehicle or at least change a tire, you won't need a pair of Torin steel jack stands. However, if working on your vehicle is a goal or passion than jack stands are a must. There are two reasons why you should always use a jack stand if you're underneath a vehicle.
The Torin T43202 pair of jack stands are operated manually. This ensures reliability. The sawtooth design on the handle securely locks the stand's height position in place. Hydraulic jacks serve their purpose but are also occasionally unreliable. This isn't something you want to consider when you're underneath a heavy vehicle.
Floor jacks are adept at lifting your car but you also only have one point of contact. This is true, no matter where you place the jack. With contacts in only one place, it's almost impossible to prevent the vehicle from being unsteady. A pair of Big Red floor jacks give you two additional points of contact. This allows you to safely balance the vehicle when you're underneath.
Jack stands and safety goes hand-in-hand. If you want to safely and responsibly work on your vehicle, you need the extra support and stability these jack stands will provide.
What to Look for In Jack Stands
When you're looking for a pair of jack stands the most important factor is construction. This will determine the strength, durability, and reliability of the jack stands. Even though a manual jack stand is a relatively simple tool, how it's constructed will make a difference. Not only will a cheaply made jack stand lack durability, but it might also be unreliable.
You want the jack stand to be constructed from steel, while still being light enough to easily move around. The welds on the jack stand are another factor. The welds should be smooth and strong. Also, look for powder coating, this will help prevent corrosion due to rust.
How much weight the jack stands can support should also be considered. You can find models by Big Red that can support 2, 3, and up to 6-ton vehicles. If the jack stands aren't rated for your vehicle's weight, it'll just be a waste of your hard-earned money.
Big Red Torin Steel Jack Stands: Do They Match Up?
There are a few aspects to consider when you're buying a set of jack stand and Big Red stands up to its competition. The jack stands come at an affordable price and are strong enough to support up to 3-tons when both are used together.
With the Torin steel jacks stands, you get support, stability, and reliability from a company that has been manufacturing high-performance automotive supplies since 1968. The next time you consider going underneath your vehicle, make sure that it's supported by a pair of Torin steel jack stands.
Big Red Torin T43202 Jack Stands Owner's Manual: [PDF]