OrionMotorTech 23-Piece FWD Front Wheel Drive Bearing Tool Kit Review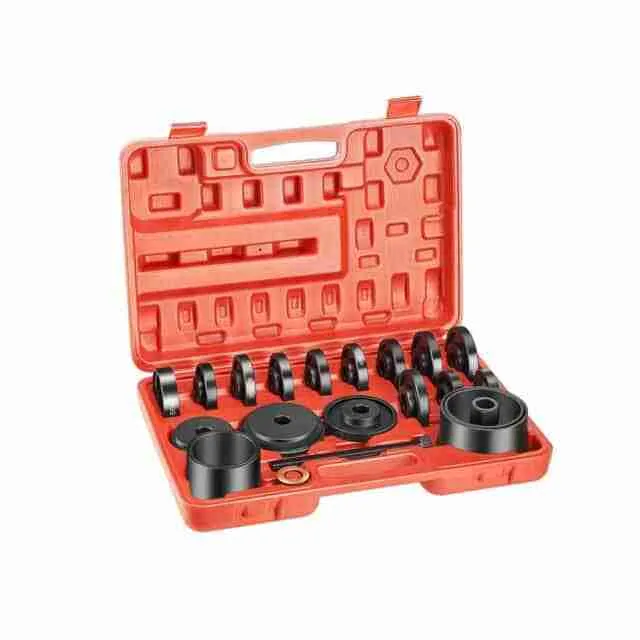 Is there value for money spent on this kit?
The bearings of a wheel are very important in a vehicle's braking system. However, many people tend to overlook them while others pay less or no attention to them at all. Generally, they should last a long time but the front wheels bearings experience a lot of stress due to steering and, therefore, need to be replaced every so often. How do you know your bearings need to be changed? If they have become noisy then it is time for an inspection and if you find them with scoring and pitting then it is a sign that they need to be replaced.
This is a very important task that should be done carefully and requires a special set of tools. It is the reason most people opt to go to the mechanic. But if you would like to fix it on your own, this is no longer a problem.  Tool kits that contain everything that you need have now been designed to help with that. All I would ask is to make sure you have an expert working with you there if it is your first time.
Overview
The OrionMotorTech 23-Piece FWD Bearing tool kit is among the best kits designed and has everything needed to remove and install the wheel bearings on front-wheel drive vehicles. It easily replaces wheel bearings while keeping the steering knuckle and strut assembled intact on the car. This is amazing because there is no need for front end alignment ones the service work is done. This tool kit also can be used in both domestic and imported front-wheel-drive cars and trucks.
You can find out more and buy the product on Amazon.
Features
The set contains everything you need for a quick and easy removal and installation of wheel bearings on front-wheel-drive cars and small trucks. This includes; 4 sleeves, 2 sleeve plates, 12 bushings, a washer, 1 sliding forcing screw, 1 sliding forcing nut, and a wheel hub installer.
These tools are made from heavy-duty carbon steel to increase its sturdiness. It has a black anodic oxidation finish that makes it corrosion-resistant for ultimate anti-rust performance. The tools also come in a premium well-organized ABS plastic box for easy storage and transport. This helps to ensure the safekeeping of the tools.
These bearing removers and install tools can be used in very many types of cars. This includes both domestic and imported front-wheel-drive cars and trucks.
The front wheel bearing adapters are designed to replace wheel bearings, with the steering knuckle and strut assembly still on the vehicle. This eliminates the need for front end alignment once servicing is done.
It is easy to also extract and draw in bearings, bushes, seals with these tools. They come in different sizes and their specifications meet your diverse needs. This reduces the possibility of damaging the bearing/suspension housings.
The tool kit comes with a manual that explains in-depth how to use the tools. It also gives the precautionary measures to take as you are using the tools. The toolbox weighs 24 pounds and hence can be carried with ease. It is 17.72 inches long, 12.2 inches wide and 4.13 inches high meaning it can be stored easily since it can fit in most places.
Get more information on the product
Specifications
| | |
| --- | --- |
| Product Brand | OrionMotorTech |
| Product Model | FBA_701 |
| Item Weight | 24 pounds |
| Product Dimensions | 17.72 x 4.13 x 12.2 inches |
| Exterior | Painted Steel |
| Special Features | Heavy-Duty, Multi Size |
The Company behind OrionMotorTech 23-Piece FWD tool kit
This product is manufactured by Orion Motor Tech. which is located in the United States of America. It has been in operation since 2014 and is quickly becoming the leading distributor of vehicle auto parts on Amazon. Its attention to quality products and good customer service has made its products very popular. The company has a website; however, the products are mainly sold through amazon.
Claims
There are several claims made by the manufacture of the OrionMotorTech 23-Piece FWD tool kit. Some of them include:
The tools can replace wheel bearings while keeping the steering knuckle and strut assembly intact.
There is no need for front end alignment after service work
The tool kit is designed for front-wheel-drive cars and small trucks
The tools are anti-rust
Product cost and Availability
If you are looking for a front-wheel-drive bearing remover and installer tool kit that is quite affordable, then this should be at the top of your list. Its black anodic oxidation finish makes it sturdy and less prone to rust. It is compatible with both domestic and imported FWD cars and trucks. These tools can be used to replace wheel bearings without moving the steering knuckle and strut. The product is readily available on Amazon and at a very good price.
Pros and Cons
Pros
No front-end alignment is necessary after service is done.
The tools are anti-rust
They come in a case that makes storage and transport very easy.
The tools are easy to use.
The tool kit is quite affordable
Cons
Does not have a self-centering mechanism
Customer Reviews
Since Orion motor tech is one of the top auto parts brands on amazon, it is not surprising how the OrionMotorTech 23-Piece FWD tool kit has become popular. Their products are known to be of good quality and always work as advertised.
At the time this review was being written, there were over 1000 customer reviews. The product had a rating of 4.5 out of 5 which means they found it versatile and worth the money. Though the reviews were majorly positive, there were a few customers that encountered some challenges.
These challenges included receiving the wrong manual for the tools. This was clearly a packing error and should not worry you. Another challenge experienced was that one customer's threaded rod and pressing nut wore out very fast. They reached out to customer service and they were assured that it was not a common case later received a refund.
The many positive reviews that were given just went to confirm how legit this product is. Some of the comments said that the product is of good quality and is easy to use. They all agreed that the set has everything that you would need to remove and install wheel bearings.
It was established that the product is worth every penny. The customer service is also professional and proves to care about the customer's experience by responding to any inquiries.
 Conclusion
In closing, the OrionMotorTech 23-Piece FWD tool kit is the tool kit you are looking for. Getting this tool kit means you have everything you need to efficiently remove and install your wheel bearings. Ones you finish installing the bearings, there is no need for front end alignment since the steering knuckle and strut assembly are not affected by the work done.
The heavy-duty carbon steel used to make the tools makes them strong and prevents them from easily wearing out. The tools are coated with a black anodic oxidation finish that ensures they are corrosion resistant and this prevents rusting.
These considerations made by the manufacturer will not only allow the products to serve you for a long time but will also give you the satisfaction of getting value for your money. Many have recommended this product as the best FWD wheel bearing tool kit.