Torque Detail Ceramic Shine Review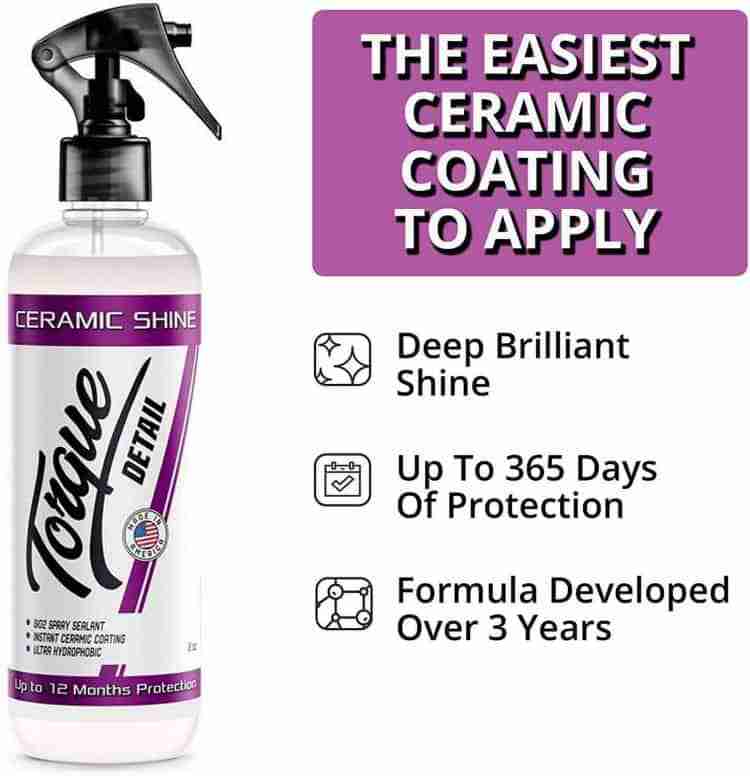 Are you fed up with your car wax that wears off so quickly? Then the time has come for you to switch to the ceramic coating that will give your vehicle a good shine that's sure to last longer compared to regular car wax.  Not only does ceramic coating keep your car looking new, but it also does an excellent job of protecting the vehicle from several damages -or potential ones even. These damages can include minor scratches and even rust.
If you're thinking of which ceramic coating product that you can get, then you may want to read this review till the end. We'll be reviewing Torque Detail Ceramic Shine by going over its key features, specifications, and functionality. By the end, you should be able to decide if it's worth your money.
Torque Detail is a company that has been around for the last eight years and have stayed dedicated towards the creation of top-notch detailing solutions that are relatively easy to use. They are the leaders in the detailing products industry with their two popular flagship products; Mirror Shine and Ceramic Shine.
Torque Detail Ceramic Shine Key Features
Ease of Use/Application:
Torque Detail Ceramic Shine is a detailing solution that can help regular car users like me, and you get exceptional results without spending as much. If you were to get a traditional ceramic coating done on your vehicle, then you would need to consult a professional, and it would at least take them a few hours to apply it carefully. This is because getting it wrong could damage the vehicle's exterior. Ceramic Shine changes all of that.
This product provides you with the same formula for traditional ceramic coating in the form of an easy-to-use spray that eliminates the hassles of paint leveling, lengthy cure times, and complicated application. All you need to do is spray Torque Detail Ceramic Shine on your vehicle's surface with a microfiber towel and then shine with a sheet of the same material kind.
Authentic Ceramic Coating Nanotechnology:
Ceramic Shine is not just another Silica-based car detailing product that gives quick results. It is made up of proprietary silica dioxide (SiO2) nanotechnology that forms chemical bonds with your vehicle's clear coat in the same way that a traditional ceramic coating would. This is what makes it a better surface protector than regular spray-on car wax against chemicals and scratches.
The product has a ceramic formula that breaks down into tiny particles that combine at the molecular level with your vehicle's topcoat and closes all the pores.  The result is a transparent protective layer that runs all over your car's exterior where it is applied.
Hydrophobic Protection:
Torque Detail Ceramic Shine has a hydrophobic protective feature that gives your car exterior a water-repelling finish. Only the leading detailing products are equipped with this unique feature. This great because it prevents water and rain from beads rather than pools on the hood.
This hydrophobic feature also better protects the car's surface from mud, dirt, bird droppings, and acid rain. Even during the winter, it keeps the snow and ice droplets from sticking to the vehicle's exterior.
Durability:
Unlike regular car waxing that lasts up to 3 months before you need a redo, Ceramic Shine lasts up to 12 months typically. However, this period is lesser compared to the traditional ceramic coating that can maintain its highly glossy state for up to a few years.  On top of that, Torque Detail Ceramic Shine has a hardness of 9H.
Users Impression
Many of the customers who purchased the product and bothered to leave a review, commended it on its effectiveness. A lot of users confirmed the minimal time durability of the coating to be about six months and added that it maintained its glossy and shiny effect on the car's exterior through the time.
However, a few dissatisfied customers complained about the nozzle spray of the product being either absent or leaking during application. Some even mentioned that the spray pump did not work at all while a few made complaints about it, leaving streaks on the surface of their vehicle.
A Few Things to Note
Why would you choose a ceramic coating?
Some of the benefits that your vehicle stands to gain from using a ceramic coating are;
Saves you money: Regular car waxing or paint sealants usually barely last more than three months before your vehicle needs a rewaxing. Ceramic coatings, on the other hand, can serve your car for a few years before it'll need replacement, which implies that you spend less more in the long run by opting for it. Compared to regular car wax that fades with relatively lesser time, the ceramic coating gives the vehicle a brighter glossy look that stays that way for a long time.
Overall enhanced protection of your car's exterior: It's common knowledge that continuous long exposure to the sun can cause the paint job of a car to fade, and maybe even crack in the long run. Ceramic coating has unique attributes that protect your vehicle's exterior from the harsh effect of UV rays from the sun. Also, it provides your car's surface with a hardy semi-permanent layer that bonds with its paint at a molecular level. This gives your car better protection against chemicals and scratches.
Does Torque Detail Ceramic Shine work for old cars with old colors?
Ceramic shine, just like other ceramic coating products, is not recommended to be used on old cars where the paint is thin or chipped. This is because the chemicals in the product may have an unwanted effect on the bodywork of the vehicle.
How is Ceramic Shine applied?
The first step would be to ensure that the surface of your vehicle is thoroughly decontaminated. For it to form the necessary bonds with your car surface to give it the glossy hardy effect that you're looking for, the vehicles' exterior must be void of dirt, even the ones that may not be obvious to the naked eye.
Claying your vehicle's exterior is the next highly advised step to take when applying Torque Detail Ceramic Shine. It's an extra step towards the decontamination of your car's surface, and it can be done with any Clay lubricant together with either a Clay Block or Clay Bar.
Shake the Ceramic Shine bottle very well before applying. Also, ensure that the surface in dry and cool before you begin the application.
Begin to apply the product in small quantities at once and use a clean microfiber towel/rag to work on the exterior.
Make use of a second microfiber towel to polish the surface by buffing into a section of the surface at a time.
Leave the detailed surface to "cure" for a few hours (at least 6). It's vital that the surface is not exposed to sunlight during this time, and it is kept in a cool, dry area.
To ensure it stays coated without needing to be rewashed and rewaxed, you can continue to repeat the application process as much is required.
What should you do after applying the product to maintain its quality?
Well, the answer to this goes back to the necessary preparation for applying Ceramic Shine. As long as the surface of the vehicle is not contaminated, the product will bond with your car's exterior to forge the semi-permanent layer that gives it the protection you desire.
One more thing that's worth mentioning is that Torque Detail Ceramic shine is not expected to wash off after a car wash or a run in the rain.  If this happens, however, you can make use of a polish roll to remove the surface decontaminants before reapplying the product. What that does is to improve the chemical's bonding with the car's coat and enhance the sealant.
Conclusion
There you go. By now, you should be able to decide if Torque Detail Ceramic Shine is worth your money. For a vehicle surface coating product that offers several unique features, I would describe it as a very affordable alternative to just regular car waxing.  This is last longer while providing your vehicle's exterior with better protection against scratches and chemicals, and prevents dirt from sticking.
Ceramic Shine is a specially formulated silica-based heavy-duty coating that is easy to apply without having to deal with the technical hassles that come with other kinds of ceramic coating. If you're looking for an affordable and reliable ceramic coating to use on your vehicle, then you should consider Ceramic Shine.