NOCO GENIUS1 1-Amp Fully-Automatic Smart Charger Review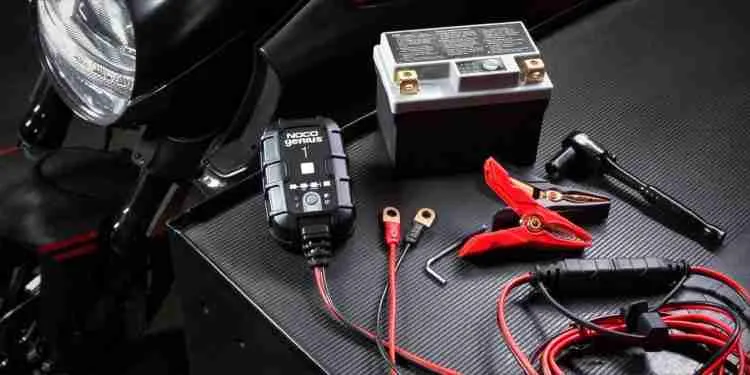 No one wants to unexpectedly find out their vehicle's battery is dead. It doesn't matter if it's a car, motorcycle, or boat. The problem is the same. You're stuck until the battery is recharged. If you're out on the water or parked in a remote location it can take hours before help arrives.
You can prevent this scenario from happening. An easy solution is to always have a charger in your vehicle. This way, if your vehicle doesn't start you can easily recharge the battery and be back on your way in minutes. However, you don't want to depend on just any charger since not all are designed the same. If you want reliability at an affordable price, take a look at the NOCO Genius 1-Amp Smart Charger.
NOCO Genius 1-AMP Automatic Smart Charger Review
This 1-amp smart charger is part of NOCO's Genius Series. Like the majority of the brand's other portable chargers, Genius 1 is designed to be easy to use. It is also compatible with almost any battery size.
Genius 1 will charge both 6 and 12-volt batteries in automotive and marine vehicles. There are Six operating modes give you several options for charging lead-acid, lithium-ion, and AGM batteries. Even if the voltage is too low to be detected, simply put the charger in "force mode". This will allow you to charge the battery.
Overcharging the battery won't be a problem with the Genius 1 by NOCO. It comes with a smart charging system that monitors the process and automatically stops when finished. Not only does it monitor charging levels, but it also battery temperature and will adjust accordingly to prevent damage to the vehicle's battery. It's also easy for you to keep an eye on the charging levels. Genius 1 boasts a LED display that indicates charge level, over-voltage, bad battery, and even if errors in reverse polarity occur. It will also show when the charger's operating mode has been turned on.
You'll appreciate the portable charger's durable construction, especially if you're using it to keep ATVs and other off-road vehicles running. It comes with an IP60 rating so it's waterproof and dust resistant. A tight seal helps keep moisture and small particles out for improved reliability and longer lifespan.
Hooking the portable charger up to a vehicle's battery is simple and it comes with everything you need. All you have to do is connect the battery clamps or eyelet connectors. Select your operating mode and turn the charger on. Since it's fully automatic there's nothing else to do, until it's time to disconnect the device. Thanks to the included eyelet connectors and battery clamps, you can choose to have a permanent or temporary connection.
With NOCO's Genius 1 smart charger, you never have to worry about being stranded due to a dead battery. It's compatible with 6 and 12-volt batteries and it's automatic design ensures it's a breeze to use. Best of all, we the affordable price point.
Features
Compatible with most sized 6 and 12-volt batteries
Lightweight at 1.08 pounds
IP60 rating
Comes with eyelet cables and clamps
Fully automatic with safety features
Even though the NOCO Genius 1 is a top-selling model it does have a few disadvantages, along with several advantages that should be noted.
Pros
Priced for most budgets
Easy to operate
Compact and lightweight
Provides 35% more power than similar models
Comes with a 3-year warranty
Cons
The product warranty is only valid if the portable charger is purchased directly through the manufacture.
What to Look For in Portable Battery Chargers
When you're getting ready to buy a portable battery charger there are a few aspects to look for. This will help ensure that you are getting the right one for your needs and vehicle.
Amps
One of the first things to look at is amperage. This will determine how long it takes to charge the battery. Amperage is the term for the power output level produced by the charger when it's connected to the battery. Higher amperages result in faster charging times. For example, Genius 1 is a 1-amp battery charger.
Portability
A primary advantage of a portable charger is its compact size. This is especially true if you're using it with ATVs and other small vehicles. Smaller chargers are also easier to handle. Along with size, the charger should also be lightweight. The point of having a portable charger is convenience. It shouldn't be difficult to carry or maneuver into position. If you're wondering about the NOCO portable charger, it measures 3.4 x 4 x 6.7 inches and weighs 1.08 lbs.
Safety Features
A battery charger needs to come with safety features, and Genius 1 has plenty. This includes over current and over voltage protection. It will also protect against overloads and reverse polarity errors. All of which can damage your car battery.
Voltage
You will need to know the battery's voltage before buying a charger. The charger must be compatible with the voltage to safely work. In general, vehicle batteries are either 6 or 12-volt. Genius 1 is compatible with both voltages.
Maintenance Mode
This is a helpful feature to have if you plan on traveling long distances. Maintenance Mode is typically found on smart chargers and its purpose is simple. It slowly charges and maintains the battery, which results in a longer lifespan. A full charge will last longer and this is always a plus.
Engine Restart
A convenient feature to have is a fast starter option. This allows the charger, once connected, to give the vehicle battery a quick jolt. It is a quick and easy way to jump-start a battery after it dies.
Durability
The last thing you want is for the charger to stop working the same time your vehicle's battery dies. To avoid this annoying situation, choose a portable charger that is designed for durability. Along with sturdy and lightweight construction, look for an IP60 rating. This ensures that the product is water and dustproof.
LED Display
Having an LED display might not seem that important until you try and use the battery charger at night. The bright lights will make the display easy to read so you can constantly monitor the battery's progress.
You can find these aspects and more in the NOCO Genius1 1-Amp Fully-Automatic Smart Charger.
Frequently Asked Questions about Smart Chargers
How long does it take the Genius1 to charge a battery?
Since this is a 1-amp charger it will take several days to fully charge a battery that is dead. However, it can give a jolt to help start the battery without fully charging it. This charger is designed more for maintenance – keeping the battery from going dead.
Can I leave the charger connected for extended periods?
For safety reasons, it's not recommended to leave a battery charging for long periods. However, this isn't a problem with the Genius1 smart charger. Its' built-in safety features automatically prevent overloading, overcharging, and other issues that could damage the battery.
Is there an efficient way to keep my battery charged?
The most efficient and effective way to keep a battery charged is to monitor its power levels. When the levels drop, connect the smart charger until it registers as "full".
Tips on Using a Portable Smart Battery Charger
Using a portable battery charger is easy, even for first-timers. The Genius1 also comes with everything you need for temporary and permanent battery charging. To get started here are a few tips.
Remove the battery housing. A screwdriver or similar tool might be needed.
Double-check that all vehicle lights are turned off, along with radio/stereo, etc.
Ensure that the portable charger is turned off.
Connect the eyelet cables or clamps to the battery ensuring that the polarities aren't reversed.
Turn the smart charger on.
Monitor the LED screen until charging is finished.
Turn the battery charger off.
Disconnect the cables and reattach the housing.
Before turning the charger off and disconnecting it, first make sure that the engine will start. If not, recheck the LED screen to see if it is indicating a problem with the battery.
Keep Your Battery Charged With The Genius1
The Genius1 is a small, lightweight portable smart charger that is also fully automatic. It comes with plenty of features that include some designed to protect the battery. The charger is also designed for durability.
There are several reasons to buy this smart charger that include its compatibility with any size battery. However, it is important to remember that it is only 1-amp and not powerful enough to fully charge a dead battery in a reasonable amount of time. Even with this disadvantage, there are still plenty of reasons why this affordable smart charger is a good investment.